Visionary educationist
Maulana Abul Kalam Azad realised that education could not only eradicate poverty
and illiteracy from the country, but could also be used as an effective tool for
social change and economic growth, writes Arun Kumar Sharma

THE celebration of November 11 as National Education Day — which commemorates the birth anniversary of Maulana Abul Kalam Azad — will go a long way in understanding his profound educational ideas and philosophy. It was in 2008 that the Ministry of Human Resource and Development made a formal announcement recalling Maulana Abul Kalam's significant contribution to the cause of education in India.
National Education Day falls on November 11
Maulana Azad was indeed an institution in himself. As a distinguished scholar, great statesman, Maulana Azad was imbued with lofty ideas of nationalism, democracy, freedom and rationalism. His contribution to the field of Indian education is not only massive but also remarkable when viewed in historical perspective.
Being a dynamic and visionary educationist, he realised the importance of education not only in terms of eradicating poverty, illiteracy and gender bias from the Indian scene but also wanted to use education as an effective tool for social change and rapid economic growth of our country. Virtually, he played a significant role in reshaping, restructuring and reorganising the education system of our country. He is also regarded as one of the post-Independence architects of modern Indian education system.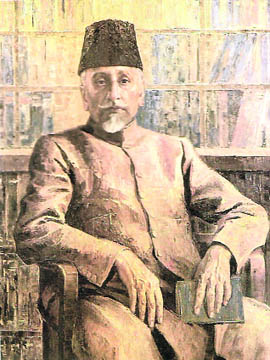 Maulana Azad had firm faith in the fact that every individual should have the right to education

K.G. Saiyidain, one of his education secretaries said: "Maulana was first and last an educationist. The secret of his success as an educationist lay in the fact that he practised in his life what he preached in his works. He had the qualities of character and intellect, which he wished to inculcate in the people of his country. His whole life bore a shining stamp of sincerity and truth — truth which he loved and advocated with Socratic passion; truth which makes no compromise with expediency and no concessions to ill-informed criticism or opposition, however bitter it might be."
A contemporary of Dr. S. Radhakrishnan, Maulana Azad not only became the first Union Minister of Education of independent India but also emerged as a high profile educationist. Like Gopal Krishan Gokhle, he also advocated the establishment of a national education system with free primary education and modern institutions of higher learning.
Maulana Azad realised the fact that the country could achieve a higher level of progress and advancement only by making the education system of the country more practical, pragmatic and, above all, by meeting the immediate demands of society and the industry as a whole. Realising the need and importance of education, he set up a number of educational commissions, boards and institutions — the important being the University Grants Commission, the University Education Commission, the Secondary Education Commission, the All India Council for Technical Education (reorganised to set up a chain of national laboratories throughout the country), the Kharagpur Institute of Higher Technology, etc.
While inaugurating the Kharagpur Institute of Technology in 1951, Azad said: "We must improve the facilities for higher technical education in the country so that we could ourselves meet most of our needs. The large number of our young men who had been going abroad for higher training could have received such training in the country itself. Indeed, I looked and still look forward to the day when the facilities for technical education in India will be of such a level that people from abroad will come to India for higher scientific and technical training."
Interestingly, Maulana Azad was also fully conscious about the composite cultures of India. Therefore, in order to bridge the socio-religious and cultural gaps and to enrich Indian culture and heritage, he set up a number of institutions of national importance such as Lalit Kala Akademi, Sangeet Natak Akademi and Sahitya Akademi. Similarly, another important achievement of Maulana Azad was setting up of the Indian Council for Cultural Relations with the aim to establishing and improving cultural relations with other countries.
A critical analysis of his speeches reveal that he was in favour of a four-fold national education system with the following main objectives as perceived by him: the provision of basic education on a universal, free and compulsory basis for all our school going children; the provision of adult education in order to wipe out the colossal illiteracy of our masses; the improvement and expansion of technical education in order to solve the problem of manpower for industrial and technical development ; and the reorganisation and improvement of university education form a national point of view.
Maulana Azad had firm faith in the fact that every individual should have the right to education that would enable him to develop his faculties and live a full human life. He further said that such education was a birthright of every citizen. A state could not claim to have discharged its duty till it provided for every single individual the means to acquisition of knowledge.
Regarding school education, he advocated that the reform of school education was even more important and urgent. Until schools improve, university education cannot but remain unsatisfactory. "The wealth of a nation, according to Maulana Azad, was not the country's bank but in primary schools." Of the various stages of school education, the one which is in most urgent need of reform is that of secondary education. He opined: "There are three stages in the secondary education —elementary, middle and higher. Of these, elementary and middle are the most important because the foundation of the entire edifice of national education is laid in these two early stages. If the foundation is weak or wrongly laid, the rest of the structure is insecure and faulty. For these two stages we have accepted the pattern of basic education, which is of great importance to the whole structure of our national education."
While delivering a speech at the diamond jubilee celebration of Scindia School, Gwalior, on February 26, 1949, he remarked: "A good school is a national asset of the highest value at any place or at any time. Schools are the laboratories which produce the future citizens of the state." Jawaharlal Nehru, while paying tribute to him, said: "We mourn today the passing of a great man of luminous intelligence and mighty intellect with an amazing capacity to pierce through a problem to its core. I use the word 'luminous'. I think that is the best word I can use about his mind – a luminous mind. When we miss such a companion, friend, colleague, comrade, leader, teacher — call him what you will — there is inevitably a tremendous void created in our life and activities."