Jacket of authority
The Nehru jacket†today is becoming a symbol of those
who are in power, says Pheroze Khareghat

FOR the opening ceremony of the 2010 New Delhi Commonwealth Games, as the 300-member British team strode into the huge Jawaharlal Nehru Stadium, a gasp of pleasant surprise went around the spectators. The British team members were wearing Nehru jackets with kurtas to honour their host country in a very iconic fashion.
Well, the Nehru jacket was back in India. Who would have thought that the statesman Jawaharalal Nehru would leave behind a style statement? He wore a hip-length tailored coat with a Chinese collar, when he posed for the Vogue magazine in 1964, instantly making the Nehru jacket a piece of cult clothing.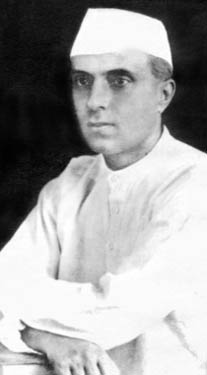 The jacket represents a lifestyle of simplicity and peace

The distinctive Nehru jacket is a close-fitted, single-breasted (one row of buttons down the front) coat with a stand-up collar and no lapels. Around the same time, the popular British rock group, the Beatles, travelled to India to study meditation techniques, and soon the groupís members began wearing Nehru jackets and setting a new fashion trend. Other Nehru jacket followers were singer Sammy Davis, Jr, who claimed to have over 200 Nehru jackets. Mahathir Mohammad, the former Prime Minister of Malaysia, is well known for his signature Nehru jackets. Eminent scientist Homi K. Bhabha often wore Nehru jackets; his shirts also often had Nehru collars despite being paired with a Western-style suit.
Thus, the Nehru jacket was one element of Indian dress that successfully penetrated Western couture. Today his jacket is again getting attraction, and in India is becoming a symbol of those who are in power, namely the Indian Cabinet ministers.
Nehruís dress was purposefully simple in design, material, and colour. It represented a lifestyle of simplicity and peace. It was a uniform for a new India. However, unlike the achkan, which falls somewhere below the knees of the wearer, the Nehru jacket is not only shorter, but also, in all respects other than the collar, resembles the suit jacket.
What Nehru used to wear was a jacket with a collar slightly open at front. Nowadays, modification has been done in it by closing at collar by hook to enhance its beauty. There is one breast pocket and two stomach pockets outside and with two pockets inside. Usually it has one slit or two slits at the back.
Nehru jackets were made from a wide variety of materials, besides plain cotton and wool, including brocade, vinyl, and sharkskin. The most used fabric in the creation of these menís suits is terrywool, which is well known as the fabric for Nehru suits. In early 2000 the Nehru jacket began to appear in fashion magazines again as a desirable garment for both women and men. In 2001 fashion designer Ermenegildo Zegna designed a "guru suit" with a Nehru jacket, and former U.S. President`A0Bill Clinton was seen in a tuxedo with a Nehru jacket in the summer of 2002. ó MF