Cool in the 60s
Shobhaa De lays great emphasis on family values and ties,
and underlines the importance of a spiritual quest

WHAT does Sonia Gandhi, Amitabh Bachchan, Shabana Azmi, Azim Premji and Shobhaa De have in common apart from being successful in their own fields and inspiring as ever? All belong to the vibrant 60s' club, which also has Jayalalitha, Hillary Clinton, Hema Malini, Tom Alter, to name a few, as members.
For most people who have crossed the sixtieth milestone in the journey of life, there is a tendency to consider themselves as "over the hill," a "has been," or an "old fogey."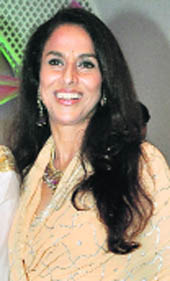 Shobhaa De feels that discipline is the key to the fit-and-fine image

But for the irrepressible and exuberant De, that is certainly not the case. Life only begins at 60! She comes up with a potent elixir to rejuvenate life, and provides practical tips on how to cope with the physical and emotional downslides commonly experienced by the post-60 generation.
"Something good is happening to all those of us who have hit 60! Sexy Sam (Amitabh Bachchan) has won the National Award for Paa, and my darling school friend Shabana Azmi is 60. It is official, folks. It is definitely super cool to be 60," she wrote on her blog. Shabana Azmi, who turned 60 last month, says she embraces her age with profound satisfaction and happiness and advises her Bollywood colleagues to do the same.
"I embrace the 60 years of my life with profound satisfaction and happiness. There have been ups and downs but I have no regrets. One needs to embrace the bad along with the good and take it as it comes," says Shabana. "I am not saying I am one of them. But it is the case with a lot of men. Look at M. F. Husain at 95. Glamorous. So is Dev Anand. I won't say Khushwant Singh is glamorous but he is provocative, someone who still counts. Age doesn't seem to be an issue for men.
"But when it comes to women, society is particularly ageist. Some amount of narcissism helps. But I am also thinking of women who are extraordinary; women who are not traditionally associated with the glamour business. I find them very inspiring in their 60s. The mantra for the fit-and-fine image is discipline. — PTI