34 years of Ank
Founded in 1976 by Dinesh Thakur, Ank is the largest Hindi theatre group, writes V. Gangadhar

ON a recent weekend, the people of Mumbai, undeterred by the traffic and crowds of the festival season, flocked to Juhu Prithvi theatre for a wonderful double theatre delight —the record breaking 1,060th show of zany comedy, Hai Mera Dil and the 200 plus staging of the heart wrenching play on Partition, Jis Lahore Nahin Dekhya.
Both are products of Mumbai's most stable and popular Hindi theatre group, Ank. The group, in its 34-year existence, has staged more than 7,000 shows all over India of about 75 different plays – Greek classics, original plays, adaptations, comedy, socially relevant themes, historical plays and so on.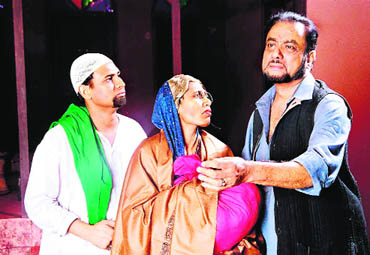 Dinesh Thakur and his theatre group Ank recently staged the 200th show of play Jis Lahore Nahin Dekhya

This long and hard way to the top and the job of bringing people to Hindi theatre has been achieved by none other than remarkable Dinesh Thakur. Thakur has made a name in theatre, films and television serials as an actor, writer, producer and director. For followers of Hindi theatre, Thakur was and remains a phenomenon.
Recently Thakur and his partner Preetha, who had handled several challenging roles on stage, and their group Ank celebrated the 200th show of Jis Lahore... before an elite audience at the Nehru Centre. It was a sensitive play, the reflections of an old Hindu woman, who did not understand the trauma of Partition, and insisted on staying back in her beloved Lahore.
Thakur was inspired to produce Jis Lahore... after he read Asghar Wajahat's powerful play and the horrific aftermath of the Godhra riots in Gujarat. Even for a veteran theatre person, Jis Lahore... was a real challenge, as it should and could neither be mushy nor excessive melodrama.
In a surprise move, he persuaded Preetha to play the role of the 70-year-old woman. The talented theatre star, who had essayed several difficult roles, was initially nonplussed. Her major problem of not being familiar with the Punjabi language was solved with help from Ank's music director Kuldip Singh, a refugee from Pakistan, who taught her the right diction and intonation.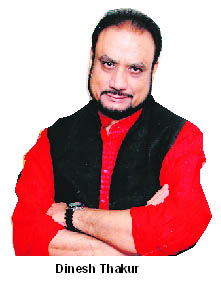 As a woman of 70 with a tortured soul, Preetha, besides speaking in Lahori Punjabi, had to be trembling all the time with emotion. Thanks to master director Thakur, this was also achieved, and Preetha delivered a stunning performance. Staged at various cities and towns in India, Jis Lahore... deeply moved audiences, particularly those who had migrated from Pakistan During Partition.
No problem was insurmountable to Thakur, when tackling themes dear to his heart like communal harmony and abhorrence of violence of any kind. During the early days of struggle in Mumbai, Thakur and his boys would often run on the streets, stop cars, talk to people waiting at bus stops and sold them tickets for Ank plays.
When success finally arrived, Hai Mera Dil got a packed house.
Theatre needed money. Fortunately, Thakur got interesting roles in films like Rajnigandha, Anubha and won the Filmfare award for his story Ghar, which was made into a successful film. He also worked off and on for television serials.
When faced with problem of original scripts, he translated and adapted the works of masters like Moliere (Tartuff'), Chekov (Proposal), Tennessee Williams (A Streetcar Named Desire), Oliver Goldsmith (She Stoops to Conquer), Jean Anouilh (Antigone) and even Agatha Christie (The Verdict).
Hindi theatre in Mumbai should be eternally grateful to Thakur and his brilliant adaptations of the plays of leading Marathi playwright, late Vijay Tendulkar, whose hard hitting themes and fiery dialogue ripped apart the fa`E7ade of pseudo-respectability in society. The two men became close friends and Ank felicitated Tendulkar as the Playwright of the Millennium and staged his plays throughout the year.
Innovation is a key word for Ank. It held 25 continuous shows of the farce Jaane na Dhoongi and repeated the experiment with 30 shows of Tughluq, a Girish Karnad classic. Audiences applauded two plays, Hum Dono and Ek Ladki, Paanch Deewne, having just two characters.
Ank's latest, Prashin Panchali, featured a solo performance by Preeta enacting different characters from the Mahabharat. Mumbai may have given much to Ank, but the troupe and Thakur, too, have given back in equal measures and have made the city culturally more sensitive by opening up the world of Hindi theatre.