Ulta Pulta
Spurious Diwali
Jaspal Bhatti

LAST week, I landed at the Sydney airport to celebrate Diwali with friends and fans in Australia. A Customs officer at the airport asked me if I had brought any sweets along. I said, "Sorry sir, since I was in a hurry, I forgot to bring them." Even then he pressed sniffing dogs to service to find out if I had hidden any. I told the officer, "If you are so desperate, I will arrange some special burfi from Punjab." Savita whispered, "They donít allow eatables from outside."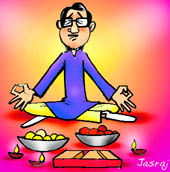 We, in India, allow every kind of adulterated sweets for consumption. Diwali is a special occasion when the adulterators and food inspectors make good money. The inspectors, who cannot make money in this festival season, are considered inefficient. Every year around Diwali, there is news of large quantities of spurious khoya being destroyed by the authorities. But I think such raids are merely a psychological exercise to fix bribe rates for inspectors.
I asked my friend Sharmaji to come over for dinner and drinks on the weekend. He refused, saying that he was attending some special Diwali yoga camp. I asked, "Earlier, you had fasted during the Navratras, and now this yoga camp. What is it all about?" He replied with a grin, "These are new yogic exercises so as to digest adulterated sweets during Diwali."