India-US vow to defeat LeT and other terrorist networks
Ashok Tuteja
Tribune News Service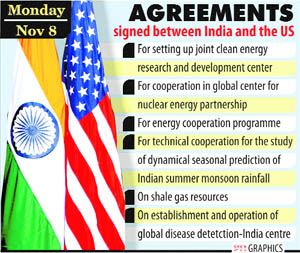 New Delhi, November 8
India and the United States tonight pledged to defeat all terrorist networks, including the Pakistan-based Lashkar-e-Taiba (LeT), and strengthen international cooperative activities that will reduce the risk of terrorists acquiring nuclear weapons or material.
Condemning terrorism in all its forms, Prime Minister Manmohan Singh and US President Barack Obama, in a joint statement, issued at the end of the American leader's official engagements in India, called on Pakistan to bring to justice the perpetrators of the 26/11 Mumbai terror attacks.
They reiterated that success in Afghanistan and regional and global security required elimination of safe havens and infrastructure for terrorism and violent extremism in Afghanistan and Pakistan. The two leaders also emphasised the importance of close cooperation in combating terrorist financing and in protecting the international financial system.
Deciding to strengthen and expand the Indo-US global strategic partnership, the Indian PM and Obama called for an efficient, credible and legitimate United Nations to ensure a just and sustainable international order. Singh welcomed President Obama's affirmation that in the years ahead, Washington looked forward to a reformed UN Security Council that included India as a permanent member.
The two leaders reaffirmed that their countries' common ideals, complementary strengths and a shared commitment to a world without nuclear weapons gave them a responsibility to forge a strong partnership to lead efforts for non-proliferation and universal and non-discriminatory global nuclear disarmament in the 21st century. They affirmed the need for a meaningful dialogue among all states possessing nuclear weapons to build trust and confidence and for reducing the salience of nuclear weapons in international affairs and security doctrines.
Singh and Obama also expressed a commitment to strengthen international cooperative activities that would reduce the risk of terrorists acquiring nuclear weapons or material without reducing the rights of nations that played by the rules to harness the power of nuclear energy to advance their energy security. This sentence in the joint statement is obviously aimed at justifying the Indo-US civil nuclear deal under which India will develop nuclear energy with the assistance of major world powers to meet its growing electricity needs. Both sides expressed deep concern about the threat of biological terrorism and pledged to promote international efforts to ensure the safety and security of biological agents and toxins.
On the civil nuclear deal, they reiterated their commitment to build strong bilateral cooperation through the participation of American energy companies in India on the basis of mutually acceptable technical and commercial terms and conditions that enabled a viable tariff regime for the electricity generated. The two leaders noted that India was committed to ensuring a level playing field for US companies seeking to enter the Indian nuclear energy sector, consistent with New Delhi's national and international legal obligations. They welcome the commencement of negotiations and dialogue between the Indian operator and US energy companies.
The two leaders decided to take mutual steps to expand US-India cooperation in civil space, defence and other high-technology sectors commensurate with India's non-proliferation record and commitment to abide by multilateral export control standards.