Have skill will shine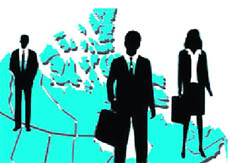 While the golden pay packages being offered by MNCs are extremely encouraging for our youth, India Inc continues to crib about the widening industry-education gap leading to a 'half-baked' workforce. On the other hand, the academic fraternity is deeply concerned about employers getting 'softer' on prospective employees' basic technical and analytical skills.Unlike the West where there is a 'strong interface' between industry and classrooms with more emphasis on teaching real-life analytical skills, our education system is suffering from a host of flaws like rote learning, leading to a growing unemployed youth brigade each year.

Web advertising —A promising option

Be cautious

Perfect PATENT

Private varsities can't affiliate colleges
News Board
Women in IT sector more stressed
Despite the glamour and hefty salaries associated with the field, women in the IT industry suffer from physical discomfort and mental tension, even in their plush office environments, a study has revealed.
Careercature
Sandeep Joshi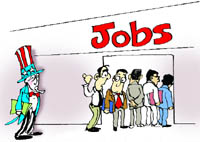 He is the most needy person.
MoU signed
A recently signed Memorandum of Understanding between Michigan Law School and Jindal Global Law School (JGLS) of O.P. Jindal Global University (JGU), near Delhi, has established a Joint Centre for Global Corporate and Financial Law & Policy, as well as opened the door for future cooperative efforts between the two schools.
In conversation
'Join forces to bridge gap'
For Manmohan Kumar Garg, CEO-cum-Chairman of Gurukul Vidyapeeth, the low employability factor of students passing out from various professional colleges is an extremely disturbing factor. The group is coming up with a finishing school in Mohali to impart specialised training to students from different streams to make them ready for industry. But he feels that changes should be incorporated in the curriculum to make students employable as per industry needs. Excerpts from an interview with Rakesh Sharma
Master your anger
What impression do you get when you find an officer shouting angrily at his subordinate or when two colleagues are quarrelling and abusing each other? It certainly is not a pleasant experience and a very awkward situation to be in for those not directly involved in the argument.
Office Mantra
Banish boredom
The secret of discovering interest in work is to be interested in it, writes I.M. Soni
Boredom at work place is a gnawing problem. The younger generation must guard itself against its implications as it hampers their career growth.Boredom is a state of mind. It is not induced by circumstances. It is the result of one's attitude towards circumstances. Work is interesting only if one takes interest in it.
Glut of jobs in Q4
Six sectors, including healthcare and realty, are expected to create a whopping 2.3 lakh jobs in India in the last three months of 2010, according to global consultancy Ernst & Young.Boosted by strong domestic economic recovery and improved global sentiment, most local industries are expected to increase their headcount in the coming months, E&Y said.
Happiness work
Network and rise
Gems of ancient wisdom
To make a career out of your work, develop links.Very few might have risen like Hemu. Son of a grocer, Hemu began as Superintendent of Bazars under Sultan Islam Shah. Then he became the head of the sultan's secret service. Under Sultan Muhammad Adil Shah, he was promoted as minister and later, as commander. He led the forces to victory in Agra and Delhi and proclaimed himself King Vikramaditya in 1556.