Action against Raja is PM's prerogative: Cong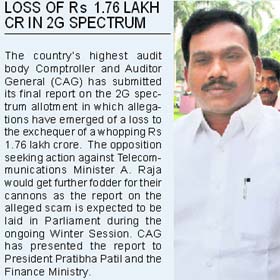 New Delhi, November 9
Action against telecom minister A Raja -- who belongs to ally DMK and has been dogged by graft accusations -- is the prerogative of the Prime Minister, the Congress said Tuesday even as it moved against Ashok Chavan and Suresh Kalmadi over corruption allegations.
Congress spokesperson Jayanthi Natarajan told reporters outside Parliament that the party cannot comment on allegations of Raja's involvement in the 2G spectrum scam as the matter is sub judice.
"The matter is in focus for long, but it is sub judice and until a decision comes it is difficult to comment," Natarajan said. "The ultimate prerogative will be of the Prime Minister, they are coalition partners," she said, referring to Raja belonging to the DMK, an important ally of the Congress-led United Progressive Alliance (UPA) government. Kalmadi Tuesday resigned as Congress Parliamentary Party (CPP) secretary after he was asked to quit in the wake of serious corruption allegations against him as head of the Commonwealth Games Organising Committee.
Maharashtra Chief Minister Ashok Chavan also stepped down following his alleged involvement in a Mumbai housing scam.
The opposition BJP has questioned the timing of the resignations, adding that the issues of corruption would be raised any way. The party has also asked why the Congress has not taken any action against Raja.
"The 2G spectrum scam is the mother of all scams and we will raise it in parliament anyhow," BJP spokesperson Prakash Javadekar said.
However, Natarajan said the action against Chavan and Kalmadi reflected the "high morals" of the Congress. "The BJP never took any stand like this, none of its leaders have resigned for involvement in corruption, including their Karnataka leaders, and they are cribbing about the timing," she said, hinting at the mining scam in the state. — IANS