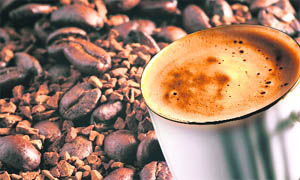 Cold byte
Winter is a time to binge, but make sure you don't add up to those extra calories
Winter is round the corner and how one longs for a steaming cup of coffee inside a cozy quilt on a foggy morning! It is not without reason that on a recent trip to Shimla, actor Abhishek Bachchan said: "Wish Mumbai has winters too!"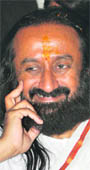 Living is an art
Just like pollution in a certain area affects the atmosphere of another place, negative vibes from a depressed person can affect everyone around
From the little space we managed to find, we could see over a 1,000-odd people struggling hard to fit into the gymnasium hall of MCM DAV College for Women on Tuesday…just for one glimpse of Sri Sri Ravi Shankar.



Sri Sri Ravi Shankar

Festive felicity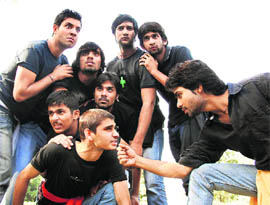 It's that time of the year again, the time when student festivals rock the city
It's a season of student endeavours and it's as eventful as it gets! There's a budget and there are benchmarks, and there's keeping (or copying!) with the Joneses syndrome, with the big daddy of campus fests in the region—IIT Delhi's Rendezvous—having flagged off the session and set the milestone for the year. Back in the city, with the very local Soch rolled over, here's a low down to what to look forward to from the stable of various departments.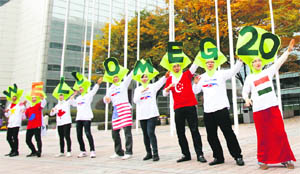 Participants perform during a Say Hi campaign held by university students near the COEX Convention Hall, the venue for the G20 Seoul Summit in Seoul November 7, 2010. The G20 Summit will be held from November 11 to 12. — Reuters photo
Young STAR
On a HIGH
She wants to capture Mount Everest. But what makes YPS product, MCM president, stand apart from any other youngster on unfettered flights of fancy is she's taken 19,090 feet steps towards it! And what makes her make it to this 'Young Star' list is she's part of the all-women team that set the record of being the first-ever to have conquered Mt Rudugaira in 2010.
Being private in public
A report has revealed that teenagers are increasingly posting explicit images of themselves on Internet, and consequently at danger from paedophile networks. A report by the Child Exploitation and Online Protection Centre (Ceop) highlights an increasing trend of risqué images that young people have taken of themselves appearing on the web.


Sunny side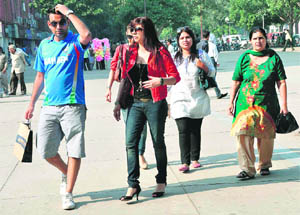 Tourists enjoy a stroll at the Sector-17 piazza on a bright Tuesday morning. Lifestyle photo: Parvesh Chauhan
ACT wise
Any actor without a godfather has to prove himself each time he seeks a new role in films or even in big TV serials," observes Shailendra Srivastva, who played inspector Gajpati Rao in the recently released film Rakta Charitra.
FORT-hright
These documentaries bring to us facts from the past. Though on starkly different subjects, the documentaries will help us know out rich culture and heritage better.
Foot loose
Finding time to run to the spa for a pedicure can be hard to come by, but a pedicure in the comfort of your home is much easier! Vega, India's leading head-to-toe beauty accessories brand, introduces its new collection of Pedicure tools. This range includes the foot scrubber, pumice stone, pedicure file, diamond foot paddle, dual action callus smoother, foot brush with emery and a wooden black emery pedicure file. Now grooming your feet takes a new meaning.


We did it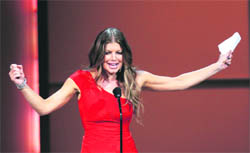 Singer Fergie speaks after winning the Woman of the Year award at the 20th annual Glamour Magazine Women of the Year award ceremony in New York on Monday. Reuters photo
Soft touch
Now say goodbye to dull and chapped lips this coming winter as Avon launches its first moisturising lip gloss, Perfect Wear Extralasting Lip Gloss. This new lip gloss will not only make your lips soft and supple but give them a sparkling shine that will last for eight hours.
Social service
Hollywood couple Maggie Gyllenhaal and Peter Sarsgaard have recently opened a village for orphaned and abandoned children in India. The SOS Children's Village set up in Alibaug village in northeast India, will accommodate 140 children, who will live in small groups in individual family houses and go to a nearby school.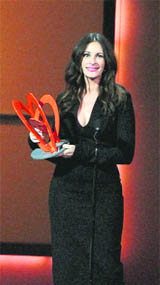 Actor Julia Roberts accepts her award at the 20th annual Glamour Women of the Year Awards. PTI photo
New Year Resolution
Hollywood biggies Robert De Niro, Hilary Swank and Ashton Kutcher are in talks to star in the ensemble love story New Year's Eve. The film, a follow-up to this year's Valentine's Day, is being directed by Garry Marshall.
Addictive love
Hollywood beauty Anne Hathaway says she was 'mortified' while stripping for intimate scenes with Jake Gyllenhaal in their new movie Love and Other Drugs.The 27-year-old star plays a woman suffering from Parkinson's disease who falls in love with a viagra salesman in the movie."It's racy, very racy. I keep asking people if it is too sexy for them. However, it is just part of the job.
A heart breaking story
Debutant director Danish Aslam was not interested in telling another run-of-the-mill love story and so he decided to explore space issues in relationships in his forthcoming film Break Ke Baad.