M A I N N E W S
Special to The Tribune

Give Pak more time to rein in terror: Musharraf

Ashish Kumar Sen in Washington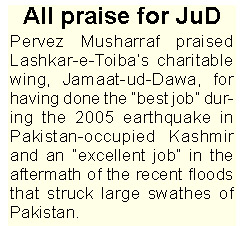 Former Pakistan president Pervez Musharraf on Wednesday said that anti-India militant groups like Lashkar-e-Toiba and Jaish-e-Mohammed were very popular among Pakistanis and advocated a more gradual approach to rein them in.
Musharraf said it was important to allow the Pakistani government and intelligence organisations some time to take action against the groups. "You can't rock the boat so much that the boat capsizes. So, while these things have to be done, allow piecemeal, gradual action through a well thought out strategy which does not disturb the entire law and order situation in Pakistan," he said.
The former President said groups like Lashkar, Jaish-e-Mohammed (JeM) and Hizb-ul-Mujahedeen moved into Pakistan because of the actions of the Indian Army in Kashmir. "So you are dealing with a situation which has popularity in the people. When they go and fight in Kashmir it is very popular with the people of Pakistan. They are Mujahideens and they are fighting the Indian Army," he said. Musharraf told an audience at the Atlantic Council here that since there was such public sympathy for these militant groups no Pakistani government did anything to shut them down. "Since they were going to Kashmir and fighting the Indian Army it went along with the psyche of the people of Pakistan -- with everyone," he added.
As President, Musharraf had banned some anti-India groups but they continued their activities under new names. "(Shutting down the groups) is easier said than done," Musharraf said.
The Obama administration has been pressing the Pakistan government to take action against militant groups that target the US and India. US President Barack Obama had raised concerns about the potential of a major terrorist attack in India or the US emanating from Pakistan in his meeting with Pakistani Chief of Army Staff Gen Ashfaq Pervez Kayani in Washington last month.
Musharraf declared he didn't believe in Pakistan being India-centric and then proceeded on a tirade against India criticising Obama's decision to visit India and not Pakistan, describing Kashmir as the root cause of terrorism in the region and accusing India of stabbing Pakistan in the back through its actions in Afghanistan.
Musharraf denied that the Pakistan Government had provided safe havens to Taliban and Al-Qaida fighters, but admitted that these militants may be getting shelter from people living in refugee camps in Quetta and Peshawar. "While these refugee camps may be a safe haven for any kind of activity, it is not government-sponsored," he said.