M A I N N E W S
The heart-breaking saga of how the Kachroo family battled sorrow and apathy to save others from a similar fate
'Papa, how does one lodge a complaint against ragging?'
— aman kachroo's last words
Aditi Tandon
Tribune News Service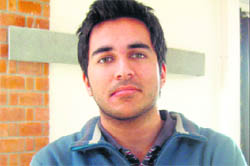 Aman Kachroo just before he was ragged to death by his seniors at his college in Dharamsala.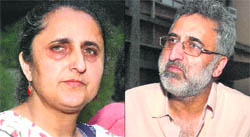 His aunt Indira Dhar and father Rajinder Kachroo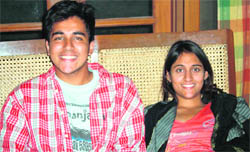 Aman with his sister, Synead
New Delhi, November 12
"How does one write a ragging complaint?" was the last thing 19-year-old Aman Kachroo asked his father during a hurried phone call on March 8, 2009, two days after he had suffered a brutal ragging attack by his seniors at the Tanda Medical College Hostel in Himachal Pradesh.
Hours after the two spoke, Aman collapsed on his college compound. His father, Rajinder Kachroo, on an official tour to Tanzania, was unaware of the tragedy just as his mother Priya, who was away to Shri Sathya Sai Baba's ashram in Puttaparthi at that time.
Earlier that day, Aman had also called up his mother, who asked him what prayer she should make on his behalf. "Pray that we remain happy and together forever," the handsome young man had wished, not once revealing to his parents the pain he was in.
His college ENT specialist had dismissed the fatal sign of a haemorrhage as minor ear rupture. But Aman's autopsy clearly showed that he had died of brain haemorrhage caused by repeated hammering of his head against the wall. That report along with Aman's handwritten police complaint against his seniors - the one his father had innocently guided him to write - led to conviction of his killers yesterday.
Only the sentence (four years in jail) made a mockery of justice, feels Rajinder Kachroo, who didn't have the chance to see his son's body. He was in Tanzania at that time helping a university with a water sciences project. That's what Prof Rajinder Kachroo, a doctorate in hydrology from University College of Gallway, Ireland, used to do for a living until March 8 (two years ago). But now he has another mission -- elimination of ragging. And this mission has a deep rooting. It was actually Aman's death wish.
"When we went to Tanda to claim his body we searched his room for clues. By Aman's bedside, we found a bubble diagram in which he had poured out his pain, analysing the emotional and physical affects of ragging. The note ended with a wish — ragging should be stopped," Indira Dhar, Aman's aunt told The Tribune today as she recounted the horrors the family went through from the time a tea-vendor in Aman's college called her up to break the news of the child's death.
Prof Kachroo had received a similar call in Tanzania, only to go into isolation for a day until a flight on March 10 brought him back home to Gurgaon. His wife Priya, still in Puttaparthi, also got back around the same time. "When Rajinder called me up on March 8, I thought he didn't know anything. But he knew. All he said was Aman had died and that he was switching off his cell phone and would not be available to talk to anyone for a day. That day my brother closed the door to life," Indira says, breaking down from the memory of the 12-hour road journey she and her husband Rohit made to Tanda to claim their nephew's body. It was the couple that took the critical decision to get Aman's postmortem done - the decision that became the basis of the court case against the young man's killers.
"I owe a lot to my sister," Rajinder says, not mentioning a word about Aman's last days or about what he went through following his death. But tears in his eyes say it all. Since March 10, two years ago when he cremated his only son, to date - this celebrated hydrologist has been working hard to secure the campus life of 40 million college-goers in India.
"Aman's last wish is my mission now," says the 55-year-old whose anti-ragging petition in the Supreme Court earned a landmark judgment that barred ragging by law and made anti-ragging declarations by students mandatory for admission. The apex court took note of Rajinder's technology-based "Ragging Prevention Plan" directing the Ministry of HRD to implement the same "as it was". The ministry got all the higher education regulators to notify anti-ragging regulations but failed to pull off a father's dream, ensuring that he continued to slog day in and day out. "When I went with the plan to former education secretary, he told me while he sympathised with my loss, ragging was not such a problem as was being made out to be. That day I vowed to keep struggling no matter what it took to change the system. I am still struggling," he says, his voice cracking at times.
Not that Aman's death has gone in vain. His father's battle at the legal and administrative front recently got President Prathiba Patil to write a letter on the issue to all state Governors.
The letter directs all Vice-Chancellors to make their colleges ragging-free through the scheme Rajinder Kachroo has launched. Recently, Tamil Nadu Governor Surjit Singh Barnala became the first Governor to officially adopt the plan. "He invited me to Raj Bhavan for a presentation. Heads of 150 educational institutions came and adopted the plan. The software-based plan involves the creation of student database and a response from them on whether they are being ragged," says the father. But he knows he has a long way to go, especially to ensure the Supreme Court's anti-ragging order is not botched up by red-tapism in the government. Since Aman died, all the HRD Ministry has done is launch a toll free anti-ragging helpline (18001801805522) which operates through a call centre stationed at Shastri Bhavan, the Ministry's office.
From June last when it took off to December 15, the call centre has received 1.5 lakh calls and 320 anti-ragging complaints. Of these, 142 were pending for action as on December 15, 2009. "None of the cases were followed up to see what happened to the students who complained. The ministry has messed up the project. Much remains to be achieved," Kachroo says.
At a personal level, the man appears worn down by the trauma of having to come to terms with his only son's loss. Today he has only regrets left. "I wish I had asked Aman why his head was shaven when he once came home after admission; I wish I had granted his wish when he said he would wanted to stay in a rented house rather than the hostel; I wish I had taken it seriously when he said he was unable to concentrate on studies as his seniors would keep making him work," says Kachroo, who never visited Tanda even once after Aman's death.
He fought the battle from a distance, raising his voice where it mattered.
As Indira points out, "Like his son, Rajinder is a sensitive man who would never talk about his pain. He is proud that Aman died saving 13 students who were trapped in the hostel that night. We came to know that the four seniors bribed the hostel watchman to enter the premises, beat up the students all night. Aman suffered the most because he was masking others.." Indira, who reached Tanda on March 9, 2009, saw her nephew's body stacked away casually in a non-air conditioned room. It had not even been preserved chemically.
"When we reached, they couldn't even find the keys to the room where the body was lying. I was glad no one had to see Aman in that shape," recounts Indira. One learns from the family that the then principal of the college did not turn up to meet the family until they threatened they would not leave till they found out what had killed their child. When he finally came, he said Aman could have committed suicide. That's when Indira decided to have a postmortem even though she couldn't reach her brother at the critical time. What followed was worse — not one official from the Tanda Medical College accompanied the family to Dharamsala for a postmortem. "When we reached the hospital there, we were shocked to find it had no chemicals, no sheets, no ice-slabs. Aman's friends bought all that from the market. That's how the postmortem was done," Indira told The Tribune. On the way back, the family requested the college for a vehicle to take Aman's body to Gurgaon. The college refused. Aman was taken back home in a Red Cross van, his family and friends by his side.
It was consigned to flames at the Lodhi Road crematorium in Delhi and the ashes immersed in the Ganges by the banks of Haridwar. From those ashes has emerged a whole new movement to end the menace of ragging.