This Above all
Blend of fiction, reality
KHUSHWANT SINGH

Till a few months ago, all I knew about the Ansals was bazaar gossip published in newspapers, that is they were filthy rich, perhaps the biggest owners of real estate in the Capital and Gurgaon, including shopping plazas, malls, blocks of flats, factories, and above all the Uphaar cinema which caught fire, killing scores of people. Its proprietor Sushil Ansal had to pay a heavy penalty for allowing the tragedy to occur.
It was after the family made a handsome monthly donation to Reeta Devi's free mobile clinic that I got to read Kusum Ansal's travelogue, Discovering Latin America. I discovered I had missed something. She was informative and most readable. I found out more about her. She did her MA from Aligarh Muslim University and a doctorate in Hindi literature from Panjab University, Chandigarh.



Kusum Ansal has won many literary awards
She writes in English, Hindi and Punjabi — novels, short stories and poetry. She has won many literary awards. Her latest Beyond Silence (Roli Books) is a work of fiction, which delves into the lives of Indians who have been living in South Africa for four generations.
It starts in Chandigarh. The heroine is a Punjabi girl who has qualified as an architect. She falls in love with a South African-born Indian. They get engaged in Chandigarh, marry in Delhi and consummate their marriage in Johannesburg and make their home in Durban. Thereafter, it is the lives of South African Indians. It is fictionalised reality. All she has to do is to avoid overwriting and her penchant for clich`E9s to make her mark in the Indian world of literature.
Brit prince in Delhi
The latest issue of Private Eye of London has an article, "A Passage to India (from E.N. Forster's Novel)" about Prince Charles and his wife's visit to India to inaugurate the Commonwealth Games with his Queen Mother's message. I found it hilarious and share it with my readers.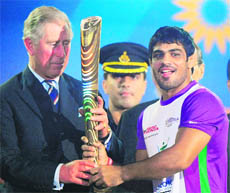 Prince Charles with the Queen's Baton at the recent Commonwealth Games in New Delhi Photo: AFP
It reads: "The Indian sun blazed down from a cloudless sky as Charles's stretch rickshaw swept down Viceroy Street, now renamed Manmohan Singh Avenue, scattering the sacred cows and the scores of street beggars queueing up outside the Star of Bucks Coffee House.
"Charles, with Camilla by his side, was delighted by the colourful scene. How amazingly India had changed since the days when Diana had posed for that sulky photograph in front of the Taj Mahal.
"The new India was alive and brimming with hope for the future, as indeed was Charles himself. Here he was about to step on to the centre of the world stage to open these Games in place of his mother. Billions of eyes would be on him as he delivered what would be the most important speech he had ever made.
"As his rickshaw skillfully navigated its way past the flooded potholes, and ragged street salesmen offering him free broadband connections for only Rs 300 a month, 'Very good, very fast, sahib,' Charles read through the draft of the speech on which he had been labouring for months. "There were the headings of his great message to the world, 'Climate change, greatest challenge to mankind; it really is appalling; global warming; even more appalling; environmental catastrophe; need for wind farms and organic yoghurt; not appalling at all; mother sends best wishes.
"Within only an hour or two now his big moment would at last have arrived`85 'Where is everybody?' asked Charles, as he and Camilla walked into the vast Shilpa Shetty Stadium, gazing down on the rows and rows of empty seats below him.
"Test match today, sahib, explained a deferential Indian official. 'Very important game, Australia vs India. We all have a lot of money on what's going to happen in the third over after lunch.' But Charles scarcely heard this. 'So when am I on?' he asked expectantly. 'Its quite a short speech, and shouldn't take more than three hours.'
"The turbaned functionary smiled enigmatically, as he gestured for Charles and his consort to sit in their place of honour on the official dais, when a number of workmen were still hastily constructing.
"As they sat down, on two wobbly chairs, a great throng of Indian dignitaries arrived to take their seats around them, and the colourful opening ceremony began. Charles could hardly wait."
Matrimony
Marriage is like a deck of cards. In the beginning, all you need is two hearts and two diamonds. But in the end, you will wish you had a club and a spade!
(Contributed by Vipin Buckshey, New Delhi)