Punjabi Antenna
Hosting shows with elegance
Randeep Wadehra

Dasehra brought a surprise to regular viewers of Sohani Saver (Zee Punjabi) when the erudite Balwinder was missing from the anchor's seat and a PYT was chirping about the festival's glories. Dismissing it as a one-off, Dasehra induced, happening, one waited for the subsequent Sundays, only to realise that the change has been permanent. One misses the weekly dose of gravitas, courtesy Balwinder's interactions with various artistes, litterateurs, administrators and educationists. One earnestly hopes that, if not Sohani Saver, another slot for a meaningful show on Punjabi literature, cinema, education and culture in general would be arranged.
Some months back PTC News, too, had started airing Samwaad (now defunct), a literary talk show. Although there were manageable glitches in its format, it introduced viewers to Punjabi literature's current icons. Such shows are as essential for enhancing a channel's content value as refurbishing the region's cultural profile.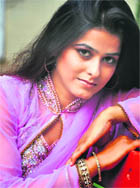 Anshu Sahni is a talented and versatile artiste
Contrary to the popular perception, women have been making substantial contribution to the growth of Punjabi television as epitomised by Rajiee Shinde, who is currently the Director & COO of the G-Next Media Pvt. Ltd. Earlier, she was with Zee group as Business Head of ETC Punjabi. Onscreen, too, women are doing quite well. Satinder Satti, the anchor of The Masters and Galiyaan Pind Diyaan on PTC Punjabi, has had a long innings as Punjabi television's diva. There was a time when she was all over the regional small screen hosting talk shows, anchoring road shows and emceeing live musical nites. She set certain standards in television hosting.
Over a period of time, more and more women began to make their presence felt. Radha Sahni, noted for her documentary on Punjab's water resources, certainly presents an ideal mix of elegance and intelligence on television. Misha Bajwa Chaudhary, presently anchor and producer with the Day & Night News channel, had earned her professional spurs in Canada, and has been a notable presence on the regional television.
Nirmaljeet Kaur has been another notable presence. Presently, younger generation of wannabe divas is catching the viewers' attention. For quite some time now Jassi has been drawing eyeballs with her anchoring on ETC Punjabi.
Anshu Sahni, whose Preeto Top Ten (PTC Punjabi) is well into its second mirthful year, is an immensely talented and versatile artiste. Her impressive emoting qualities enable her to essay variegated characters, boosting the show's entertainment and glam quotients. Unsurprisingly, she has bagged assignments for hosting popular live programmes like those of the rising singing star Satinder Sartaj, and is being offered roles in movies, too.
Baljit Johal is another female anchor who is on the move. Apart from hosting Zee Punjabi's popular Pindaan Vichchon Pind, she has got star billing in Dolly Singh's latest video album apart from a role in a Punjabi movie. Baljit emceed five live shows celebrating World Tourism Week at Rock Garden and Sukhna lake in Chandigarh that included performances by Aslam Sabri, apart from the popular Punjabi Hangama Nite. She also hosted Bollywood Nite in Chandigarh's Sector 17. The CWG proved to be another stepping stone for her career where she anchored Bollywood Nite on October 8 and 9.