The saying, "Spare the rod and spoil the child" has become a thing of the past, as Indian parents from all strata compete in pampering their children, to turn them into super achievers. These children – rich or otherwise – don't end up being 'spoilt brats' any more, writes Vimla Patil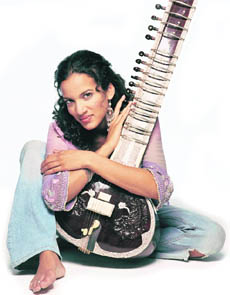 When Karan Johar's film Dostana made "Ma da ladla bigad gaya" into a cult song, parents all over India laughed merrily. Not only was the film funny, but the song also highlighted the fact that 'spoilt brats' are successful, cute, parent-loving people. Other films, too, have highlighted spoilt brats or wastrels and their success in life – e.g. Wake Up Sid and umpteen more. This is a reflection of the fast-changing Indian society in which innumerable young super-achievers are proving that a privileged upbringing is a blessing, not a stumbling block to success.
A sharp look across several strata of parents shows a stark change in attitudes. Indeed, parents are competing with each other to pamper their children and give them every opportunity to achieve in their chosen fields – not only in traditional careers like medicine, engineering, IT and finance, but also in every imaginable career like sports, photography, acting, modeling, singing, dancing and painting. Gone are the days when sparse funds and strict parenting codes prompted Indian parents to step back, when children nagged them for expensive goodies, for the fear of spoiling them.
Though many still grumble at the relentless demands of children, most agree that giving in to legitimate luxuries does not create 'irresponsible spoilt brats'.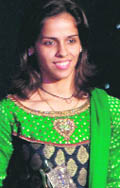 Anoushka Shankar and (above) Saina Nehwal are youth icons today
"We lived in Dubai for years for a better standard of life," says Govind Iyer, "But when I saw my daughter had her heart set on tennis, we relocated to Chennai and gave her the best training available. We now wait for her to enter state-level events and fulfil her ambition as a professional tennis player."
Iyers are not alone. Parents of great sportspersons like Sania Mirza, Saina Nehwal, Mahendra Singh Dhoni, V V S Laxman, Zahir Khan, Irfaan and Yusuf Pathan and Harbhajan Singh have given their children every opportunity to excel in their chosen sport. They are youth icons today. Their achievements have encouraged parents to follow suit and give their gifted kids every chance to excel. Giving them expensive phones, computers and other gadgets is no longer a luxury. It is a necessity for their progress. Fitness, good looks, good clothes and learning life-skills are also a necessity. So the money spent on these is no longer considered a 'waste'.
"The post economic-liberation generation of young tycoons is filling all workplaces," says Ambica Chawla, a youth counsellor, "With the largest young population in the world, India will soon be ruled by the brat pack, which has new ideals and new ways to fulfil its dreams that will change the country."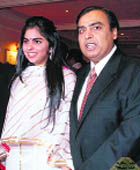 Ronicka Kandhari, a young ace photographer from Delhi, says, "I loved photography. My parents encouraged me and gave me all the expensive equipment I needed. Today I specialise in creating creative wedding albums and families pay huge amounts to have them done. My husband supports me completely."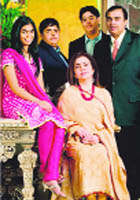 Mukesh Ambani with daughter Isha (left) and family. Every business family – old or new – is now focussing on its young generation to take businesses forward
The truth is that the tide has turned all over India – in metro cities, towns and even in villages. The style of bringing up children has gone through a sea change, judging from the national scenario of achievers. Take business and finance. The children of major business leaders are now taking their place with humility and dedication to their work. "My son Pirojsha wanted to be a politician," says Adi Godrej, "But he has currently decided to keep that desire on hold and will join our business. After all, this is a big responsibility. Godrej products are used by a whopping 415 million Indians and our real estate projects have now reached Mauritius and Maldives. Thousands of workers depend upon us for their livelihood. So, our children will voluntarily take over the reigns of the industries. Tanya, who is married, is diligently looking after business ventures under the guidance of our senior managers. Today, young industrialists want to be 'employees' and not 'bosses by birth', which is the best way to learn the ropes of business."
This is so with most industrial families. The name Birla is synonymous with wealth in India. Kumaramangalam Birla is not only the head of a huge business empire, but also both he and his wife Neerja are training their young children Ananyashree, Aryaman Vikram and Advaitesha to join them in their philanthropic work for their Muktangan School and Make A Wish Foundation so that they understand and join the family tradition.
Yash Birla and wife Avanti are another example. They, too, are top art collectors and encourage their children Sholka, Nirvana and Vedanta to be multi-faceted personalities with healthy bodies and minds to take over the empire one day.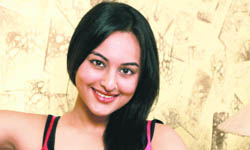 New-age stars like Sonakshi Sinha are diametrically different from the stars of yesteryear
Every business family – old or new – is now focussing on their young generation to take their businesses forward with confidence and dedication. More examples are: Devita Saraf of Zenith Computers, Vivek Biyani of the Biyani Group, the Ambani brothers and their wives Nita and Tina and children Akash, Anant, Isha and Jai Anshul and Jai Anmol. Still others like Lakshmi Venu, daughter of Venu Srinivasan, chairman and MD of TVS Motors, Roshni Nadar, Akshata and Rohan Murthy, Aditya Burman, Navroze Godrej, Rishad Premji and Vikram Baidyanath –are the proverbial 'Young Turks' of India's industries.
Most of them say that "business-building methods and the environment of industry have changed drastically and young, well-trained leaders understand inclusive growth better." Most of these scions of business families have been trained in the world's best management schools like Harvard, Yale and London. They have experienced the international business climate and are determined to achieve a place of honour for India among the world's rich and progressive nations.
Each of the above-named heirs is in a different business – from traditional medicine to information technology – and all agree that every industry has a brilliant future. There are literally millions of new entrepreneurs from the middle or lower classes following earnestly in the footsteps of these leading businesspersons.
Take the arts next. Every week, new artists are hitting the scene with their works. The renowned galleries of Mumbai and Delhi are booked throughout the year and more galleries are joining the surge of Indian art into a promising future with online auctions becoming the order of the day. While the works of masters are in international demand, the young are making new forays into the art market by using new techniques and materials as well as new concepts of expression.
Next come sports and entertainment. By their very nature, these two professions are 'young and ambitious'. Ranbir Kapoor, Katrina Kaif, Kareena Kapoor, Deepika Padukone, Sonam Kapoor, Sonakshi Sinha, Imraan Khan, Neil Nitin Mukesh and many others have –within the past two years – pushed established superstars sideways and occupied the 'superstar' positions in Bollywood.
All young stars are professional, punctual and manage their careers with the latest tools. Ranbir, for instance, was lost recently in traffic and had no compunction about jumping into an auto-rickshaw to report for work on time. For young superstars like Kareena Kapoor, Sonakshi Sinha, Sonam Kapoor, Irrfan Khan, as well as directors Farhan Akhtar, Rajkumar Hirani, Siddharth Anand, a focussed work culture is the backbone of their careers. They are diametrically different from the stars of yesteryear where life was taken as a leisurely ride through the glamour world.
Musicians Anoushka Shankar, Ayaan and Amaan Ali Bangash, Rahul Sharma (who recently performed with Richard Clyderman), A. R. Rahman and Resul Pookutty (who won Oscars for Slumdog Millionnaire), in addition to scores of singers in Bollywood and the classical arena, are bringing huge laurels to India. No longer, do all these artists remain bound by their careers – they model for top designers, who are also young and enterprising – do promos for products and are 'seen' as well as 'heard'. Everywhere you look, young Indians are making their mark in every career.
Young achievers in the sports arena have made India proud in the recent past. Cricketers Mahendra Singh Dhoni, Harbhajan Singh, V. V. S. Laxman, Irfaan and Yusuf Pathan and many others come from middle-class families and have built fortunes by playing dedicatedly. They shine in television programmes and in personal appearances in ads or on the ramp. They have shown that they can manage not only their careers but also their money in an admirable way. They are style icons too. Captain Dhoni says, "We are a young nation. Our parents gave us every opportunity to excel. It has helped us greatly that today we have inspiring icons to follow. Every child in India – whatever economic strata he/she belongs to – has a dream today and parents do their best to give them the chance to realise that dream. We are a society on the move and the young are spurring the change at an admirable pace."
Some experiences of young sports achievers are awe-inspiring. Sania Mirza and Saina Nehwal have also written new sports history with their triumphs and celebrity status. Abhinav Bindra, Gagan Narang and many others have proved that young India is marching towards unprecedented success. In politics, too, Rahul Gandhi, Omar Abdullah and innumerable others are showing the way for the youth of the country.
Most Indian parents say that young people are aspiring to achieve their goals for several reasons. "Today, hard work results in a better lifestyle, wealth, fame and recognition. Every struggle has a better chance of success. Indian youth have got their icons now. On their part, parents do their best to encourage their children and spend their earnings to give their offspring a better chance in life. Fathers or mothers almost become managers of their children's careers. Many relocate for a better education for their children. Mothers give up their careers to train their promising kids.
"We live in an age when being focussed and achievement-oriented pays rich dividends," says Sunanda Rawal, mother of a young footballer, "Education is most important and applying your energy to the goal ahead delivers results without fail. Like me, most parents work hard to propel their children onto the path of super achievement!"