MUSIC ZONE
Saurabh & Gaurav
Neil Young — Le Noise (Reprise)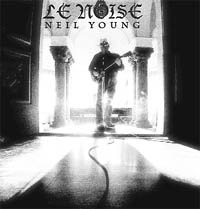 Featuring eight simplistic tracks performed alone by Young on his untamed guitar, Le Noise has been fashioned (via producer Daniel Lanois) into a chill wave record, with looped vocals and delicately applied electronics teasing the distorted, stripped-down melodies and Young's high-and-lonesome whine. Due to the fact that it is just Neil and his trusty guitar, the songs take on a more personal feel and in a lot of ways sound like individual performances. On lead single Angry World, Young's echoing vocals float in and out of a riff you might find on one of his mid-1970s Dirt Trilogy albums. Hitchhiker is a renewed take on the lost track Like an Inca, and the topic is Young himself. He talks of trying a bevy of drugs, leaving his girlfriend, and turning away from stardom. No chorus, no winding solos, just a dripping guitar riff while his bare confessions command our attention all the way through. Followed by Love And War, the guitars turned down and the vocals upfront and intimate, and any initial doubts about Le Noise start to diminish. Like most of Neil Young's best songs, the lyrics on the track sounds simplistic, but in his hands become earnest and honest. Peaceful Valley Boulevard is the most traditional Neil Young-esque song here, a seven-minute epic about westward expansion. The result is a peculiar, occasionally brilliant mix of standard Young tropes and radical approaches.
Best track: Hitchhiker
Worst track: Rumblin'
Rating: ***
The Orb — Metallic Spheres
(Columbia)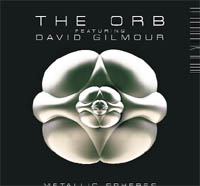 Metallic Spheres is designed to be heard in two parts: Metallic Side and Spheres Side — each side containing five discrete movements and ambience. The album features David Gilmore's guitar and lap steel guitar, in addition to some of his vocals from Chicago. Alex Paterson contributes sound manipulation, keyboards and turntables, while Youth adds bass and keyboards and handles the production. The Metallic Side starts with some of Gilmour's trademark guitar atmospherics. Subtlety is the key here — a perfect accompaniment to the atmospheric and percussive soundscape on offer. As the first quarter of Metallic Side finishes, the percussion builds, offering a more urgent tone, and one begins to hear the odd human voice in the distance behind David's soaring guitar, but it's nearly 10 minutes into the track before part of his vocal from Chicago can be heard, albeit quite briefly. The Spheres Side starts with a darker and altogether more purposeful feel to it. What strikes you strongest is the harder guitar work. Both The Orb and David Gilmour completely play to each other's strengths, and the result is an exceedingly rich — and trippy — experience. Highly recommended for the fans of either artist.
Rating: ***
Lil' Wayne — I Am Not a Human Being (Universal Motown)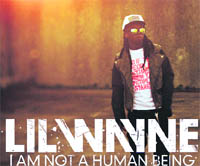 Recorded before he started his stint in prison, I Am Not a Human Being premieres as he ends his eight-month term in jail, and can hopefully be viewed as him locking back into form, after the huge misstep of the dreadful Rebirth. Lil' Wayne has always been fairly good at R&B tracks, and that ability shines through on the hit track Popular. It's a synth-and-piano cover of The Killers' When You Were Young with an oddly catchy signature hook. Lil's rhymes remain stiff and production strikes a fair balance between trademark southern sounds and galactic offerings. The finest three tracks all feature the man who has quickly become Wayne's best-ever counterpart, Drake. The two rappers' contrasting qualities, Wayne's coarse and Drake's smooth vocals, bring out surprising sides of each other. On the sweet-soul track With You, the Pretty Toney-style beat and Drake's croon draw out Wayne at his most human. While the superhero-synth track Right Above It would seemingly fit well on an idealized The Carter IV. In addition to Drake's numerous appearances, Wayne also grabs help from Drizzy's long time producer 40 for the mellow cut, I'm Single. The title track is a spacey, Rick Rubin-esque m`E9lange of guitar stabs, power chords, and shifting drums produced by Drew Correa and Infamous. Concluding with That Ain't Me, featuring Jay Sean, and the catchy Bill Gates, Wayne makes a welcome return with an appealing album.
Best track: With You
Worst track: Gonorrhea
Rating: **
Album of the month
Soundgarden — Telephantasm
(A&M Records)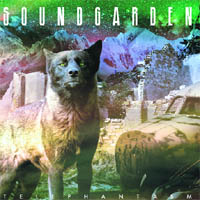 Chris Cornell, Kim Thayil, Ben Shepherd and Matt Cameron collectively redefined rock music for a whole generation and had a revolutionary impact on the course of musical history. In accordance with the group's recent reunion news, Telephantasm establishes Soundgarden's reputation as one of America's heaviest and most influential rock bands of the 1990s. Along with hits Black Hole Sun and Spoonman, live versions of Jesus Christ Pose, Get On the Snake, and Blow Up the Outside World are unearthed. Though consisting of some fundamentally great songs, Telephantasm inexplicably omits bona fide classics like The Day I Tried To Live. Of utmost interest to Soundgarden fans will be Black Rain, an unreleased track from Badmotorfinger sessions, which mixes thrilling, grunge guitar riffs with a set of vocals that really scream with stadium filling fury and the iTunes-only release of The Telephantasm, an instrumental recording originally from the 1987 Screaming Life sessions recorded by Jack Endino. The track blends mouth sounds, sound effects, and guitar flourishes from other recordings into a trippy remix constructed by longtime remix producer Steve Fisk. A worthy package that reminds you just how astonishing a band Soundgarden are.
Best track: Black Hole Sun
Misfit: Slaves & Bulldozers
Top 10 singles

n Like a G6 Far East Movement feat. Cataracs & Dev (CU)
n Just The Way You Are Bruno Mars (NM)
n Just A Dream Nelly (CU)
n Only Girl (In The World) Rihanna (NM)
n Back To December Taylor Swift (CU)
n Ridin' Solo Jason Derulo (FD)
n Club Can't Handle Me Flo Rida feat. David Guetta (CU)
n Love The Way You Lie Eminem feat. Rihanna (FD)
n Teenage Dream Katy Perry (FD)
n Bottoms Up Trey Songs (CU)
Legend: CU (coming up); NM (non-mover); FD (falling down); NE (new entry)