TELEPROMPT
Obamas splashed all over
Mannika Chopra

The incessant coverage of American President Barack Obama's first state visit to India was only to be expected. For three days, television channels were enthralled, excited, inspired and captivated.`A0 It was hard to get way from the live coverage, panel discussions, phone-ins and opinion mongering.
Unlike the P-word and the K-word, the O-word was everywhere. Viewers were given saturation coverage of Obama and his wife Michelle — their entry into Mumbai, their stay at the ill-fated Taj Hotel, interaction with students of Xavier's College, with farmers of Ajmer, paying respects at Raj Ghat, facing the press in Hyderabad House, addressing both Houses of Parliament and dining at Rashtrapati Bhavan.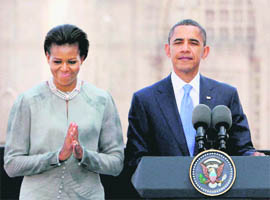 The media seemed mesmerised by the Obamas Photo: PTI
As a side bar, there was Michelle Obama, dancing (the most defining image, affirmed NDTV), playing hopscotch, shopping or simply relaxing. TV projected her sartorial sense, her smiles and her quotes. It was as if the news world was frozen for 72 hours, and all news channels were suffering from Obamaitis.`A0 Quite simply, the media was mesmerised.
Embedded in this breathless coverage, there were a few carpers and complainers. The negative stories came mostly from international channels. CNN reported on the cost of Obama's passage to India, and the BBC on some protests organised by the Left. The desi channels dutifully pushed the Obama message; fawning over his carefully crafted speech in Parliament, deeply respectful of his ability not to mispronounce Bahut dhanyavad, Chandini Chowk, Jai Hind and remember Vivekananda and Ambedkar.
Generally, the media tone was set at deferential rather than offering challenges when he made questionable pronouncements. Completely inappropriately, Lok Sabha TV aired a programme entitled Gandhi-King-Obama, placing all three figures on the same platform. Just scan the questions posed at the joint presser held at Hyderabad House. Students of Xavier's College in Mumbai hit the cannonballs; the softballs were left to the media. What happened to Bhopal?`A0 No problem, let's only focus on the good times.
Of course, there were some exceptions. By day three, NDTV was questioning the media obsession. Earlier on, the same channel had a revealing interview with Pete Dagher, Obama's and Clinton's campaign manager, who questioned the timing of the presidential visit — too close to Diwali celebrations and the day after the Democrats were given a drubbing in the midterm elections. Would the Indian Prime Minister have visited America officially the day after Christmas? Elements like this short-changed the India-US relationship, said Dagher, who believed that the visit should have been held in the first year of the Obama presidency. CNN-IBN didn't stress it enough; it spoke of the potential defence deals, which was an important subtext of this trip.
Times Now, that bastion of ultra- nationalism, changed its editorial tone midway. Arnab Goswami, from continuously bashing Obama for being too soft on terror, by the evening of day three had decided, after Obama mentioned Pakistan unequivocally in his parliamentary address, that this was indeed a 'historic' visit. One is just grateful that the channel did not claim Obama's revision as a result of a Times Now impact.`A0
Clearly, a lot of effort had gone in to prepare for the visit. Studios had been spiffed up and special backdrops were in place. Obama's visage was omnipresent, as were the flags of India and America. As for the names of the programmes, Namaste Obama (CNN-IBN, ET NOW) was a perennial favourite, as was the more direct Obama's Visit.
For those who were not completely hypnotised by the Obamas' three-day extravaganza, delved into Karan Johar's third season of Koffee with Karan. Host, director, fashionista, friend, or foe, Johar is many things to many people but one thing he is to all is entertaining. The easy charm of his earlier programmes remains, as does his wit, but the sets have changed for the worse.
Episode one was preceded by a goodwill message from pal Shah Rukh Khan, who apparently was unable to make it for the shooting.`A0Instead, we had a dose of the giggling goddess Aishwarya Rai Bachchan, eyes carved out in smoky eye shadow, and husband Abhishek (I suspect from Abhishek Bachchan's continuous prattle and humour that he himself would make a good host on a chat show).
But how long can one sustain interviewing the same stars over and over again?`A0 Perhaps, hopefully, this season Johar will expand his canvas in KWK and get other non-filmy personalities into his coffee lounge.