All set for Asian challenge
The Asian Games will be 10 times tougher than the Commonwealth Games, says shuttler Jwala Gutta
Amit Khanna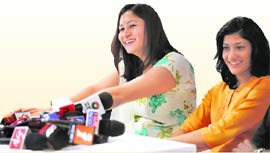 As in sports, so in life, no achievement can be final. With her long-cherished dream of lifting the gold medal in the Commonwealth Games already accomplished, Jwala Gutta has her sights firmly focussed on the next target. With the off-court controversies having kept India's top-ranked doubles shuttler busy right through, it must not have been easy to win the CWG doubles gold and bounce back from the brink of being written off.
Jwala Gutta feels her new doubles partner, Ashwini Ponappa (right), is the perfect foil to her
Photo: AFP

Fitness mantra
Sweet substitutes
Ratna Bose
Whatever control we may have on ourselves, however we may divert our minds, still there remains a childish side to us that can't resist the taste of sweets. We are born with a preference for sweets over salty things, and it remains with us throughout our lives. The solution for being able to satisfy their sweet tooth, without the disadvantages of sugar is the invention of non-nutritive sweeteners. These artificial sweeteners are low-calorie substances used as sweeteners to replace sugar.
Energy expectations
Energy drinks are a waste of money for fitness freaks, says a study
Fitness freaks who gulp energy drinks seem to be wasting their money. While the drinks may be fine for people training for marathons, many exercisers just end up consuming an excess of calories.