SWITCH in time
You are going to love this. What if you were given a choice to switch your parents for a while? Whoopee! What if parents had a choice to choose their kids too? Well, we didn't hear that properly. Did we? This is too good to be real.
EActor and VJ Gaurav Kapoor, host of the show Big Switch 2, shares what's so exciting about 'cool' parents
Family dramaF
I like the concept of the show, and the amount of work they have put into this...my friends think that my parents are pretty cool. Okay, they are not like buddies; nevertheless, they are happy with whatever I do. Had they not been 'cool' there was no way I could have done what I am doing, given the fact that I come from a family of bankers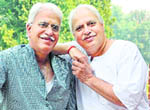 Classic cut
Classic is the word for brothers Rajan and Sajan Mishra, who have stuck to traditional music despite the ongoing surge for what we call Indi-pop. The duo, in the city for a performance, are maestros of khyal singing of Benaras Gharana and their lineage dates back to 300 years.
(L-R) Rajan & Sajan Mishra
Savour the flavour
Punjab Grill, newly opened food joint in Sector 17, has loads to delight your palate
When India's celebrated food columnist, food historian and well-known chef opens a restaurant in the city you know something different has arrived. And when the name is Punjab Grill by Jiggs Kalra, the question is not of difference but of fineness.


Bon Appetit
Chalo, Chinese ho jaaye!


Chinese cuisine has unanimously been declared the most popular cuisine the world over, sidelining most other flavours. In India we tuck into Chinese food like it belongs here. I agree the grub is Indianised and in ours case, greatly 'Punjabified', but we have learnt to enjoy it nevertheless! It has become an acquired taste, including the heavy dousing of monosodium glutamate, commonly known as ajinomoto. The resulting Chinese food has flavours that hit you like an oncoming truck! Readers, I implore you to try your hand at Chinese food. The real Chinese food, devoid of nonsensical frills and synthetic strong additives.
Cakewalk
If you want to lose weight, gorge on junk food!


Ever thought gobbling fat laden junk food, biscuits, cakes and other high-sugar could help shed those extra kilos? If not, then here's something you should know-an American professor managed to be leaner, healthier and happier after a 10-week junk-food diet. After eating sponge cakes, biscuits, some raw vegetables and drinking full fat milk and a protein shake every day, Mark Haub, of the Kansas State University, revealed this week that he had lost 12.1kg off his original 91.3kg body weight.After an initial "rough" few days, he reported that he was snoring less and sleeping better.