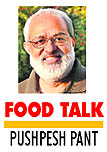 Sample this spicy
Aloo
Aloo ka achar, which derives its magic from the nutty sesame seeds and refreshing mustard oil, will complement well a dal or non-vegetarian shorba

This one is more than a bit confusing. The name, Aloo ka achar, indicates that it is a pickle but what comes on the plate is treated like a subzi complementing dal or a non-vegetarian shorba.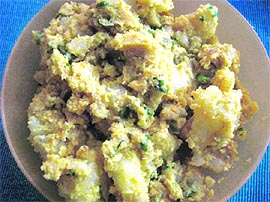 We, on our part, have always felt that this cold dish — an exception in Indian repertoire — is more like a salad. The original recipe is from Nepal and derives its magic from the harmonious marriage between nutty sesame seeds and refreshingly pungent uncooked mustard oil.
When we first sampled it, our hostess had spiced the dish with really hot green chillies, chopped very fine, and laced it with a bit of freshly ground mustard paste. Eating it with steamed rice recalls the Bihari classic chokha. But make no mistake this one is different boss.
Finally a word of caution. Resist the temptation of sprinkling additional sprinklers like chat masala. You are not making aloo chat. Nor should you throw in oily masala from any pickle. Happy eating.
Aloo ka achar
Ingredients
Potatoes (boiled but not soft and
mushy then peeled) 300 gm
Sesame seeds 100 gm
Green chillies (chopped) 4-6
Mustard oil 2-3 tbsp
Kasundhi (bottled or mustard freshly
ground at home) 1 tbsp
Lemon juice 2 tbsp
A large pinch of powdered turmeric (optional)
Salt to taste
Method
Cut potatoes into bite-sized pieces. Coarsely grind the sesame seeds. Put a thick-bottomed pan on flame and put the potatoes and sesame seeds in it. Mix well. Pour in the mustard oil, along with lemon juice and salt. Add kasundhi/mustard paste and blend well. Sprinkle over with chopped chillies. Cook on medium low flame for about five minutes stirring continuously. You may temper the dish with whole green or shredded dried red chillies, if you like. Serve at room temperature.