Globoscope
Absorbing thriller
Ervell E. Menezes

Littered with the choicest lines that provide the much-needed relief, From Paris With Love has a thought-provoking climax



Ervell E. Menezes

When aspiring secret agent James Recce (Jonathan Rhys-Davies, flummoxed by the deviousness of the situation, is asked "Are you okay, sir?" his confused answer is "I donít know" and that says it all for the intricate plot and suspense of From Paris With Love.
But there is also action and loads of it, which is not surprising for a Luc Besson movie. Nikita, also directed by Pierre Morel (the book Nikita is on the shelf), was French filmmaker Bessonís last commercial release in India.
The curtain rises to the United States Embassy in Paris where handsome, ambitious aide has been asked to pick up secret agent Charlie Waxx (John Travolta), who has been detained at Orly airport. The encounter with the immigration personnel is hilarious but it only establishes the bald, bearded Waxx as a granddad of James Bond.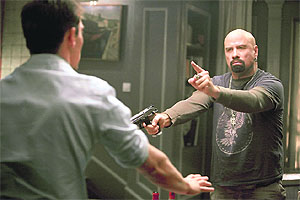 John Travolta slips into a totally different persona in what looks like his second comeback

But this assignment is a spoke in the wheel of a lunch date with his pretty girlfriend Carolineís (Kasia Snutniak), who is all set to give him the ring and pop the question. But`85as they say thereís many a slip betwixt the cup and the lip.
The city of romance and love this time is the locale of lightning quick mayhem, with Waxx as the ringmaster. This one-man army (reminiscent of Telly Savalas of the 1970s) is at it, up the stairs, down the windows, jumping from rooftops and negotiating long, narrow bylanes but leading from the front, with a confused but enthusiastic Recce in tow.
Known for his love for chess (that was his USP in the embassy), he finds Waxx a total kettle of fish. The script by Adi Hasak is littered with choice lines that provide the much-needed relief. And then, after action begets more action, it comes`85 the twist in the plot. And what a twist it is?
It is this dramatic turn that gives the story a stunning, thought-provoking climax.
Jonathan Rhys-Davies does an excellent job as the rookie secret agent. As for John Travolta, he slips into a totally different persona in what looks like his second comeback. The first was in Pulp Fiction. This Saturday Night Fever hero is aptly displaying his versatility. Kasia Snutniak does her bit, which is not too much in this absorbing thriller.