ART & LITERATURE
'ART & SOUL
ENTERTAINMENT
TELEVISION
GARDEN LIFE
NATURE
FOOD TALK
CONSUMER, BEWARE!
FASHION
GLOBOSCOPE
BRIDGE
ULTA-PULTA
EARLIER FEATURE
TRAVEL
RELATIONSHIPS
DREAM THEME
TIME OFF

Jawaharlal Nehru's birth anniversary falls today
Men of like MINDS
Jawaharlal Nehru's equation with Dr Syed Mahmud was a political and intellectual partnership, writes V.N. Datta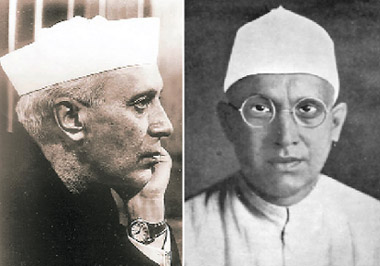 Dr Syed Mahmud sent Jawaharlal Nehru a birthday gift of 'eight books, a razor in a neat box – also a blade carrier'. Appreciating Dr Mahmud's kind gesture, Nehru wrote to him from Anand Bhawan, Allahabad, on November 20, 1933:
Thank you so much for your gift of books. Some of them are especially welcome. There were two or three which I already possessed. As it happened Tewari (Girish Tewari, a Congress worker) was going to Calcutta that day and I decided to send these three books back to the Book Company with him. I shall get other books instead. I hope you do not mind.
Pigeons choose to gamble
A pigeon's instinct for a high-risk flutter explains human gambling, reports Steve Connor
A gambling experiment has shown that pigeons like a flutter as much as humans — and that taking big risks in the hope of high rewards may be a fundamental part of our biological nature. Scientists have shown that when faced with a choice between a series of safe, small but guaranteed rewards or a single much larger reward that is less likely to happen, pigeons will almost always choose to gamble.
Keep her safe
Half of our city dwellers are women, who always first think of their safety in the environment they work and live in. A city's design should be such that it gives them a sense of security, writes Pamela Philipose
As in other parts of the world, India's urban population is registering an inexorable rise. Saugata Roy, Minister of State for Urban Development, plotted this graph in Parliament recently.
Same jewellery, different looks
Multi-wear jewellery can be worn in more ways than one, says
Dhanvanti Keshavrao
As gold prices soar, jewellery shops find that now is the time to stock up on multi-wear jewellery and ensure that the customers get more out of their ornaments. Points out jewellery designer designer Rani Malhotra: "Multi-wear jewellery can be worn in more ways than one." It is a relatively new concept. Jewellery fashion maestros and top-notch brands are thinking and designing bracelets that can morph into rings — rings which can do double duty as pendants and lockets, which can also be worn as earrings.
The missing Indian touch
She has repeatedly been on the list of the world's best dressed people, and is known for her populist style, but First Lady Michelle Obama's wardrobe during her Indian visit so far lacks the Indian touch and the sparkle of colours, experts say. The 46-year-old landed in Mumbai on Saturday with her husband President Barack Obama as he began a four-day visit. Initially dressed in a formal steel grey buttoned top and matching skirt, Michelle followed this up with a basic striped greenish top teamed up with a high-waist skirt during her visit to Mumbai University. Both outfits have not gone down well with Indian designers.
Barack the muse
The US President has fired artistic fancy the world over
US President Barack Obama has been a potent source of inspiration for funk artists across the world, spawning a steady stream of irreverent graffiti and poster art since he hit the presidential campaign trail in 2007. The Indian artistic fraternity may take some time to come up with a creative exposition about the President's recent visit, but the range of Obama art spawned across the world is diverse — swinging between funny, animated, erotic, cynical, derogatory, idolatry, profound and life-like.
On a visit to South Korea, Ranjita Biswas discovers its rich heritage and mouth-watering cuisine
On heritage trail in kimchi land
Kimchi was a familiar name for me, courtesy the side dish of pickled cabbage leaves served in some Chinese restaurants back home. Hence it was a revelation while I was in Seoul that kimchi is not a 'Chinese' dish, but is at the very heart of Korean cuisine, and that there are literally scores of kimchi in many avatars.
A decade-in-the-works sequel to the much-lauded East is East has the makings of another commercial success story, writes Saibal Chatterjee
Meeting of EAST & WEST
One would have expected a sequel to 1999's East is East to be a cakewalk for producer Leslee Udwin. Not only was it a box-office hit, the independent British film about a dysfunctional Pakistani family in Manchester bagged numerous awards and accolades.
Much more than a Preity face
M. L. Dhawan on Preity Zinta, who was recently conferred with a honorary doctorate for her humanitarian acts
Hats off to Preity Zinta, who has recently been conferred with a honorary doctorate by the University of East London. The citation describes Preity as 'an international actress, pioneering star of Hindi cinema and devoted humanitarian. Preity has carved a path for women to follow.'


FRUIT FACTS
A DATE WITH DATE PALM

Date palm (Phoenix dactylifera) has over a thousand varieties. These varieties vary a lot in appearance and taste. There is also a wide variation in pulp texture. Varieties with soft pulp have to be stored in refrigerator, as they will not keep for more than two days at room temperature. In India, we get only two or three varieties, which can withstand storage and shipping to long distances.
— Dr Chiranjit Parmar