Jawaharlal Nehru's birth anniversary falls today
Men of like MINDS
Jawaharlal Nehru's equation with Dr Syed Mahmud was a political and intellectual partnership, writes V.N. Datta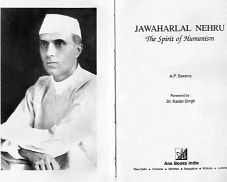 Dr Syed Mahmud sent Jawaharlal Nehru a birthday gift of 'eight books, a razor in a neat box – also a blade carrier'. Appreciating Dr Mahmud's kind gesture, Nehru wrote to him from Anand Bhawan, Allahabad, on November 20, 1933:
Thank you so much for your gift of books. Some of them are especially welcome. There were two or three which I already possessed. As it happened Tewari (Girish Tewari, a Congress worker) was going to Calcutta that day and I decided to send these three books back to the Book Company with him. I shall get other books instead. I hope you do not mind.
As for the razor, it is very beautiful and all that but you seem to have overlooked the fact that it was British made. For a long time past, I have not purchased or used any British articles consciously, with the exception of books and very special medicines. Indeed, I try not to use foreign articles as far as possible. As for razors, I have just invested in a 7 anna Indian- made safety razor, which I intended using. I am also using Indian blades. What am I do with your beautiful English razor? I think you had better take it back and give it to some of your friends who use such things. I have no use for a British razor.
Syed Mahmud had met Nehru at Cambridge in 1909 and the young men became close friends forming a trio with Saif-ud-Din Kitchlew. Later, the Jallianwala Bagh massacre, the martial law in Punjab imposed by Sir Michael O'Dwyer, and the Khilafat cemented their political partnership and made them comrades-in-arm in the battle of India's freedom from the fetters of British rule.
Nehru came of an aristocratic Kashmiri Brahmin family of Allahabad, and Syed Mahmud of an affluent, landed gentry of Chhapra in Bihar. Both were intellectually vibrant and culturally affable. They were voracious readers of books and were almost of the same age. They also took to the study of law and were admitted to the Bar in London. Ideologically, Nehru was of the liberal Left, and Mahmud of the liberal Right.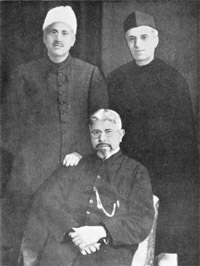 While Syed Mahmud (top left) was intensely emotional, Nehru (right) disliked displaying emotions

Nehru came of an aristocratic Kashmiri Brahmin family of Allahabad, and Syed Mahmud of an affluent, landed gentry of Chhapra in Bihar. Both were intellectually vibrant and culturally affable. They were voracious readers of books and were almost of the same age. They also took to the study of law and were admitted to the Bar in London. Ideologically, Nehru was of the liberal Left, and Mahmud of the liberal Right. Liberalism developed with the bourgeois was the highest form of thought based on the individualist theory of man and society, but Nehru was not content with it and gave to liberalism a socialist content.
Mahmud was intensely emotional, but Nehru disliked displaying emotions, which he subordinated to his intellectual convictions. In 1923, Mahmud and Nehru were elected general secretaries of the Indian National Congress. Their political partnership continued between 1929-1936, when Mahmud was elected the general secretary. Their relationship as politically active men mirrored the changing political developments in the country. Nehru generally relegated the communal problem to a subordinate position, but Mahmud, a victim of circumstances, goaded by the pulls and pressures of his community, insisted on tackling the communal problem first, which vitiated the politically surcharged atmosphere in the country.
Until her death in 1936, Kamala Nehru acted as a link between Jawaharlal Nehru and Syed Mahmud. While living in Allahabad, Mahmud taught Urdu to Kamala. Between 1937 and 1939, Mahmud was the Minister of Education and Development in Bihar. Mahmud questioned the wisdom of the resignation of Congress ministries in October, 1939, and the launching of the Quit India Movement; while Nehru fully supported the Congress policy on both these vital issues.
In August 1942, when the Quit India Movement was launched, Syed Mahmud and Nehru with eight other members of the Congress Working Committee were imprisoned in Ahmednagar Fort. Maulana Abul Kalam recorded that during Mahmud's serious illness, caused due to painful eye trouble, Nehru with his customary friendliness 'acted as his nurse and mentor'. In 1954, Syed Mahmud was brought by Prime Minister Nehru into the Central Government as Minister of State for Foreign Affairs till his deteriorating eye trouble forced him to resign in 1957. Thereafter, he was elected to the Rajya Sabha.
Nehru led a hectic political life, rushing from place to place. He was in and out of prison. He suffered greatly owing to his father's death, and the agonising illness and death of his wife; yet, despite these excruciating experiences, he continued to uphold and propagate in his speeches and writings the highest political and moral values for the regeneration of Indian society.
Mahmud's correspondence with Nehru and his wife edited by this writer and B. Cleghorn of the School of African and Asian Studies, London and, released by Prime Minister Indira Gandhi on June 17, 1974, shows that much before his prime ministership, Nehru was preparing a long-range plan for the modernity of Indian society. His Socialist ideas in the 1930s did not compose a system but provided general ideas and guidelines for the elimination of inveterate ills that afflicted the Indian society. Nehru was dealing not only with the day-to-day problems facing the country but thinking of the future, which entitles him to be called a visionary. In his letter to Mahmud, dated January 12, 1927, Nehru wrote, "Not that our past was not creditable, but to make progress we shall have to throw it away and live more in the present and the future."
There was something large in Nehru's personality. His love for the freedom of his country was profound and passionate. His capacity for concentration on work was amazing. He was intellectually adventurous and fearless in action. He had the widest influence on the youth of the country. Even his political foes admired his integrity of character. He made Socialism respectable as a creed. His deep and abiding concern for the welfare of his compatriots inspired their affection and caught their imagination. He wanted to create a better society and a better world. His wider outlook, his sincerity of purpose, and the intensity of vision acted as a compelling force on the Mahatma to nominate him as his successor; but not C. R. Rajagopalachari or Vallabhai Patel. The Mahatma believed that after he was gone, Jawaharlal would speak his language.
Nehru had a disturbing intellect and restless temper. He was a man in a desperate hurry to settle issues. In his letter from Montana to Mahmud dated December 1, 1921, he observed:
"I am beginning to feel restive. I wish I could hurl myself into the whirlpool of Indian politics. The suppressed energy of some months wants an outlet. I should have liked to be present at the Guwahati Congress. Not that I would have done good to anybody but I would feel better for a little aggressiveness."
Despite the repressive and divisive British policy and the bitter communal politics of the Muslim League, Nehru, a man of tearing spirit, would never give in or lose hope for the freedom of India. Realising that the outlook in India was 'dark', he wrote to Mahmud from Geneva, on August 11, 1926, 'Do not lose heart. We shall see Swaraj whatever India might or might not do!'
Nehru gave primary importance to the cause and promotion of education in India, which he regarded as a panacea for the ills of Indian society as it was sorely affecting her advancement. In his letter from Geneva dated September 12, 1926, which has great relevance to Indian politics today, Nehru wrote, 'Religion as practised in India has become the old man of the sea and it has not only broken our backs but stunted and almost killed all originality of thought and mind'. He recommended that some of Bertrand Russell's books be made a course of study in India to mitigate the furious spirit of religious intolerance and dogmatism that was poisoning the minds of people.
In several letters, which Kamala wrote to Mahmud from Europe, where she was lying ill, she urged him not to neglect his parental duty of educating his daughters. Like her husband, she was deeply concerned about the piteous spectacle of women who were grievously suffering in a male-dominated society.
Conscious of being taunted and tormented by her kith and kin for her lack of education, Kamala pleaded with Mahmud fervently in her letter of March 15, 1927, 'If you love Jawahar, you have to do two things — Abolish purdah and educate your daughters'. She confided to Mahmud that because of deficiency in her own education 'her life has been wrecked'.
Nehru was wrapped in public life. He was a private person, yet he shared some of his personal problems with Mahmud. He began to grow bald at a relatively young age. In his letter to Mahmud dated September 25 , 1925, he wrote:
I have been trying to use hair oil you left for me. It is a most evil smell concoction and if offensiveness in smell is a measure of its efficacy, then I shall have a thick crop of hair in the near future. I have not used the other stuff you gave me. It is to be used with honey but I don't quite understand how."
Generally, historians have argued that the Partition could have been averted between 1942-47. That is why they have focussed on the Cripps and Cabinet Mission proposals. But I think it is in the pre-1940 period that there lurked a possibility of thwarting the division of India. But there was, sadly, a failure of statesmanship. About negotiating a settlement with the Muslim League, Nehru wrote to Mahmud on December 12, 1939, 'It is absurd for a politically advanced majority to give up its advanced views to please a politically reactionary minority." Nehru's worry was that the 'two-nation' theory and central government could not work together.
Nehru's popularity with the masses has not dimmed the slightest. He continues to remain a shining star on the firmament. Nehru may be regarded as a champion of some lost causes, but men like him, live for posterity and enrich the values and lofty ideas that generate for the well-being and progress of humankind.