Same jewellery, different looks
Multi-wear jewellery can be worn in more ways than one, says Dhanvanti Keshavrao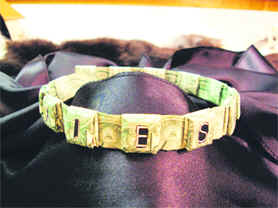 Multi-wear jewellery has been made for women who are looking for designs that can suit various occasions

As gold prices soar, jewellery shops find that now is the time to stock up on multi-wear jewellery and ensure that the customers get more out of their ornaments. Points out jewellery designer designer Rani Malhotra: "Multi-wear jewellery can be worn in more ways than one." It is a relatively new concept. Jewellery fashion maestros and top-notch brands are thinking and designing bracelets that can morph into rings — rings which can do double duty as pendants and lockets, which can also be worn as earrings.
How about converting that ring you wore to dinner yesterday into a bracelet for the next party? Or wear that necklace as an anklet instead? And you don't need to rush to your jeweller each time you want to alter the look. You can simply do it yourself. There are belts which can be converted into necklaces by taking out some hooks and links; anklets that can be worn as bajubandhs (armbands) and necklaces that can also be worn as mangtikas. You have the choice to either wear one as a single piece or detach it (through micro clips) to suit a minimalist look. A heavy necklace can easily be converted into a choker or a pendant to complement your personality and mood within just a few seconds.
Says Nitin Zaveri of Aristo jewellers of Mumbai: "The gizmos to convert these jewels is the important factor. When you design, you have to add links and clasps in the correct places so that major parts of the jewel can be taken off and worn differently on different occasions. Yes, it is value for money, and what is more important is that you never get bored with this multi-wear jewellery." Nitin Zaveri's creations have rings, which can be converted into neck pieces by using a bunch of chains or by a clasp at the back of the rings. He has also got neckpieces which can be turned into bracelets/anklets by decreasing the number of links.
India's largest`A0jewellery brand Tanishq had launched two years ago its collection "Dvaita," a range of exclusive multi-functional`A0diamond jewellery inspired from the detachable`A0concept representing a new philosophy in jewellery`A0accessorisation. Tanishq`A0design`A0studio head Sangeeta Dewan explains: ''Dvaita, which means duality, has been designed keeping in mind the woman of today, who is always looking for designs that can suit various occasions in her life. The rationale behind this collection is to create a line of jewellery that gives her options to express her multifarious accessorisation needs." Sawansukha Jewellers of Kolkata offer bracelets that can be contracted and worn as rings. Points out jewellery designer Naina Shah from Chennai: "Multi-wear jewellery can be worn in more ways than one."
"The concept behind multi-wear jewellery is to maximise the use of one piece. With such jewellery you can change your look just by making easy alterations to the piece," says designer Harish Sonawala from Mehrasons jewellers of Delhi. — MF