On a visit to South Korea, Ranjita Biswas discovers its rich heritage and mouth-watering cuisine
On heritage trail in kimchi land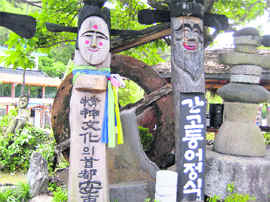 Many villagers keep totem poles of a man and a woman at the entrance of villages to ward off evil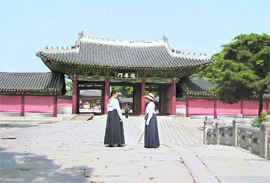 Korean women in their traditional dress (hanbok) guide visitors through the 15th century Changdeokgung palace built during the Joseon reign. Photos by the writer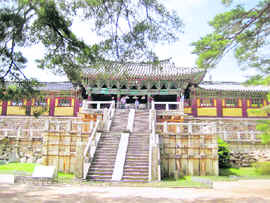 The Bulguksa temple complex has been built as an "ideal world of Buddha"

Kimchi was a familiar name for me, courtesy the side dish of pickled cabbage leaves served in some Chinese restaurants back home. Hence it was a revelation while I was in Seoul that kimchi is not a 'Chinese' dish, but is at the very heart of Korean cuisine, and that there are literally scores of kimchi in many avatars.
Usually, different varieties of kimchi (banchan), consisting of vegetables, fish, meat etc. are brought in small bowls on a huge platter; the rice comes individually in bowls. Diners help themselves from the different bowls and mix and match. Korean food, particularly kimchi, is rated as one of the healthiest in the world. Koreans also use stainless steel chopsticks instead of wooden ones.
Food apart, a visit to South Korea offered us an introduction to its long history. Many of its palaces and temples are on the Unesco heritage list. The ultra-modern Incheon airport, Seoul's skyscrapers are juxtaposed by the serene 15th century Changdeokgung palace built during the Joseon reign period. Its cluster of five palaces is an example of built architecture in harmony with nature, The Secret Garden (Biwon), for instance. Here the royal family's children studied, kings and queens relaxed around the lily pool and enjoyed beauty of nature.
Korea was under Japanese occupation for 35 years (1910-1945), and at many places you can hear the guide explaining "During the Japanese occupation, this palace was`85" etc. This beautiful palace complex, too, suffered during the occupational years.
A Moonlight Tour here was an enthralling experience as the tastefully lighted palace complex stole the show from the brilliantly lighted high-rises in the background, and Korean women in their traditional dress (hanbok) guided us through the long garden paths with their paper lamps. It culminated in a classical musical performance. This programme runs on particular dates with limited number of visitors (check with www.palacetours.co.kr).
A four-hour drive to the southeast led to Gyeongju, capital of the ancient Silla kingdom (57 BC- 935 AD) under whom rival kingdoms of Korea were united. The place is often referred to as a "museum without walls" because of its numerous national treasures strewn across. The beautiful Apapji pond site that Silla kings built combines nature and architecture in seamless harmony.
One can even discern influences of western Asia, even India, because at that time Korea was a thriving commercial centre and people from far and wide visited here. It was also when Buddhism was adopted as official religion by the Silla kings. At the famous World Heritage site of Seokguram Grotto with the serene Buddha statue in meditation pose, the architecture reflects Indian tradition of carving Buddha image and stupas into the cliff walls and natural caves. It is surrounded by panels of bodhisattvas and ancient Indian gods.
At the nearby Bulguksa temple complex built as an 'ideal world of Buddha', there is a pillar with a lion; originally there were four. Korea never had lions; the symbol is believed to have come from India. In the same premises, I saw people touching a golden pig for good luck; reminding me of Indian myth of Baraha avatar of Vishnu.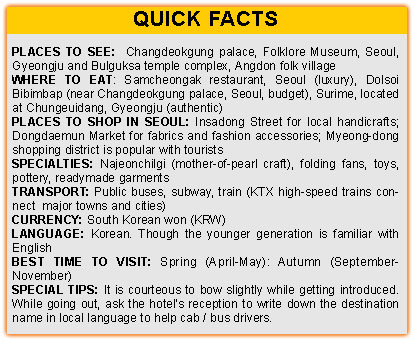 In complete contrast to the resplendent palaces, is Angdon's Hahoe village, where people have been living continuously for 600 years or so. Even the present Queen Elizabeth had visited the village in recognition of its heritage Korean village life. The thatched houses (hanoks), well-swept courtyards, the chula at the entrance of the house to keep a hotpot boiling to nourish farmers after a hard day's work, the huge covered jars in the courtyard to let the kimchi ferment, the totem poles of man and a woman at the entrance of villages to keep away the evil, all these transport you to another time. This area was also famous as a seat of learning for Confucian scholars and is respected as a root to Korean culture.
We also climbed the Namsan mountains, they were more like hills, where the pine trees look as if in dancing postures, actually an effect of hammering typhoons, where huge rock Buddha statues are ensconced in the hills and kings lie under burial mounds (tumuli) with all their possessions, favourite slaves, queen and all, even horses. Only a few of the tombs of the Silla period have been excavated but the richness of the collections in the museum at Daereungwon Tumuli Park — gold bridles, jewellery, artefacts, talk about the opulence of that period.
After a peek into history, a ride in a KTX super fast train, Korea's version of the bullet train, from Dongdaegu station to Seoul was almost like an anti-climax. Clean to a fault, luxurious, women in smart uniforms and even free Internet connection for first class passengers, it perfectly showcased the modern high-tech country.
But South Korea is equally proud of its thousand years' old culture. It shows in the way people bow politely, say Kam Sa Hab Mida (thank you!) to a compliment and the unforgettable strains of court music and folk songs we were treated to at Changdeokgung palace under a moonlit sky.