US President Barack Obama has been a potent source of inspiration for funk artists across the world, spawning a steady stream of irreverent graffiti and poster art since he hit the presidential campaign trail in 2007.
The Indian artistic fraternity may take some time to come up with a creative exposition about the President's recent visit, but the range of Obama art spawned across the world is diverse — swinging between funny, animated, erotic, cynical, derogatory, idolatry, profound and life-like.
"Barack Obama makes an excellent muse. It's hard to think of a president or presidential candidate, who has inspired so much creativity in recent memory," says journalist Rob Walker in the New York Times.
Most of the art was created in a span of three years.
The President and his family have even been featured in an art calendar this year.
A compendium, ArtofObama (also available on the Internet), lists a selection of creative art spun around the President by artists as personal interpretations of the man and his persona.
Artist Derek Chatwood depicts the President as a symbol of new-age hope with "doves in his mouth and orifices". Obama sports a tough look — the hard lines of determination etched on the strokes on his face.
American artist Dan Lacey is known for his interpretations of people — with foodstuff. He painted the President with a pancake on his head — and a bitter expression distorting his face.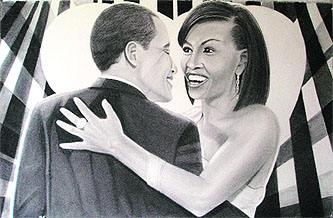 Barack and Michelle Obama by Oliver Gabe Friedman

Inspired by the President's charisma and his childhood years, Lacey later departed from tradition to paint Obama naked riding a unicorn in front of St Paul's Excel Energy Centre.
Artist Lukas Ketner paints Obama as a sweaty hero running through a meadow of red roses inside Portland's Willamette river with a unicorn chasing him.
The President's dark torso is offset by a white party shirt that opens way down to his navel in the classical old Hollywood romantic style. The Burnside bridge is a silhouetted impression in the distance.
Artist Mmike or Michael Murphy captions his high-tension wire sculpture of Obama as "Tension — A Portrait of Barack Obama. "
American graphic and web designer Brad Mahaffey owns an online art gallery known as the Obama Art Collective.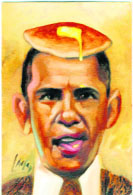 Artist Dan Lacey has portrayed Obama with a pancake on his head

Dedicated to the President, it archives more than 50 visuals of Obama — in mediums as eclectic as hi-tech photo prints, collages, sketches, posters, concept art, oil-on-canvas art, ink sketches and impressions.
An art montage with 16 Obama busts stands out for its ingenuous interpretation of what the president means to his people. The montage shows him as a symbol of hope, dreams, conviction, change and progress.
Obama is portrayed in "Che Guevara" style, calling out to the thinking world to push for change and unity, in a
composition Nuestra Voz by artist Raphael Lopez.
In David Macaluso's oil portrait, Obama appears as "colours in mind's eye" — rainbow hues splashing on his face.
The President commands a formidable support among designers and artists in the US, bulk of whom express their goodwill in their array of Obama art. — IANS