A decade-in-the-works sequel to the much-lauded East is East has the makings of another commercial success story, writes Saibal Chatterjee
Meeting of EAST & WEST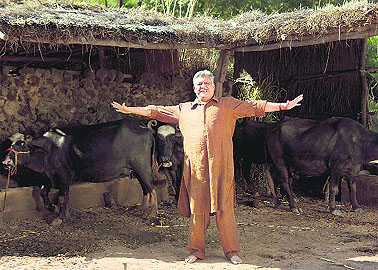 Om Puri in a still from West is West.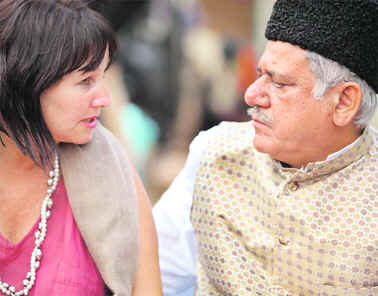 With Leslee Udwin on the sets of the film

One would have expected a sequel to 1999's East is East to be a cakewalk for producer Leslee Udwin. Not only was it a box-office hit, the independent British film about a dysfunctional Pakistani family in Manchester bagged numerous awards and accolades.
But West is West, which is slated to be the opening film of the upcoming 41st International Film Festival of India to be held in Goa from November 22 to December 2, took all of a decade to see light of day — and with good reason.
One-time actress Udwin explains: "West is West is just not a 'cynical sequel', which follows swift on the heels of a successful first film. It's a stand-alone film from the heart of the brilliant writer Ayub Khan Din, which also happens to be a sequel in that it chronicles the continuing journey of the Khan family five years on".
It's been a journey well worth the trouble. The producer spent several frenzied, tense months in Indian Punjab (passing off as rural Pakistan) late last year filming West is West. The effort has yielded a sparkling little gem. "The film emerged with the love and the nurturing, and also the time that all really heartfelt films demand," she says.
Udwin learnt the ropes of production in the late 1980s during the making of Sitting Target, a film made for BBC Screen 2 about her own two-and-a-half-year legal battle with an unscrupulous landlord, who sought to evict her and many other rent-controlled tenants. Her first producing gig was Who Bombed Birmingham, a film starring John Hurt that aided in freeing six innocent men from 17 years of wrongful imprisonment.
Her antecedents probably prepared her for all the challenges that West is West threw up. Udwin had to dig deep into her reserves of patience and perseverance to get things moving. For several years, Ayub Khan Din was reluctant to script a sequel. He had to be persuaded. And then creative differences forced a parting of ways with Damien O'Donnell, the director of East is East, and a search for a replacement had to be launched. Andy De Emmony stepped into the breach.
Says Udwin: "My search was for a director whose strong cards are comedy and performance... Finding both strengths in the same director is always challenging. Andy has certainly risen to the challenge of shooting a very beautiful film with superb performances and the right kind of comedy."
The effects of the economic downturn did not help matters. Says the producer: "The 'usual' funding bodies/film financing companies had either disappeared or had no money to invest. BBC Films came on board with a decent UK TV licence fee and some equity finance, but I was still a long way off fully funding the film at even the very modest budget it had. I found myself having to raise most of the finance from individuals, a strategy I have never had to employ before."
She, however, got lucky with the casting. West is West has Om Puri reprising his role as the patriarch George Khan. Many of the other actors from the original cast are also back on board.
"There was no way we could have made the film if Linda Bassett and Om Puri had been unavailable or unwilling to perform in the sequel," says Udwin. "Our riches were complete when Emil Marwa, Lesley Nicol and Jimi Mistry agreed to come back... in Jimi's case, incredibly generously, knowing that his part was a supporting one in the sequel."
Aided by strong performances from the main cast, the sequel is every bit as compelling as the original film. That, as many movie fans would vouch, is saying much more than one can about many such follow-up cinematic ventures.
Comparing West is West with East is East, Udwin says: "It is both similar and also very different. It's as funny, as distinctive, as original as the first film, but it's also deeper, more layered and more satisfying."
She lauds the screenplay writer for the shape West is West has assumed. "Let's face it," she says, "sequels are not uncommonly disappointing when compared to the original film. And I applaud Ayub's courage in deciding finally to do it. For my own part, I believe this sequel is the exception that proves the rule."
So, will this sequel be followed by another film to complete a trilogy? "It always seemed to me that there was a trilogy of films to be made about the Khan family," says Udwin. "It would have been obvious to anyone who knew that Ayub was taken as a young boy to Pakistan to meet his 'other mummy' and 'other family' that this (West is West) in itself was a film that simply had to be made."
As for the third part of the trilogy, Udwin and Ayub have already commenced discussions. "I cannot say when it'll be ready to shoot, but a minimum of two years is the best guess I can make. The fact is it will, like West is West did, take as long as it organically needs to," she says. But Om Puri isn't getting any younger!