Much more than a Preity face
M. L. Dhawan on Preity Zinta, who was recently conferred with a honorary doctorate for her humanitarian acts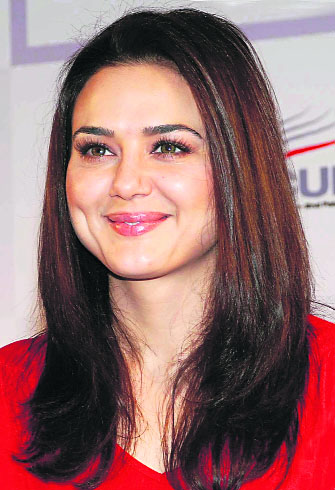 Hats off to Preity Zinta, who has recently been conferred with a honorary doctorate by the University of East London. The citation describes Preity as 'an international actress, pioneering star of Hindi cinema and devoted humanitarian. Preity has carved a path for women to follow.'
Growing up in a boarding school in Kodaikanal, Preity dreamt of becoming anything but a film star. Though she had never stars in her eyes, she entered show business when she was just 12 years old. This bright-eyed girl from Shimla with dimpled cheeks appeared in her first ad for Perk chocolate as a favour to a friend. Prancing in the pool with Liril soap, she caught the attention of Shekhar Kapur, who offered her Ta Ra Rum Pum opposite Hrithik Roshan. When the film did not take off, Preity was disappointed but not devastated. Kapur later recommended her for Mani Ratnam's movie Dil Se, which was her debut film.
May be it was that mischievous sparkle in her eyes or the irreverent demeanour which made Ramesh Taurani offer her Kya Kehna. The characterisation of the heroine — Priya — was by no means revolutionary, but it certainly broke the mould of spineless stereotype of the masala films. Kya Kehna showed a young pregnant woman walking the corridors of college without any pangs of guilt. She showed unusual courage in owning up her mistake and accepting responsibility for it. What appealed to the audience was the 'choice' exercised by a woman in rejecting a man, whose child she bore out of wedlock, because she had lost respect for him. Instead, she opts for the one who stood by her in her hour of need. According to Preity, she agreed to do this daring role just to champion the cause of the wronged women, unmindful of the fact that her stand may jeopardise her acting career, which she had just entered.
The title of the film Soldier suggested manpower but when caught in a macho mayhem, Preity struck a chord with her fresh face tormented by her past. She was nothing like the usual Hindi film heroine who falls in love with a criminal. It was a kind of role that could be suicidal for an upcoming actress. But Preity risked scathing reviews to play Reet the way she saw her and notched up another winning performance. Then she did Chori Chori Chupke Chupke with Abbas Mastan. She consolidated her position with Koi… Mil Gaya and award-winning performance in Farhan Akhtar's Dil Chahta Hai followed by Karan Johar's Kal Ho Na Ho and Yash Chopra's Veer-Zara.
Blessed with immense creative prowess, Preity diversified her philanthropic activities. As a woman with a mission, Preity is among the most brave and bold persons in the entire industry. As a witness in the Bharat Shah case, she testified against the Indian mafia and appeared in the court and repeated her earlier statement that she had received extortion threats from the mafia during the shooting of the film and became the only witness who did not turn hostile to the prosecution. The nation responded positively to her actions and she was the first recipient of Godfrey's Mind of Steel Award for the 'Courageous Act' of standing up against the Mumbai underworld. Preity gives the credit for inculcating these traits in her to her father, who was an Army officer. In her fight for her rights, the men from history who have left an indelible impression on her are Maharana Pratap and Tipu Sultan.
Preity has also been involved with different charities and has supported women's causes, for instance, protesting against female infanticide, AIDS awareness drives and campaigns to clean up Mumbai. Preity has always been there to stand up for a cause. She has painted for the cause of street children and joined hands with the United Nations Office on Drugs and Crime to curb human trafficking in India.
Besides doing charities, endorsements, films and cricket, Preity has been associated with one of the most endearing and enterprising movements — the Toyota NDTV Greenathon. Holding the issue of global warming close to her heart, it is heartening to see Preity slogging it out 25 hours at a stretch, along with NDTV team and environmentalist Dr Pachuri, promoting greenery and trying to garner support for the same.
In a country where 400 million people are without light and 200 thousand villages need to be lighted, Preity did her bit by adopting one village, along with some other donors in and outside the film industry. Preity has been doing all these humanitarian acts without crying hoarse from rooftops about her philanthropic adventuress. But her works speak louder than her words and this award is recognition of her actions.
Photo by Vicky Gharu