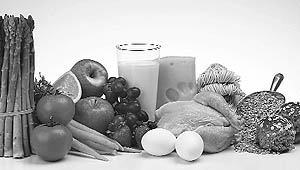 Dr Christiaan Bernard, the famous cardiovascular surgeon who performed the first successful human heart transplant, suffered from arthritis. He once said, "Control your arthritis, do not let it control you."
Walking is the best medicine. Regular, moderate exercise offers a lot of benefits to people with arthritis. Exercise reduces joint pain and stiffness, builds strong muscle around the joints, and increases flexibility and endurance capacity. It reduces inflammation from arthritis and related conditions and lowers the risk of other chronic problems. It also helps promote overall health and fitness by giving you more energy, helping you sleep better, controlling your weight, decreasing depression and giving you more self-esteem. Furthermore, exercise can help stave off other health problems such as osteoporosis and heart disease.
You've got to be moving. But sometimes it is not so easy to get started. The important thing to remember is to start slowly and take it as fun. It is always good to start with flexibility exercises, which are basically stretching exercises. That will improve your range of motion and help you perform daily activities.
Once you feel comfortable, you can move on to weight training and endurance exercises.
Maintain your ideal
body weight
The more you weigh the more stress you are putting on your joints, especially your hips, knees, back and feet. For every 1 lb lost, there is a 4 lb decrease. Just as there are different types of arthritis, there are also different types of pain. Even your own pain may vary from day to day.
Each person needs a pain management plan. What works for one person may not work for someone else. You may need to try several different treatments before you find the one that works for you. Long-lasting pain, as is experienced in the case of osteoarthritis, is different. While it tells you that something is wrong, it often is not as easy to get relief. Managing this type of pain is essential to improve your quality of life and sense of well- being.
One of the best ways you can manage your arthritis is by eating healthy and keeping your weight under control. When you eat right and stay fit, your body is in great shape to battle inflammation as well as keep extra pressure off.
The best way to start down the path of good nutrition and health is to make great choices when you sit down to eat. You don't have to go on a strict diet to gain benefits from good eating. Just choose the right foods in the right portions and much of the battle will be won. Keep reading for easy ways to make some nutritional changes and for advice on how to stay motivated when the going gets tough.
For most people, all you have to do is choose your food wisely to keep extra weight off. No special diets are required! For example, you should eat mostly fruits, vegetables, wholegrains and high-fiber foods. In fact, two-thirds of your dinner plate should consist of vegetables and fruits like broccoli, tomatoes, cucumbers and carrots.
Portion control may be the most effective weight-loss strategy around. It beats out exercise, regular physical activity, fat reduction in diet, and eating more fruits and veggies for effectiveness, according to researchers. A study of 300 overweight people who were asked to practice five weight-loss strategies revealed that those who considerable efforts to control portion size were most likely to lose weight.
Don't drink your calories. Drinking even one sugar-sweetened soda a day can increase the risk of developing high blood pressure and cholesterol.
Manage stress in
healthy ways
Living with a chronic condition like arthritis/rheumatism can lead to emotional problems and significantly impact the quality of life. You may feel angry, frustrated, depressed or helpless because of your medical condition. Resist the temptation to handle stress in unhealthy ways — such as overeating, overindulging in alcohol, or taking drugs — that will only increase stress in the long run. Relaxation techniques like meditation can actually relieve pain.
When you have arthritis, good relations with the right doctor can play a critical role in your treatment, the management of your pain and other symptoms. A good doctor-patient relationship is based on mutual respect and understanding.
Dealing with arthritis can be sometimes frustrating. That is why it is important to have a knowledgeable and understanding doctor.
Above all, you must have faith in yourself!
The writer is a Senior Consultant-Physician and Rheumatologist, Fortis Multispeciality Hospital, Mohali. Email: ashitsyngle@yahoo.com