M A I N N E W S
Highest pneumonia mortality in India
Aditi Tandon
Tribune News Service
New Delhi, November 18
After evidence that India is lagging behind on the Millennium Development Goal (MDG) of reducing Infant Mortality Rate by 2015, it now turns out that it is faltering on the child survival MDG as well.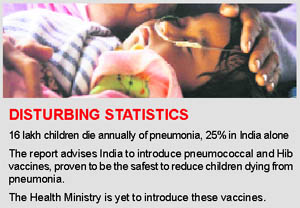 The first-ever report tracking global progress against pneumonia, the leading killer of children under five years of age, finds that India is witnessing the highest number of pneumonia-related child deaths in the world. The infection is killing 16 lakh children under five every year, more than 3.7 lakh in India alone.
Released by the International Vaccine Access Centre (IVAC) on behalf of the Global Coalition against Child Pneumonia, the report warns India of the immediate steps needed to reach committed levels of coverage for the life-saving interventions that can protect children against pneumonia.
The survey looks at prevention, protection and treatment efforts in India and 14 countries (that report the most child pneumonia deaths) against the pneumonia intervention targets fixed in the Global Action Plan for the Prevention and Control of Pneumonia (GAPP), issued by WHO and UNICEF last year.
The GAPP had said two-thirds of child pneumonia deaths globally could be prevented if children had access to seven simple interventions: prevention measures -- including the use of measles, pertussis, pneumococcal and Hib vaccines -- protection measures including rates of exclusive breastfeeding in the first six months of life and treatment, namely the rates of children with suspected pneumonia being taken to a health facility and of children with pneumonia receiving treatment with antibiotics.
Though GAPP had recommended that all countries reach 90 per cent coverage on these interventions by 2015 to achieve the MDG targets for child survival, the new report shows India in the lower end of the spectrum, with only 38 per cent coverage. The report advises India to introduce pneumococcal and Hib vaccines, proven to be the safest to reduce children dying from pneumonia. The Health Ministry is yet to introduce these vaccines.
On the global release of the report, Orin Levine, Executive Director, International Vaccine Access Center (IVAC) at the Johns Hopkins Bloomberg School of Public Health, said that the most affected countries planned to introduce new pneumonia vaccines and India needed to do the same.
Back home, the Indian Association of Pediatrics (IAP) has received the report with concern. IAP national president Panna Choudhry says, "Too many children have died before my eyes because they can't get to a health facility in time or once they arrive they don't have access to antibiotics."