TRIPLE whammy
Raghu, Rajiv and Rannvijay are in the city for the auditions of Roadies Season 8
Wanda Rutkiewicz, the mountain climber, the been-there-done-that woman said it right — living your dreams, instead of just dreaming them, is not without risk. Dreams and risk, the three guys out there, Raghu, Rajiv and Rannvijay (who needs an introduction here) make sure you have a tough time reducing the distance between the two words! Courtesy — MTV Hero Honda Roadies Season 8.



(L-R) Rajiv and Rannvijay

Helping hand
It can be seen either ways - a glass half full or half empty. On a positive note, what we are talking about here - in-vitro fertilization (IVF) — helps out women who can't naturally conceive. On the other hand, IVF doesn't guarantee 100 per cent success. Besides, it can cause stress and depression.
Sound(ing) off
In year 2000 began his journey into the world of sounds. Today, talented artist Sanjeev Kumar halts at yet another milestone, an exhibition that opens on November 19 at Art Folio. Once more it encapsulates both his preoccupation with sounds as well his singular ability to express it in a visual language that is at once aesthetic and stimulating.
Fresh from oven

Having developed through centuries, Italian cuisine takes influences from Greece, Rome, Jewish and even Arab cuisines. And for our Indian palate, which has taken fancy to global cuisines (read Chinese, Thai, Japanese and Italian), or as most of us may say pizzas and pastas have become a part of our daily meal. Taking our city to a new gourmet experience is an Italian restaurant, Al Forno, in Sector 17. Brainchild of Mandeep Singh and Nikku Singh, the restaurant is a technology-driven eatery with touchpad menu cards and hydraulic tables, courtesy IT professional — Mandeep.

Roman Dome or Black oven is a radiant oven made of stone. It rotates 360 degrees.
Side Lanes
Shade of love


Raje is a small, thin, dark lad with the build of a ten-year-old, which belies his fourteen summers. He looks shy as the mike is placed before him. He accompanies himself on a half drum with tambourine bells along the rim. He starts singing and his eyes light up. It is a strong voice that often inserts the wrong words into a well-known folk song. The melody is catching. As his voice soars, the gentry around are nodding and drumming to the rhythm. Krishna, Raje's friend, carries two palm-sized stones. As a metronome keeps musical count, the grey bits of shale do the same.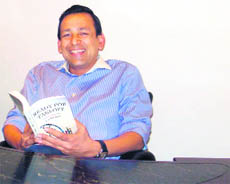 Life's leaf
Industrialist Sachit Jain comes up with
debut novel
A true leader conquers everything…is how Sachit Jain, executive director, Vardhman Textile Ltd, finishes his first work of fiction - Ready For Take Off: A leadership story. A little autobiographical, this fiction has management fundas interspersed in the tale of Anurag Amar Sachdeva, an investment banker who takes the task of turning around a sick steel unit.

Sachit Jain

Lens eye
There is a marked difference of approach towards life between people from the West and India, or oriental part of the world. In the conference on human potential, organised by the department of psychology on Wednesday, city's very own photographer, Diwan Mana, illustrated his journey of photography through a slide show. "People in the East aren't materialistic. They are happy with their lifestyle unlike people of the West, who consider luxuries their right," Diwan says. He explains it through his photography series dhaba. "Even as they face poverty or problems, they live a happy life."
Staging self & society
Theatre of relevance is the inner voice of a human being; it is about fun, celebration, expressing and sharing one's emotions; it is about focus, patience, understanding and concentration; it enables participants to experience the finer nuances of script-writing, acting and directing; it expands beyond the stage into every sphere of life'. So say the participants of the 10-day 'Theatre of Relevance' workshop facilitated by Manjul Bharadwaj, founder, Experimental Theatre Foundation. This understanding of Self and one's role in society was amply demonstrated through Ek Nayee Udaan, an evocative presentation by the students of P.G.Govt.College for Girls, Sector-11, Chandigarh.
Hot couture
The extravagant 2nd Edition of the Chandigarh Fashion Week, organised by Chandigarh Fashion Council, concluded among much fanfare. The resplendent second edition of the Chandigarh Fashion Week witnessed a star-studded gathering of top Models, Celebrities and Designers who set the ramp on fire with their beauty, glamour & artistry.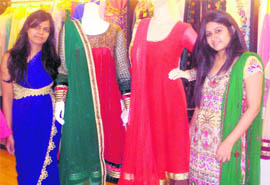 Bling on!
Feeling the pulse of city fashionistas and scouring through 50 odd designers Bling, a multi-designer store at NAC Mani Majra promises to bring an impressive collection at affordable price.





Minnie and Ashita with their collection

League of its own
Filmmaker Sanjay Leela Bhansali has put the success of Khamoshi - The Musical, Hum Dil De Chuke Sanam, Black and Saawariya behind him and is now looking forward to his next production Guzaarish, a film about hope and the joy of living. Sanjay also turns music director with this film, which opens this Friday. He speaks to Lifestyle about Guzaarish and more.

Sanjay Leela Bhansali

Sexiest man alive
Actor Ryan Reynolds has been named the Sexiest Man Alive by People magazine, a day after his wife Scarlett Johansson was labelled Babe Of The Year by GQ magazine.
Balancing act
British actor Emma Watson says she is grateful to Harry Potter bosses for re-scheduling her shooting for her university entry exams.
Surprise show
Jennifer Aniston shocked the audience and her cast mates at a Broadway charity event in New York when she made a surprise cameo on stage as part of the 24 Hour Plays. The actor played the spirit of a dead dog in The Bitch Downstairs, one of six short plays written and performed in the space of 24 hours.
Making a marriage work
Newly-wed couple Katy Perry and Russell Brand have reportedly made a set of rules to make their marriage work, including not staying away from each other for more than seven days.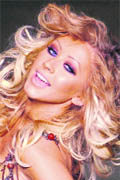 Difficult dancing
While shooting for her debut movie Burlesque, Christina Aguilera got so many bruises that she looked like a 'car crash victim'. The Dirrty singer, 29, admitted the punishing dance routines were challenging.







Christina Aguilera