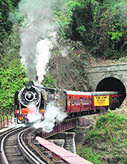 Track record
The Northeast Frontier Railway plans to preserve metre-gauge tracks, which have been a catalyst for the economic development of that region, writes Bijay Sankar Bora
THE history of economic development in the North-East (the undivided Assam during the British period) is deeply linked with the advent of the Railways into the region in the late 19th century. It was the Assam Railway and Trading Company that laid the 65-km-long metre-gauge line between Dibrugarh and Makum collieries in Margherita.
Gurus in murals
The representation of the Gurus, particularly Guru Nanak and Guru Gobind Singh, constitutes a major part of the themes in murals of Sikh art, writes Kanwarjit Singh Kang
ABOUT wall paintings in ancient Punjab, we have no evidence that has survived. Percy Brown spoke of the possibility of some kind of mural decoration on the edifices of the Indus Valley civilisation.
Rare find
Old silver coins belonging to the Mughal period and the era of Maharaja Ranjit Singh have recently been found in Bhalur village of Moga district, writes Subhash Parihar
BHALUR is a small village in Moga district of Punjab, situated 25 km southwest of the district headquarters. Recently, the local inhabitants planned to build a new gurdwara in memory of Bhai Des Raj, founder of the village.
Beautiful Badami
Hugh and Colleen Gantzer visit the rock-cut cave temples sculpted between the sixth and eighth centuries. These temples in Karnataka are considered an example of Indian rock-cut architecture, especially of the Chalukya period
WE were led to Badami by a man we have never met. Satish Gover, our favourite architectural historian, had described it as 'picturesquely located on a lake, surrounded by steeply rising cliffs," and that when the powerful Chalukyan empire had shifted its capital to Badami, "rock cutters were soon at work carving out halls from the scarp of the hill."
A taste of Thailand
Inder Raj Ahluwalia brings us a flavour of Thai cuisine
IF you find a Thai cook pondering over a simmering pot of gaeng pet (hot curry), chances are you'll catch him resolutely adding another handful of tiny green chillies, called prick kee nu in Thai, a single one of which can blast the average firang out of his chair. Yes, Thais like their food 'spiced up'.
Keep your skin glowing
Air travel sucks the life out of your skin. Use a heavy moisturiser on the hands
and face to prevent dryness, says Homai Sagar
OUR Diwali holidays are over and we are awaiting our Christmas vacation. In these days of modern air travel (15-hour non-stop Mumbai-New York flight, or two-hour Mumbai-Delhi flight), which part of your anatomy suffers the most?
Hunting Castro on video
A US-developed video game that lets players try to kill Cuban revolutionary leader Fidel Castro has sparked an angry reaction from Cuba, the latest charge in the long history of bitter US-Cuba ties.
Art unlimited
Madhusree Chatterjee
NOT too far from a leading art gallery in New Delhi stands an 800-year-old arched gateway amid the ruins of the historical city of Tughlaqabad. Mumbai-based performance artist Tejal Shah, known for interactive acts and new media art, relates to it in a strange way.
Director's cut
With Anusha Rizvi distancing herself from Peepli Live after a conflict with Aamir Khan, Ranjan Das Gupta looks at similar cases from the history of Indian cinema
AFTER Anusha Rizvi decided to distance herself from Peepli Live due to too much interference by Aamir Khan, the latter is planning to withdraw the film from Oscar nominations.
Karan's next to be a musical
Subhash K. Jha
KARAn Johar's next directorial venture is finally in place. He has decided to make a fun musical with at least 10 songs, which is a complete departure from the mood of his last offering My Name Is Khan.