PUNJAB
HARYANA
JAMMU & KASHMIR
HIMACHAL
REGIONAL BRIEFS
NATION
OPINIONS
LETTERS
BUSINESS
SPORTS
WORLD
M A I N N E W S
Nitish wave sweeps Bihar
* Landslide 4/5th majority for NDA
* Laluís RJD, Paswanís LJP trounced
* Cong gets just 4 seats
Sanjay Singh
Tribune News Service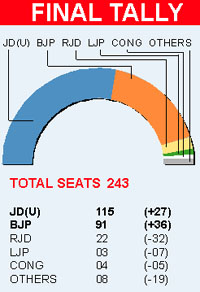 Patna, November 24
Voters in Bihar today delivered a memorable and truly massive mandate to the NDA led by Nitish Kumar of the Janata Dal (United). Results showed the NDA together cornering as many as 206 (JDU 115 and BJP 91) of the 243 seats in the Assembly, a landslide that had eluded even Lalu Yadav at his peak.
Even more spectacular was the strike rate of the BJP, which contested 102 seats and won 91 of them, winning virtually 9 of the 10 seats the party contested. The BJP appears to have done equally well in urban as well as rural constituencies, riding piggyback on the public image of Nitish Kumar.
The share of votes polled by different parties, however, tell a slightly different story. According to TV reports, the NDA had polled 40 per cent of the votes polled, up 2 per cent from the 38 per cent of the votes polled in the general election last year and from 36 per cent polled by them in the last Assembly election in 2005.
In other words, 60 per cent of the votes cast still went against the NDA and it was the lack of Opposition unity that helped the NDA get a landslide in terms of seats. According to these figures on TV, which are yet to be authenticated by the Election Commission, the Rashtriya Janata Dal (RJD) polled 25 per cent of the votes polled this time against 26 per cent it had polled in the general election and 27 per cent polled in 2005. The vote share would indicate that while the RJD has lost ground, their core constituency largely remains intact.
WHY LALU LOST
Still believed in caste equations.
Muslims deserted him
Couldnít see beyond family and caste. Introduced his son
Not many were humoured by his old one-liners.
What worked for Nitish
Drastic improvement in Law and Order situation. Speedy trials to convict 50,000 criminals, some from his own party
Empowered women. Half of the seats in local bodies and primary school teachers category were reserved for them.
Uniform, books and bicycle for Girl students.
Launched a massive road construction network
1.5 lakh teachers were appointed for primary schools
School buildings constructed and renovated across the state.
Creating reservation and welfare schemes for the extremely backward classes(EBC), 35% of Biharís population and Mahadalits (the most downtrodden).
Muslims who liked Laloo for arresting Advani during his Rathyatra now backed Nitish for keeping Modi out. Doubled minority candidates.
WHY CONGRESS FAILED
Absence of local leaders and lack of ground work.
Sudden decision to contest all 243 seats dissipated the focus
Had to get defamed leaders- many with criminal past.
All decisions were taken from Delhi.
Rahul and Sonia Gandhi couldnít convince voters.
Muslims became distracted post Ayodhya verdict.