Top Hollywood stars have seldom tried to muscle their way into anchoring television shows or endorsing products. They also do not manipulate their film scripts so that villains, comedians and important character roles are eliminated and all the focus remains on them.
But all of the above moves and more have been happening in the world of Hindi cinema, which has grown into a Rs-1500 crore annual industry. A handful of leading filmstars (mostly male), while demanding and getting several crores for every film, are now frequently seen on the small screen. From chocolates to ayurvedic medicines to cars, they can be seen endorsing a large number of products, besides appearing in various high-priced TV reality and talk shows as well as anchoring programmes on the idiot box. Result?
There has been an overkill of many Bollywood stars in the media, including Shah Rukh Khan, Salman Khan, Akshay Kumar and even Amitabh Bachchan, which has left even established models and TV personalities gnashing their teeth in anger and frustration. The average TV viewer may be bored to death at this overexposure but is helpless as this is happening on all channels. Tune in to Sony TV, every five minutes there are promos extolling Amitabh Bachchan's game show Kaun Banega Crorepati (KBC).
Besides this, Bachchan is omnipresent across channels extolling virtues of particular brands of suitings, wristwatches and even selling cement, while his old films are being telecast almost non-stop.
The competition for TV exposure among stars has often been unhealthy and encouraged by the celebrity media. Bachchan's KBC and Salman's Big Boss-4 are being telecast four days a week at the same time on Sony and Colors. The media war pitting one show against the other makes one think of the battle of the Mahabharata.
The TRP ratings for KBC's inaugural show were higher than those of Big Boss-4 but the latter quickly regained ground and established a clear lead. There were many in-depth analysis on why this happened. KBC was seen as a quiz show popular in the cow-belt, with everything being spoken in chaste Hindi and Bachchan even quoting extensively from the poetry of his father. Experts like Charu Sharma looked wooden and filmstars, who joined him as additional experts, used the occasion to promote their current and forthcoming releases.
Most KBC candidates seemed to belong to rural backgrounds and even had a rustic look and accent. Most viewers did not expect them to be very good in current affairs and general knowledge but surprisingly some of them walked away with big prizes.
Big Boss-4 was more entertaining and according to the media, clicked because people liked its sense of voyeurism. After the stupendous success of Dabangg, Salman was the public hero number 1, which made him the top draw on television.
Big B and Salman were joined by another top hero, Akshay Kumar, anchoring Masterchef India. How did the stuntman become a food expert? Well, three of his recent films flopped, and years ago, he had worked in Bangkok restaurants. So he must have hoped a TV show would be able to revive his fortunes.
The trio may soon be joined by Hrithik Roshan, who, we are told, may anchor a dance-based reality show.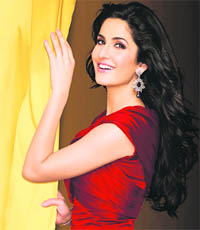 Katrina Kaif promoting a beauty soap
Let alone top stars, even middle-level stars are joining the television queue by making special appearances on all kinds of TV shows to promote their new releases. Tune in to any channel, one can see Rishi Kapoor and wife Neetu propping up their screen venture, Do Dooni Char. Similarly, Ranbir Kapoor and Priyanka Chopra were seen on every channel near the release of their film Anjana Anjani. Akshay, too, appeared on Sasural Genda Phool and urged viewers to watch his Khatta Meetha.
No doubt, some of these films bombed at the box office but the stars had their few minutes of glory on TV, besides the fat pay cheques. The scramble to make TV appearances can be understood (though not long back, the big stars scoffed at the small screen). A filmstar may have two or three films a year but some of them could flop. Since he wanted to remain in public eye all the time, TV channels became an ideal way of doing so.
Amitabh Bachchan, amid a series of flop films and the financial fiasco of ABCL, got a new lease of life through KBC-1. He has never looked back. When he fell ill, Shah Rukh took over and even today the debate continues who was better.
Today, TV shows give the star many opportunities to promote their own and their friends' films. With channels ready to pay as much as Rs 1.5 crore per episode, why shouldn't the stars feel attracted?
But what it has created, at least according to celebrity media, is a bitter sense of rivalry and a lot of backbiting. While reporting sugar-coated comments made in public about their rivals, filmstars frequently bitch and make snide remarks on the sly, which are reported in the gossip media with alarming frequency. Ego clashes have become common and open. Amitabh, we were told, was 'cool' towards Shah Rukh for getting into "his" KBC and this 'coolness' was reciprocated by SRK.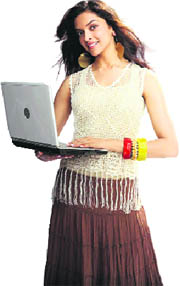 Deepika Padukone is seen in a BSNL commercial
With KBC and Big Boss-4 running neck and neck, we are expecting unkind remarks from one of the sides or both! These, of course, will be gleefully seized upon by the waiting media. Big money and endless media exposure has created a feeling of being invincible among the stars that they can do anything and get away with it.
Not just television, filmstars have now even swamped ramp walks and fashion shows. Where are the professional models? They are being increasingly replaced by top filmstars though many of them had no clue to professionalism in this field. Columnist, fashion expert and writer Shobhaa De recently quoted one of her friends, a veteran who has watched fashion shows all over the world, lament an Indian experience, "Why should we attend couture culture collections featuring Bollywood stars and not professional models?"
"There is an idea-crisis in our fashion world," goes on De. "Most of today's fashion shows are bridal collections, a tamasha and drama, on and off the ramp". For designers, it is a chance to get their glam-pals to strut their stuff.
There may come a time when even star chauffeurs will be asked by designers to catwalk, predicts De.
Modelling agencies are unable to stop the trend. With the hallowed catwalk taken over by Bollywood stars, there remains very little work for professional models, and the agencies, which recruited and groomed them. Many of the models, including top ones, have no assignments and suffered pay cuts.
There was a time when top models were welcomed to Bollywood and succeeded in making careers as stars.
Remember Zeenat Aman, Sangeeta Bijlani, Juhi Chawla, Sushmita Sen, Aishwarya Rai, Bipasha Basu.
But today there is a major entry of filmstars in the modelling scene. All plum assignments, marketing of top products are being cornered by filmstars, leaving only scraps for professional models.
The earning and spending capacity of the younger generation has increased by leaps and bounds and these youngsters are highly influenced by the glitz and glamour of Bollywood stars. They wanted to drive the car, which Shah Rukh drove around in the ads, wear the same expensive diamond jewellery being flaunted by Aishwarya Rai and use the same kind of cosmetics popularised by Kareena Kapoor and company.
With star power at an all-time high, who cares about professional models or TV actors? Even when a high-budget film flops miserably, driving the producer to near-bankruptcy, the star coolly walks off with his crores and steps into the TV studio for a talk show, which would again fetch him more money. He is no longer a filmstar, but a marketable product.