M A I N N E W S
'Munni Badnam Hui' lands Pak cops in trouble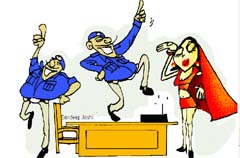 Islamabad, November 27
Three police officials were arrested and 30 others suspended after they forced three women to dance to the hit Bollywood tune "Munni Badnaam Hui" for five hours within a police station in Pakistan's Punjab province.
Witnesses said the incident occurred after three "dancing girls" from Lahore were brought to Sadoki near Gujranwala to perform at the wedding of a politician.
A guest said police brought the women and male musicians to the venue of the wedding in two vans on Thursday.
"After our performance, we were heading home at around 2 am when a policeman forced us to accompany him to the police chowki," one of the women told a newspaper.
The police official forced the musicians accompanying the women into a second police vehicle and sent them to another police station, where they were arrested and kept in a holding cell.
The women were brought to the police chowki near Sanaat Pura by police officials by Munawar Shaheed and Abid Farooq, who allegedly forced them to dance to the song "Munni Badnaam Hui" over and over again.
"He kept rewinding the same song and made us dance from 2 am to 7 am in the morning," another of the women said.
She said Farooq also took "advantage of the women and abused them". The three women said a large group of officials from different police stations came to watch the impromptu 'mujra'.
One of the women said the Rs 120,000 paid to them for performing at the wedding was taken away by police officials.
Farooq let the women leave in the morning but filed a case against them for "soliciting sexual favours".
The women said Farooq let them "on bail" and said that their earnings "were his payment" for letting them go. The women then approached the office of Gujranwala's regional police chief Tariq Masood and filed a complaint against Farooq and two other police officials.
Masood ordered an inquiry and filed cases against the three police officials. All policemen who witnessed the mujra were taken in for questioning.
The investigation revealed that two police cars were used to transport the dancing girls. Following the investigation, Masood ordered the arrest of Farooq and two other officials and suspended 30 policemen.
Describing the incident as "despicable", he said those responsible will face "severe consequences". — PTI