Rational humanist
Reviewed by Shelley Walia
The Critic Shakespeare: Essays in Appreciation
Eds Anand Prakash and S. P. S. Dahiya.
The Shakespeare Association, Kurukshetra.
Pages 208. Rs 595.
THE book, a collection of essays, is driven by the idea that so far as India is concerned, "Shakespeare symbolises the spirit of freedom in its enlightened struggle against challenges" of privilege and social oppression, and that "still more broadly, Shakespeare is the voice of committed humanity — committed to its indivisibility and rationalist assertion." This thematic statement pulls the great bard out of the English tradition and links him quite significantly with the 21st century, though his anti-Semitism still remains a serious indictment of his humanism and the fall-out of it on the fate of the Jews over the last four centuries a stark reality.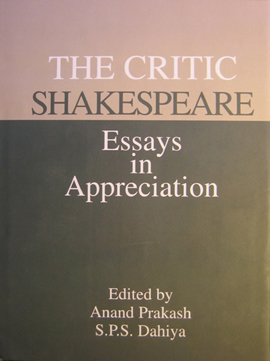 Debates endlessly will occupy the critic on Shakespeare's politics in creating a monstrosity in Shylock, wicked and malignant, and yet at the end a deeply human figure so touching that one almost wishes he was not sentenced to such a harsh penance. In literary history, nothing really diminishes the damaging mischief caused by the dramatic rendering of Shakespeare's Shylock and Dickens's Fagin.
However, the book does not take up this important issue. Apart from the long introductory article by Anand Prakash, it has 10 perceptive essays on plays such as Macbeth, King Lear, The Taming of the Shrew, Hamlet, Julius Caesar, Henry Fourth Part II and Twelfth Night. There are specifically valuable contributions of a general nature by Bhim S. Dahiya, Lisa Hopkins and Kate Macluskie. On the other hand, R. W. Desai, Shalini Sikka and R. S. White's discussions are focused on individual plays, Hamlet, King Lear and The Taming of the Shrew, respectively. Insightful comments in essays by young scholars such as Monika Sethi, Hema Dahiya and Sucheta Pathania draw attention, too, for their inherent sharpness and focus.
The essays included in this book were initially presented at the International Conference on "Shakespeare as Critic in his Time and ours: Literary, Social and Political". The bold theme takes the reader to the less known aspect of Shakespeare's wide reading, activism and spirited interventionism. This definitively explodes the myth that he was an "untutored genius". Also, for long, Shakespeare has been the subject of textual study, as a writer who offers "raw material for the theorist to work upon". No more so. He has of late been recognised for wider relevance in modern-day contentious areas of anti-racism, gender discrimination, social prejudice and colonialism. It has been rightly observed that "To the colonial subject (in India), plot lines of (Shakespeare's) plays intersecting issues and cultures became a meaningful site where traditional Indian narratives changed into modes of questioning and self-questioning."
The tone of the book is set by Bhim S. Dahiya's statement: "The question that warrants greater attention is `85 whether a serious creative work is at all possible without a sound critical sense `85" and that "when we speak of the creative writer as critic, we do not mean to designate him either as a professional critic or even as a satirist". The argument is further nuanced by R. S. White who says that Shakespeare's "basic premises of radical inequality between men and women (in The Taming of the Shrew), beginning with the unrestrained right of a father to dispose of his daughters in arranged marriages, were so powerfully negated by Shakespeare himself, in his later representations of "strong" romantic heroines like Portia, Beatrice, and Rosalind, giving The Shrew by contrast the unreconstructed air of a much older tradition".
Thus, consideration of problems in the sphere of culture should be firmly placed in the actual context where literature is produced and distributed. Kate Mcluskie has vehemently argued for this when she says: "In the twentieth century, cultural brokers in education and in the intellectual press placed themselves in between the production and consumption and separated the discourse of value from the discourse of the market."
The book offers a mix full of insights and scholarship that will go a long way in establishing the bard's rational humanist approach in a world that has experienced an ever-changing and dynamic scholarly industry grow around him, replete with examples of analysis that never lose sight of his shifting reputation. Philosophy, politics, oedipal desires and romance all go into the making of a playwright whom it is difficult to critical consume. Such conferences which are behind the compilation of critical anthologies continuously draw Shakespeare scholars towards both the political and literary histories within the context of which Shakespeare wrote his plays. Critical analysis may somewhat throw light on the author's emotional, sexual and religious life that could one day lead the world to realise the true identity of a writer who remains a mystery in a memoir-crazy era such as ours.