Corporate chronicles
Reviewed by Kamlendra Kanwar
Turnaround: A Public Sector Story
By Shiv Malik.
Om Books.
Pages 178. Rs 395.
THE stereotype that comes to mind when one thinks of the Indian public sector is of a behemoth that is a drag on the public exchequer, an entity with loose accountability characterised by sloth and inefficiency. There doubtlessly are a few brilliant minds in the set-up but they get neutralised by a system that is decadent to the core.
In such conditions, when one comes across an individual who pulls a tottering company out of slumber and leads it to new heights, causing a dramatic transformation all around, there is surprise tinged with elation. Turnaround is the story of one such dynamic individual, Shiv Malik, who was catapulted to the CMD's chair of the MMTC in 1991-92, when it had lost 80 per cent of its Rs 8,000-crore annual business and was precariously perched on a precipice.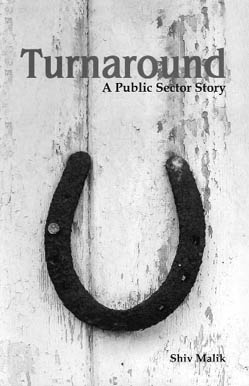 Through a never-say-die spirit, calculated risk-taking and business orientation that was honed through 26 years of service in the private sector, Malik transformed the ailing public sector giant during the period that he held the reins. Today, two decades down the line, MMTC's annual business stands enhanced by 30 times to a whopping Rs 42,000 crore.
Indeed, Malik can justifiably take credit for catalysing MMTC's growth at a time when it seemed hurtling towards disaster. Shiv Malik's approach is largely anecdotal and therefore gripping. His prescription for the public sector is significant. Says he: "Though public-sector autonomy and the freedom to decide its own policies, strategies and investment is not a panacea for turnaround of the public sector, it is the minimum condition. But at the end of the day, each company has to find specific solutions to its unique problems and opportunities and this falls under the realm of effective corporate management and good governance`85." The palliatives he suggests are: reforming the seriously flawed process of recruitment to top jobs, bringing down the government stake to less than 50 per cent, separating management control from ownership and selling state equity to a wide array of retail investors, financial institutions and employees within a stretched time-frame of a few years to make it affordable, and then ultimately transferring the ownership to the employees. Malik suggests a Special Purpose Vehicle (SVP) to make all this possible. In his scheme of things, the SPV would be the repository of all disinvestment funds and it would represent the government on the boards of the PSEs instead of the ministry officials.
It would help to create a private professional sector consisting of (a) serving PSE employees (b) surplus staff and (c) private professionals, scientists, copyright owners, patent holders, innovators and academicians. In a blueprint that is apparently path-breaking and deserves to be looked at closely by an expert group, he recommends that such a`A0SPV be mandated to use part of the disinvestment proceeds to prepare a large number of detailed project reports with an eye on establishing a sizable number of small and medium enterprises to be run by private professionals and the surplus staff instead of doling out voluntary retirement benefits. These investments, he suggests, could deal with education, health and infrastructure. Malik contends that these proposals would catalyse employment, income, savings and investment and make economic growth more inclusive. He believes that this would make the PSEs truly board-managed like their private counterparts and enhance the productivity of more than Rs 4 lakh-crore investments made in the public sector. Malik's critique of the process of appointment of public sector top brass is revealing. He describes it as one of cronyism and patronage that debilitates these organisations and leads to all kinds of liaisons between the senior executives, politicians, bureaucrats and vested interests that influence commercial decisions. He believes the best way would be to empower the boards with powers to select the candidates for the top jobs directly or through search committees.
Malik's narrative also includes his experience at the helm of another public sector company, the Projects and Equipment Corporation, which he turned around with deftness and rare tenacity. All in all, Turnaround is a refreshing piece of work. It's lucidity and the palliatives it offers make it an absorbing read. The spirit in which it deals with the public sector's failings is constructive and must provoke out-of-the-box thinking.