Ideal family fare
An amalgam of form and content, Zack Snyder's Legends of the Guardians is 95 minutes of wholesome entertainment that should keep both children and their parents satisfied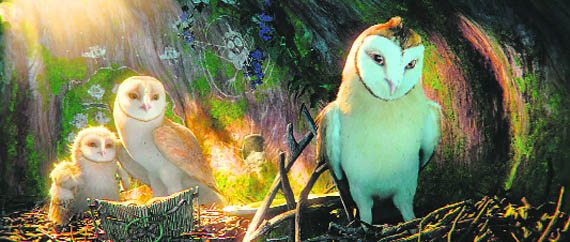 The good old-fashioned battle between the good and the evil is dealt with all its visual splendour
THERE are animation films and there are animation films and they vary in content and treatment. But The Lion King did make a major difference. It made those once-papery figures throb with life and feeling. The Little Mermaid was another. After that, the standard has not been consistent. But for a change, Legends of the Guardians: The Owls of Ga'hoole is up to its high standards, an ideal amalgam of form and content.

It is a breathtaking adaptation of the popular children's fantasy novels and it is surprising that filmmaker Zack Snyder should helm such a project. It is not his forte. However, the man, who gave us such mega adventures as 300 and Watchman, does full justice to the subject. Snyder imbues a standard hero's quest story with visual panache and uses a distinguished ensemble of vocal talent, Jim Sturgess and veterans Helen Mirren and Geoffrey Rush included.
The use of 3D is alluring, to say the least. It strikes a new blow for digital animation. The protagonists are a pair of squabbling owlets, who are "birdnapped" from their tree-top abode by an avian warlord. One of them escapes from the fascist captors but the sibling decides to stay back and so is on the dark side.
So it is the good old-fashioned battle between the good and the evil, which is dealt with all its visual splendour in Tolkienesque style. May be the slow-motion shots of graphic violence could have been reduced or better spaced out. But that apart, it is 95 minutes of wholesome entertainment that should keep both children and their parents satisfied. Quite an achievement these days when children films tend to fall between two stools. Ideal family fare. Go for it.