Pan-Indian
platter
Kinjal Dagli-Shah
Meet Indian masterchefs who have cooked up some sweet American deals …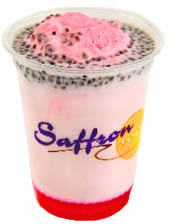 AN icecream maker on sale was all it took for Smita Vasant to embark on a journey that has only brought her sweet deals. After 15 years in the health insurance industry, the mother of two decided to venture into unchartered territory: making icecreams. "In 2001, I started experimenting at home with different flavours starting with, of course, kesar pista icecream. Friends who came over were always treated to my icecream concoctions and one of them suggested I supply it to Indian restaurants. I thought it was a great idea and started exploring it," recalls the California-based Vasant.
In April that year, Vasant launched a company called Neemo's Exotic Ice Creams after her two daughters Nikita and Monica. "We started with four flavours, including our signature flavour — Saffron Silk — which still remains the most popular. In August 2005, we opened Saffron Spot as a retail location and added other dessert and snack items," says Vasant, who grew up in Mumbai and moved to the US at the age of 23.
The fact that Vasant's Saffron Spot was on LA Weekly's list of '99 Things to Eat in Los Angeles Before You Die' points to the success and popularity of her venture. Women like Vasant are rediscovering food in a different way — taking off from traditional cooking duties, they are exploring food as a profitable avenue and turning it to their advantage.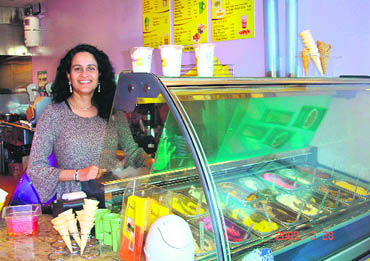 An icecream maker on sale was all it took for Smita Vasant to set up Neemo's Exotic Icecreams in Los Angeles; and (left) the Indian flavours of her brand, like Saffron Spot, have today made it to LA Weekly's list of '99 Things to Eat in Los Angeles Before You Die' Photos: WFS

Take Divya Gugnani, who launched Behind the Burner, a culinary media brand that packages expert tips, tricks and techniques in areas like food, wine, nutrition and mixology, and presents them in a variety of forms: videos, articles, blogs, TV appearances and expert interviews. "I had grown up cooking throughout my life, and I went to culinary school after college to learn more. I never thought I would make a career of it. But I started thinking about the possibilities of blending my passion for business with my TV experience and love for all things culinary when I felt an entire generation of hip food and wine enthusiasts were not being served by the current media offerings both on TV and online," explains Gugnani, who grew up in a Punjabi household in Springfield, Illinois. "We also give our readers exclusive discounts on products and ingredients that chefs swear by. Readers can also keep up with the latest culinary trends by subscribing to our blog, where we review a new dish, drink or product every day," she adds.
The 34-year-old now lives in Manhattan, New York, with her husband but says she owes a lot to her Indian roots. "My grandmother was an outstanding cook and she expressed her warmth and love through her food. Being Indian definitely influenced my food philosophy, but my travels have given my recipes a very worldly lens. I always love to use the ingredients and techniques I learn from different countries and cultures."
Vasant gives due credit to her Indian-ness for the success of her business. "Being of Indian origin, I feel that I understand the flavours and textures better — how something should look and taste to get an authentic flavour. I occasionally get requests to try something that's not Indian or not something I grew up with and I just don't have a good 'feel' for it. Although I may enjoy it if I ate it somewhere else - my palate is distinctively Indian. I will not use an ingredient that is from another country if it does not taste 'Indian' enough for me," she points out, maintaining that her flavours are meant to be loved by all, including Indo-Americans. "We have customers of all nationalities that visit us for our 'Indian' flavours - American, Russian, Chinese, Filipino, Mexican and others."

Both women continue to add new elements to their businesses while keeping an eye on the most important aspect - good food. "Our ice cream, kulfi and falooda are the best offering. The icecream is lower in fat content than most gourmet ice cream and rich on flavour. We do not skimp on any ingredients or processes with the dollar in mind. We just create the best and hope that people will come and enjoy my creations. Although some of our products contain flavours, I use real ingredients as far as possible, which distinguishes the taste of our products," emphasises Vasant.
Behind the Burner, too, is a booming venture, and Gugnani stays on top of things. "We continue to grow and build our content and talent with each coming day. We have expanded our presence and filmed in locations nationwide as well as internationally. As a small business, we track different metrics, including the number of views each video on our site receives as well as on other online media properties such as YouTube, DailyMotion and BravoTV.com," she says.
Meanwhile, Vasant is hoping to take Saffron Spot to a whole new level. "I would hope that Saffron Spot would be a franchise at some point. We already get constant requests for it; I would also like to see it in mainstream grocery stores," says the ice-cream maker, who has mentored a businesswoman from Rwanda who is into ice creams. "She was with me for one week and we went through all of the aspects: From making ice cream to marketing it," explains Vasant, exemplifying how an interest can lead to a business venture. As she says, "Like most Indian women, I just happened to be cooking for my family and loved doing it." — WFS
Tadka trial on the tube
Chetna Keer Banerjee
Gourmets from the region make their mark amid a confluence of culinary skills
WHEN the main course has for long been loaded with the spice of song, sizzle and slugfests (slut-fests, too, have made it to the daily menu, thanks to Rakhi-aided activism and other 'show' stoppers), it may be refreshing for reality TV viewers to get to see sizzlers, literally.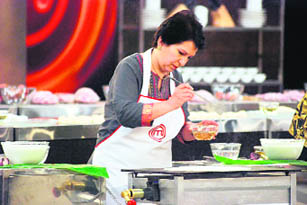 Kandla Nijhowne and (below) Joe Baath from Chandigarh get a chance to think out of the box on a food reality show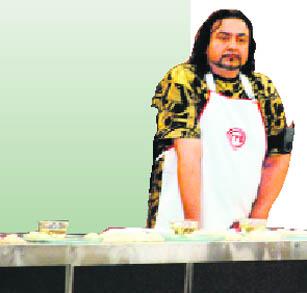 In an age when reality programmes have become factories for dishing out assembly-line talent in newer shapes season after season, like fresh models of four-wheelers or mean machines, pots 'n' pans are the latest ticket to TRP-accelerated fame instead of the staple jhatkas-matkas.
Though the food reality show, Masterchef India, has also modelled itself on a western counterpart, at least it feeds the appetite for novelty and also brings ample taste of Punjabi tadka, courtesy the two contestants from Chandigarh, food columnist and baking expert Kandla Nijhowne, and TV commentator, host and emcee Joe Baath, who was bred in the city and is now working in Gurgaon.
How fruitful has the food template been for our reality TV, both for gourmets and the genre? A first-hand taste of the experience comes from our home-grown foodies.
Says Kandla, who has made it to the top eight so far, "I received calls from Mumbai as well as a local representative for the show. When I failed to show up at the city-level audition, I was requested to audition in Delhi. If it hadn't synchronised with the visit to my parents then, I wouldn't have gone at all."
A gourmet by passion, who makes it a point to stop at Puran da Dhaba or Pal Dhaba on his Chandigarh-Delhi trips, and a presenter by profession, Joe, too, was approached by the show's representatives and, skipping the city auditions, he went in at the next round.
So, what was the biggest challenge for them? Kandla recalls, "It was cooking for the Maharaja of Udaipur. We were divided into four teams comprising two mates each. The winning duo's creation would from then on be cooked in the royal kitchen, once every week. What made us tense was the knowledge that Arvind Singh Mewar is a connoisseur of food. We shuddered with apprehension when he partook of our humble offerings."
For Joe, who got to wear the 'black apron' only once, the kids' challenge was tough. "The Children's Day task was the most challenging, as the kids were to judge us," he remembers.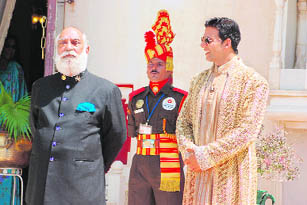 (Left) Arvind Singh Mewar of Udaipur with Akshay, who wore a diamond-and-pearl- studded Abu Jaani sherwaani worth Rs 17 lakh for the meeting with royalty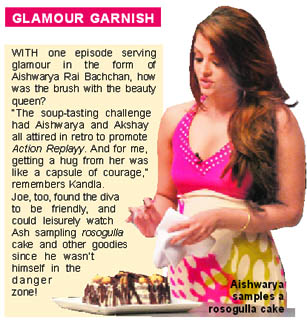 Judges apart, it's host Akshay Kumar who kindles interest in his transition from reel khiladi to real khansama. On screen, he's a tough taskmaster, but how was he behind the scenes? Says Kandla, "Being abrasive was part of Akshay's job, but off-screen he was warm and witty. Once, he pulled me by my hand and to my shock, I discovered moments later that my wristwatch was missing! I still don't know how and when, but he had unbuckled it with dexterity and slipped it into his pocket, only to present it to me later with much fanfare."
Tees Maar Khan, indeed!
With the participants spanning a broad age and ability spectrum, what were the speed-breakers the two faced? The 50-plus Kandla gets candid, "Being older meant that I had added experience, but the downside was that I could not dash off to fetch pots and pans or to the pantry with as much speed as the younger lot, especially with a mishap-affected leg."
Agrees Joe, 41, "Time was against us, certainly. But, at the end of it, one learnt to be respectful and patient towards people who run restaurants and dhabas," says this globetrotting Punjabi, who shatters the stereotype of a shahi paneer-addicted son of the soil with his penchant for multicultural cuisines.
Was it more a battle of nerves than a test of talent? "It was a bit of both," says Joe, "as it put our planning, innovation, speed skills to test." Kandla echoes the sentiment, "Certainly, one needed nerves of steel to wade through the challenges, competing with faster-on-their feet 20-year olds, and it tested our ability to think out of the box, obviously."
When TRPs come, can melodrama be far behind? While most of the reality show circuit has fallen prey to lachrymose-activating content and format, does the food variant follow the herd mentality, too?
Kandla, who presented a calm countenance mostly, agrees, "Melodrama is definitely an ingredient liberally used in this show! Perhaps, just cooking would not hold audience attention for long. Burnt onions or undercooked rice invited close-ups and verbal criticism, including the zooming in on the weepy faces of the victims being blasted!"
In fact, as Kandla puts it, it's the emotional spice of this desi adaptation of Masterchef Australia that saves it from ending up as a mere clone.