Health package, the best gift
Wondering what to gift your spouse this birthday, or your parents on their wedding anniversary? Buy them good health checkup packages to ensure they have a healthy life.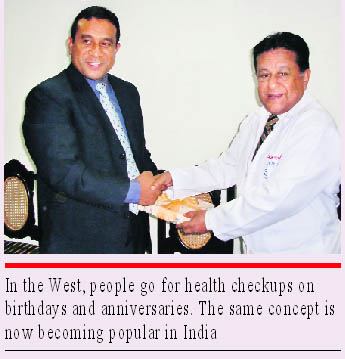 "It was my parentsí 30th wedding anniversary and I thought of gifting them a medical checkup kit. It was the best way to ensure a longer and healthier life for them," says Priya Deshpande, a software professional based in Delhi. Regular checkups to pre-determine any probable health threats, which were not so common in India until recently, are fast becoming an important part of healthy life.
"It is a popular concept in the West. There people go for health checkups on birthdays and anniversaries. The same concept is now becoming popular in India," says Amol Naikawadi, joint managing director of Indus Health Plus, a leading healthcare company that specialises in preventive health checkups. "Traditionally, the concept of preventive measures of healthcare were missing in India. Health checkups were not considered unless there is a medical emergency. However, these days youth are conscious and concerned about preventive health checkups," he adds.
Most checkup packages wonít pinch the pocket. The cost varies from Rs 5,000 to Rs 16,000. Normal packages include radiology and sonography.
"Indians are genetically more prone to lifestyle diseases. The risk for an Indian is four to six times higher than Europeans and Americans," says Naikawadi. "Most of these diseases donít show any symptoms until they reach an advanced stage." Most hospitals offer health kits these days. Instead of jewellery, clothes or other luxury items, the package could make the perfect gift for your loved ones. ó IANS