A dash of medieval magic
During a trip to Europe, Swati Sengupta gets enchanted by
Estonian capital Tallinn's old-world charm

TALLINN — if you think that it may be in some God-forsaken part of the world, with a handful of adventurous backpackers and its locals speaking a weird dialect, think again.
Tallinn, the capital of Estonia, the northernmost Baltic State in Europe, is fast gaining the reputation of a tourist-friendly and attractive destination.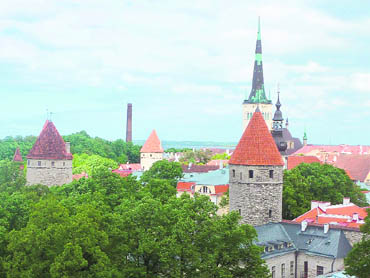 Tallinn is also called City of Towers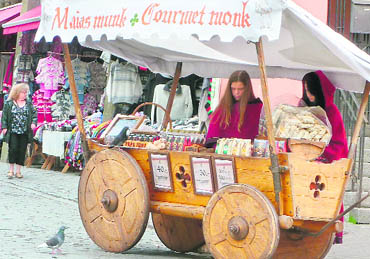 Being in the old city is like being transported back in time. Most people working there are dressed in medieval clothes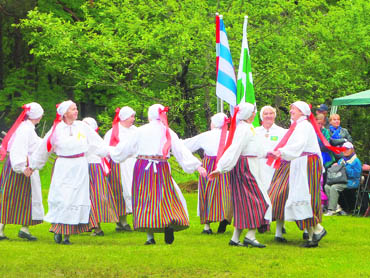 Natives perform an Estonian folk dance Photos by the writer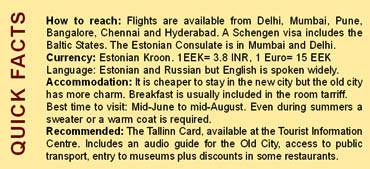 Walking through the old city is like being transported back in time. The Estonians leave no stone unturned to make the experience complete for you. Most people working there, including every waiter, shopkeeper, bartender, receptionist, etc. are dressed in medieval clothes.
Most monuments or old buildings are clustered around the main square, including the 14th century Town Hall and the oldest functioning pharmacy. A number of medieval buildings have survived the rigours of time. Tallinn was an important trade centre and one can see that many of its buildings have a pulley and lever fixture on their wide windows, to make it convenient to haul and store huge quantities of goods at a time.
The only symbol of Russian presence is an orthodox church with black onion-domes. A brief walk from the church is Toompea Hill, which houses the Estonian Parliament and gives an amazing view of the city. You can see from here why Tallinn is called a City of Towers!
The traditional Estonian cuisine, which mostly includes a variety of sea fish cooked with herbs, is available in many restaurants. In fact, in some restaurants you can even watch staged traditional sword fighting while waiting for your meal. Vegetarians also have a decent choice of food. However, cuisine is not one of Estonia's strengths, and if you are tired of its bland food, there are numerous non-traditional eateries as well as restaurants of different nationalities, including an Indian one right in the main square.
A walk along the city walls till the Viru gates, the only surviving City Gate and you can look across to the modern-day Tallinn, which is nothing like the old city, and has a lot of steel, glass and grey. It is so discordant from the views inside the old city and so jarring that many people turn around at this point to move back into the old city.
If one gets saturated with medieval Europe, one can always go to the Open Air Museum, on the city's outskirts. Spread over 70 hectares, it showcases 72 different buildings from Estonia's countryside. You can enjoy the architecture, buy local products and handicrafts, watch folk dances, walk in the woods and finish off with a peasant meal in a tavern with live musicians. When it comes to creating ambiance, the Estonians can definitely give everyone a run for their money. For children, the Tallinn Zoo, close to the Open Air Museum provides a welcome distraction.
During mid-June, many music festivals are held to celebrate the long days and a brief respite from the cold. The biggest concert is at the main square in the old city, lasting for a week, with new as well as well-known talented musicians performing all-day long. Locals and tourists alike stand around enjoying the music or unwinding with some spontaneous dancing on the streets.
Estonia is known not only for its medieval architecture and Nordic ambiance but also for its tumultuous history. It has had Germanic, Scandinavian and Russian influence due to long years of trade as well as battles of conquest and supremacy. However, the Baltic States will be remembered most for their suffering under Soviet occupation. Although Estonia was declared independent after the World War I, occupation by Soviet troops continued and Estonia was re-conquered by Soviet forces in 1944. In an attempt to strengthen its hold, the USSR deported large number of Russians to the Baltic States. The Soviet troops left finally in 1994 but not before a long struggle for independence and autonomy by the Estonians.
Since Estonia got independence recently, you will meet habitants, who though vividly remember the horrors of war and occupation but are proud of their independence. The Estonia's reconstruction is steady and making great progress. Today, it is a part of the EU and will soon adopt the Euro.
Most Estonians are firmly rooted to their homeland and there is very little migration, except for a few years of study or work. Unlike some European cities, people here are friendly and helpful to tourists. They take pride in their culture and like sharing it with others.
If their history and life intrigues you, stop over at the Museum of the City of Tallinn. The history of the city is explained through cutouts, stories and pictures, making even Estonia's complicated history easy to understand.
Ultimately the picture that stays in mind is that of an old medieval city and when you leave Tallinn, you will take with you the vision of a city completely lost in time.