'Reality' behind Rakhi's success
With Rakhi Ka Insaaf vying for top ratings, the show is lapping at the heels of popular programmes
like Kaun Banega Crorepati, Masterchef India and Big Boss-4, writes Archana Pareek

SHE is controversy's favourite child. Scoffed at by her own fraternity, sneered at by high-brow viewers, yet she manages to claw her way to the top every time she is on a television show. Rakhi Sawant may be loud, brash, aggressive and garish but her shows sizzle up on the charts and her fan following among the masses — not classes — keeps growing with every reality series she stars in.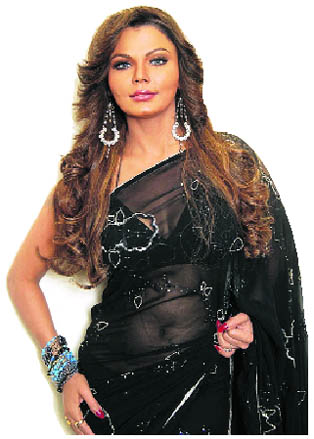 Each time the media writes her off, she jumps back again like a jack-in-the-box, as she has done with her latest show Rakhi Ka Insaaf on NDTV Imagine. The show is posing a challenge to Kaun Banega Crorepati and has pipped the much-hyped Masterchef India on Star Plus. On Saturday, October 30, 2010, it garnered 2.3 TVRs (Television Viewer Ratings) against 1.7 of Masterchef India and it was just 0.1 TVR behind the hugely popular Big Boss-4.
A star, who has barely erased her item girl label, Rakhi is suddenly lapping at the heels of top actors-turned-TV-hosts like Amitabh Bachchan, Salman Khan and Akshay Kumar. That in itself is a feat that the spunky drama queen can raise a toast to.
Over the years she seems to have perfected the art of reality TV. Back in 2007, the kissing controversy with singer Mikka turned out to be a boon for the then struggling starlet, as the controversy ensured her a place in Big Boss-1. She grabbed the opportunity with both hands, and regaled viewers with her temper tantrums, foul language and catfights. And since then there's been no looking back.
Seeing her potential for high drama, she was offered Nach Baliye-3 on Star Plus. The dance show proved to be another turning point for her. When she and her then boyfriend Abhishek Awasthi lost the finals to co-contestants Sanjeeda and Aamir Ali, Rakhi cried foul and filed a criminal complaint against Star Plus alleging the channel had cheated her of the title.
By now she had established her potential as a below-the-belt entertainer and a host of reality shows came to her on a platter as promoters and production houses showed their willingness to place their bets on her sensationalism. And they were not disappointed.
What followed were the star-based Rakhi Sawant Show, the eyeball-grabber Rakhi Ka Swayamvar and its sequel Pati Patni Aur Woh with her reality fiancé Elesh and then Zara Nach Ke Dikha, where she again paired with her former boyfriend Abhishek Awasthi.
But it is her current Rakhi Ka Insaaf that has put her in the race for the title of the drama queen. Based on NBC's Jerry Springer Show — once voted the worst show of trash TV — it attempts to solve cases of adultery, incest, domestic strife and violence. To make the show more salacious, it uses hidden cameras to capture participants in their private moments. It is this voyeuristic edge that has propped up Rakhi Ka Insaaf and has it vying for the numero uno position.
Rakhi's success has been based on her shock value. Whether she talks of her silicon implants or her botox jabs or even her tattoos, she can be refreshingly candid — a quality that has endeared her to millions of viewers. It was perhaps this in-your-face appeal that got her a surprise invitation to feature on Koffee With Karan show — known for its sophistication and class.
Things have not been easy for her but she has the guts to carry it off all by herself, says ad guru Parhlad Kakkar on Rakhi's success mantra. He says she has the knack to speak without a stutter and speak non-stop, whether she is on the right or wrong track is not important. What is important is that she can hold viewers spellbound.
Most people, who claim to know her well, believe what works for Rakhi is her forthrightness, her spontaneity and lack of inhibitions. The qualities that have made her a real reality star and one of Bollywood's highest paid stage performers. — NF