Big brother syndicate
From Ashok Kumar to Dilip Kumar, Feroz Khan to Salman Khan ó big brothers have gladly shared the limelight with their younger siblings. By sticking together, brothers have often
churned out cinematic marvels, writes Deepa Karmalkar

BROS. Inc. has been a money spinning enterprise in the film industry. Arbaaz Khanís blockbuster production Dabangg is proof enough of the professional advantages of brotherly bonding. As Arbaaz Khan acknowledged in a recent interview, "It is a great feeling to know that not only has Salman worked for me, helped in establishing myself, but the film has worked for him also. Itís great for the whole family."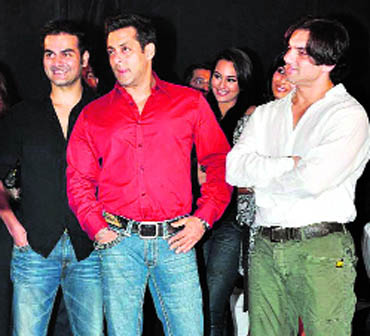 Arbaaz Khanís blockbuster production Dabangg saw brother Salman Khan in the lead role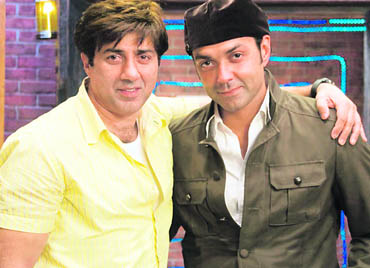 Sunny Deol has been protective of younger brother Bobby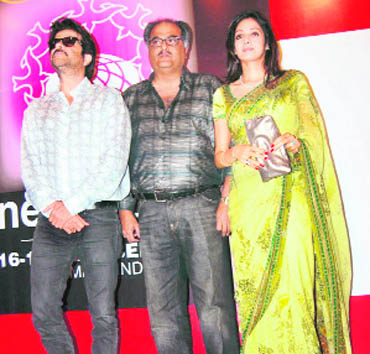 Boney Kapoor (centre) with wife Sridevi and Anil has been quite devoted to his brothers and made lavish films for them

Indeed, it is celebration time for the Khan family now, as it was decades earlier for the Ganguly brothers when Ashok Kumar teamed up with younger brothers Kishore and Anoop in Chalti Ka Naam Gaadi and the film turned out to be a runaway hit. "The brothers used to jokingly call it Chalti Ka Naam Ganguly (their surname). They took the essence of their relationship and made Chalti ... . Did you know they had worked together earlier in Baandi, a social drama?" asks Ashok Kumarís eldest daughter Bharti Jaffery, "Since baba was 20 years older to them, they treated him with reverence," she relates. Ashok and Kishore made Chalti Ka Naam Gadi for their younger brother Anoop so that "he would get good dialogue, songs and romance".
Elder, successful brothers have often paved the way for their younger brothers, "Dilip Kumar produced Ganga Jumna for his younger brother Nasir Khan, while he played Ganga, Nasir played Jumna in it. Likewise, after Dev Anand became a star, he brought Ketan and Vijay Anand into the fold. They worked their own ways later," says Udaya Tara Nayar, eminent film journalist.
Sunil Dutt launched his younger brother Som Dutt in Man Ka Meet, but as luck would have it, Som never succeeded thereafter.
Likewise, Mehmood launched brother Anwar Ali in Bombay To Goa and their comic pairing as the bus conductor-driver was a big hit but Anwar never made it big later.
S. Ramanathan, veteran director of the film, acknowledges, "Definitely having a brother in films is a benefit, brothers have a better personal and professional understanding among each other."
Other star brothers, who formed a business association among themselves include Rakesh-Rajesh Roshan (who is said to give his best music to his brotherís films), Jeetendra-Prasan Kapoor (who produced for his brother films like Deedar E Yaar, Jyoti Bane Jwala, Khushboo and Humjoli), Amitabh-Ajitabh Bachchan (who managed his contracts during his Angry Young Man days), Govinda-Kirti Kumar (directed hit film Hatya) and Aditya and Uday Chopra (who gets plum roles in brotherís productions Dhoom series, NealíníNikki and Pyaar Impossible).
Big brothers are often very protective, as Bharti Jaffery reminisces, "Papa was keen that his brothers finish their college before entering the film industry. He wanted Anoop kaka to be a cinematographer and Kishore kaka to be a singer. They were very close and they always stuck together." The three Ganguly brothers were also seen together in another comedy, Badhti Ka Naam Daadhi. When Kishore Kumar died on his birthday on October 13, a devastated Ashok Kumar never celebrated his birthday again.
Sanjay Khan recalls how he was stabbed by a local goon at late Nargis Duttís party and elder brother Feroz had launched a massive hunt for the culprit and tracked him down to a garage in Colaba, Mumbai, "It was a scene straight out of a masala film, Feroz stopped the police outside and entered the garage alone, he pulled down the shutter and for one hour pummeled the stabber."
Another instance of a protective brother is Sunny Deol, when younger brother Bobby was launched in Barsaat and the film was given adverse reports, Sunny showed film critics his fist, recalls Udaya Tara Nayar.
There are instances when younger brothers have been instrumental in inspiring older brothers. Shashi Kapoor had stressed, "Among the three of us brothers, I was the only one who wanted to be an actor, Raj ji and Shammi ji both wanted to pursue other careers like the Army."
Sanjay Khan elucidates, "Feroz was on his way to Germany to become an engineer and I was in Mumbai to be a filmmaker just like my idol Raj Kapoor. I pushed Feroz into films. He was even reluctant to meet veteran producer S. Mukherjee who had evinced interest in casting Feroz after spotting him at a party. My sister and I brainwashed him overnight," guffaws Khan.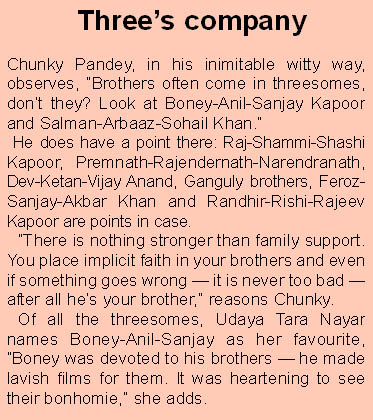 When stars give their brothers a leg-up, it is often alleged that the younger ones are piggy backing their stardom. When Aamir Khan paired up with his brother Faisal in Mela, industry insiders sniggered about it. Also Arbaaz and Sohail were singled out for similar reasons. Chunky counters, "Actors are producing their own films these days. So what if brothers got together?"
Akshaye and Rahul Khanna are two actor brothers who follow different genres of films yet they share a flat in Mumbaiís post locality Malabar Hill and they are like peas in a pod.
But that isnít always the case, it is easy to get eclipsed by the stardom of elder sibling like Anoop Kumar, who was relegated to playing bit roles while brother Ashok Kumar ruled the roost. It isnít only Ambani brothers but filmy brothers also lock horns and their fraternal business deals fall apart. As in case of the Bachchan brothers. Jeetendra and Prasan Kapoor reportedly parted after the debacle of Deedar-e-Yaar and a lot of finger-pointing.
It is opportune to mention B. R. Chopra and Yash Chopra, who branched out on their own in order to resolve their creative differences.
"The only brothers who have been consistently thick as thieves over last two decades are Mahesh and Mukesh Bhatt. They have defined their roles very accurately. Mahesh handles creatives while Mukesh the business and so theirs is a successful partnership.
"Whether he is your brother or not, at the end of the day, everything boils down to money in this line. Money can create confusion and commotion. It is the biggest bone of contention," surmises filmmaker S. Ramanathan. Power and money can be corrupting and so divisive. Well, hasnít it been so since the times of the Mahabharata?