Second-hand goods should be safe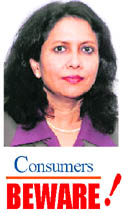 Pushpa Girimaji
Whether it is a mobile phone or a laptop, a car or a television set, consumers these days are constantly eyeing newer models and newer technologies in the market. The increasing purchasing power, constant upgradation of technologies, easy credit and exchange-old-for-new offers of manufacturers have all contributed to this changing attitude, where people want to give up old models for new ones. This has also created a huge used goods or second-hand goods market and provided those who cannot buy new products, an opportunity to own and enjoy the benefits of technology.
Several countries around the world have recognised the need to protect this burgeoning group of customers who buy second-hand goods, and passed laws and regulations to safeguard their interests. In Australia, for example, the
Consumer Affairs Act casts a responsibility on traders to ensure that the second-hand goods offered for sale are in sound working order and safe for use. The Product Safety Officers conduct compliance inspection at the retailers' premises and impose huge financial penalties on those who fail to comply.
In the United Kingdom, anyone selling used electrical goods should ensure that the goods meet legal safety requirements. This safety requirement covers labelling, construction, design and manufacture, insulation and earthing, protection from electric shock and instructions for safe use, among others. Those who sell unsafe or incorrectly labelled electrical goods are liable to be prosecuted and punished with imprisonment and fine. In addition, those who sell these goods are also liable for any loss or damage caused to the consumer on account of such goods.
Similarly, in New Zealand the rights of those buying second-hand goods are protected under the Consumer Guarantees Act, which says that such goods must be of acceptable quality. In other words, they should be fit for the purpose for which they are sold, should be free of defects, should last for a reasonable time, and most important, should be safe.
In the US, the Federal Trade Commission enforces the used car rule to protect the interests of used car buyers. The rule, which covers all used car dealers in the country, stipulates that the dealers post a one-page buyers' guide or a disclosure document in every car to ensure that people get in writing, information about the warranty protection that they have in case of a problem after purchase. The guide becomes a part of the sales contract and overrides any contrary provisions contained in the sales contract. The guide also gives customers certain important suggestions and warning, including the need for asking the dealer to put any promises that he may make in writing.
We in India do not have any such specific safeguards for those buying second-hand goods, and it is time we looked at this issue in-depth and came up with appropriate consumer-protection measures. Even if the goods are not brand new and have been used, they have to have a reasonable life and should be absolutely safe.
After all, even used goods do not come cheap, and those who buy them, too, have the right to a fair deal, besides other consumer rights such as the right to be protected against unsafe and hazardous goods, the right to choose and the right to information. It is absolutely essential that these rights are enforced in respect of second-hand goods too.
Today, the only way a person buying second-hand goods can get some protection is by asking the dealer selling such goods to issue a fresh warranty. In the case of Byford Leasing Ltd vs S.V.R.Rao, for example, the company had advertised the sale of reconditioned cars with a six-month warranty, but the person who purchased a car on the basis of such a promise found it to be defective and not even road-worthy. Here, the court directed Byford to refund the cost of the car along with 12 per cent interest and pay Rs 10,000 as compensation.