M A I N N E W S
India unhappy as Russia may miss N-sub target
Ajay Banerjee
Tribune News Service
New Delhi, November 28
India's quest to operate a nuclear submarine for its strategic needs has met with yet another hurdle. The much-awaited Akula-II class, 8,140 tonne Nerpa attack submarine from Russia, will not meet its year-end schedule of delivery to the Indian Navy.
Sources said the Navy, as of now, has refused to accept the submarine from its Russian counterparts citing inadequate training for its teams to operate the vessel. The submarine is to be leased by Russia for 10 years under a $650-million pact signed in January 2004.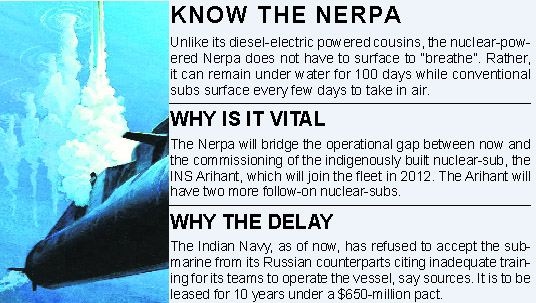 The Indian naval teams do not have enough under-sea operating experience on board the nuclear-powered Nerpa, hence the Russians have been told to provide more hours of training, sources confirmed to The Tribune. The training of the Navy teams has been going on for the past one year but the top brass is "not satisfied" with the operational ability that has been acquired so far. This training will take some five months to complete, which means a new delivery deadline of March 2011 has been fixed.
This is the third such shift in the deadline for the delivery of the vessel. The Nerpa was initially slated for lease to India in mid-2008. An accident on board the undertrial submarine in the Sea of Japan killed 20 Russian sailors. After a $65 million re-fit later, the delivery was rescheduled for June this year. The Indo-Russian group on military technical cooperation met in July this year. The Russians promised that the submarine would be handed over to India by the end of this year.
The operation of a nuclear submarine is different from a conventional submarine. Indian Navy last operated one some 19 years ago in 1991. Since, the officers who operated it have long retired taking with them the "institutional memory". Since 1991, the ability of Russia, carved out of the erstwhile USSR, diminished to build world class vessels for itself. India did not have tie-ups with other countries. The one with France to build six diesel-electric powered submarines, the scorpene, was signed only a few years ago.
The Nerpa is vital as it will bridge the operational gap between now and the commissioning of the indigenously built nuclear-sub, the INS Arihant, which will join the fleet in 2012. The Arihant will have two more follow-on nuclear-subs and the three in total will cost India Rs 33,000 crore.
Technically, the Nerpa at 110-metre length is considered the quietest and deadliest of all Russian nuclear-powered submarines. The Amur Shipyard located in the Russian far-east has further reduced its acoustic noises. Unlike its diesel-electric powered cousins, the Nerpa, being N-powered, does not have to surface to "breathe". It can remain under water for 100 days while conventional subs surface every few days to take in air.