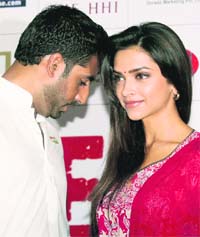 Bollywood actors Abhishek Bachchan and Deepika Padukone during a promotional event in Kolkata on Saturday. PTI photo
Voice over
Rapper Bohemia is all set to launch his own music company Voice
The disagreement, you would agree, just as we do (hands down), is far more interesting and spicy than the boring, bland agreement. Popular DJ Bally Sagoo in his recent interview flaunted his credentials and one among the countless was, "I made Bohemia, what he is today."
Booked for life
Had the best thanksgiving ever, in the company of old friends and new, Dante and Austen, Rowling and the Bronte sisters' read the Facebook status of a friend.
High spirits
Gaiety, melody and glee filled Day 3 of Chandigarh Carnival
It was as if all roads were leading to Leisure Valley on the bright Sunday morning. Enthusiastic parents with toddlers in tow, grandparents pushing strollers, and a sea of young and old marching together to Sunday Carnival was a sight to behold.
Saif bet
Actor Saif Ali Khan will add some Bollywood glamour as the guest of honour at the closing ceremony of International Film Festival of India (IFFI) on December 2 along with Arjan Bajwa and Neetu Chandra.
Munni apes Maya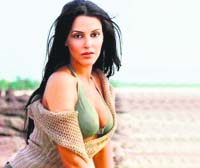 Bollywood siren Neha Dhupia has taken inspiration from Uttar Pradesh Chief Minister Mayawati for her dialect in the upcoming movie Phas Gaye Obama, where she plays a dacoit."Who is better to teach the lingo in typical UP style," Dhupia said today at a promotional event in Jaipur.The actor was a bit uneasy about the dialect before doing the film, but things became better after she minutely observed Mayawati."I have lived a conscious part of my life in Delhi so I am well versed in Hindi, but UP accent was different for me. I had to give more time to rehearsals than shooting," she told reporters.
Kat calls in order?
Bollywood actor Katrina Kaif, whose sizzling item number Sheila ki Jawaani in Tees Maar Khan is already making waves, calls the song one of her 'raunchiest'."It was kind of a learning experience for me.
Jake of all trade
Hollywood actor Jake Gyllenhaal read up a lot about Viagra to acquaint himself with the drug for his role in Love and Other Drugs and later tested his memory by trying to sell the pill to doctors.The Brokeback Mountain star memorised all the possible side effects of the little blue pill to play a womaniser who embarks on a career as a pharmaceutical representative, in the upcoming film."Viagra has a huge booklet on what it is, the side effects and all the chemical components. I would memorise these things.
Royal footage
Prince William and Kate Middleton's wedding on April 29 next year might be a three-dimensional affair. According to a report some broadcasters are considering plans to make their coverage available in 3-D, either in venues such as theaters and bars or at home, for viewers who have 3-D television.
Jolie good choice!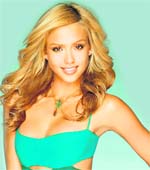 Hollywood beauty Jessica Alba considers Angelina Jolie her role model as she thinks the superstar is admired more for her acting skills than her good looks.The 29-year-old actor admitted that she is considered for specific roles due to her sex appeal but now Alba wants to be known like the Salt star for her acting prowess as well as beauty."My role model is Angelina Jolie. She's so beautiful and has an incredible career. People talk more about her film career and her humanitarian work than about her looks," said Alba.However, the Sin City star is now determined to shed her sex siren reputation and take on roles that will challenge her and impress the audience.
Pin(e)ing for friendship
Hollywood actor Chris Pine said that he became an actor to make friends and improve his social life.The Unstoppable actor insisted that he had few friends in college and took up drama classes to boost his friend circle.
Emerging leaders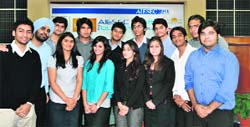 Youth to Business Forum is a unique platform which connects the youth and the business world.The event at PHD chambers, Adjacent to CII-31 was kicked off with the opening address given by Deepit of AIESEC highlighting the importance of youth in the world today.The first speaker Pratibha Soni , a leading personality in the Art of Living program, spoke about the emerging realities and needs of today's world.
A granth on Parwana
Keeping the flag of Punjabi language and literature in Europe flying since 1970, the Copenhagen (Norway)-based litterateur Swaran Singh Parwana is indeed one of the Ambassadors of Punjabi literary culture in to the West.
Spice up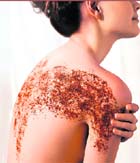 Polishing act
Nowadays spa treatments are becoming increasingly popular for bridal care. Among these is body polishing, a top-to-toe body care procedure that helps to remove dead skin cells through exfoliation, revitalising the skin and making it smoother, softer, brighter and healthier. It is of particular benefit in winter, when the skin begins to look dull. As we all know, the skin sheds dead cells. Very often, these accumulate on the skin surface, making the skin dull and blotchy. Removing dead cells not only smoothens and refines skin texture, but also accelerates the normal cell renewal process.
Healthy options
Finance goes hand-in-hand with fitness regime and our homegrown gyms are waking up to this realisation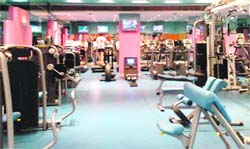 It's one important factor that can either act as a driving force to make you a regular at the gym or scare you away from the place. For, money matters. So much so that it has a direct affect on our fitness level. There's no denying the fact that people are getting increasingly fitness conscious but sparing over Rs 3,000 every month for fitness is quite a deal. Even the second option of paying the annual membership fees of over Rs 36,000 as isn't easier either.
Now, it's flexisexuality!
It all started when Madonna kissed Britney Spears on stage, followed by Katy Perry who sang a song about a girl she kissed — and now it seems the 'flexisexuality' trend is fast catching up.
Soft target
A new study has found that an increasing number of software engineers in India are suffering from insomnia and have poor quality of life.
BODY wise
Close circuit
Circuit training is a comparatively new addition in the field of physical training. It was first proposed in the late 1950s as a method to develop general fitness.


Yore moments

On the occasion of 'Painter of the People' Sobha Singh's 109th birth anniversary today, Mohali-based Naturo-food therapist and lifestyle consultant Santokh Singh Parmar shares a few rare photographs he took of the artist during his visit to Newcastle upon Thyne in 1984.