Everyone loves INCENTIVES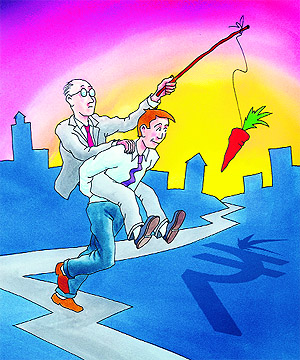 While incentives are an excellent way of keeping the workforce motivated, lack of a transparent formula can defeat the very purpose of offering these, writes Charandeep Singh
The era of pink slips is over. The economy has come out of recession. Volumes are back in business. Foreign investors have again made India, the hub of their strategic investments. The economists are talking of achieving a growth rate of 8.5 per cent this fiscal. When the picture is so rosy, even the corporate houses are going an extra mile to dole out more monetary emoluments to their employees in the form of 'variable pay structures' or 'incentive schemes' which are launched from time to time. "See incentive structures are basically an icing on the cake. They are devised in such a way to give our employees that extra push which is needed at times to perform extra- ordinarily and in lieu of that one makes some extra money ", says Harjote Singh who works in the senior management of Bajaj Allianz.
Career Hotline


B.Tech options for diploma holders
Pervin Malhotra
Q. I have a diploma in electrical engineering and have been working with an IT company for the past three years. I am in a dilemma as I am very keen to have a B.Tech degree on one hand, and I don't wish to leave my job also. There are no evening courses in my city either. Please guide me.
Google 'searches' manpower
Alexei Oreskovic
Google Inc plans to hire more than 2,000 persons around the globe, bumping up its workforce as it expands into new markets and battles for talent with faster-growing rivals. The world's largest Internet search engine, whose finance chief told investors in September that the Internet industry was waging a "war for talent", has job openings listed for 2,076 positions on its website, according to a Reuters tally last week.
Don't be an ENERGY SUCKER
D.C. Sharma
Do you talk endlessly at your workplace? If yes, does your talk deliver the goods properly? If your talk is always irrelevant and a boring stuff, you are an energy sucker. It may be hard to believe, but the bitter truth is that nobody likes you at the workplace. You might have noticed people running away or finding excuses to move away the moment you get into the "conversation" mode. This is not a happy state to be in, especially in workplace where your personal rapport with your colleagues as well as with your bosses plays a vital role in your climb up the success ladder.
Rise of franchise
R.M.S. Atwal
Today India is one of the biggest emerging markets for various goods and services, ranging from bare necessities to expensive luxuries. The country's franchising industry is expected to grow at an annual rate of 30 per cent to help push up its current $330 billion retail sector to dizzy heights.
FIRST PERSON
Helping women maintain work-life balance
Arupjyoti Gogoi
According to a recent study, more than 25 per cent of the total organised workforce in India comprises women. Article 14 of the Constitution of India guarantees equality to all Indian women and Article 39 (d) of the Constitution of India describes equal pay for equal work. But in spite of all this women still face various gender related problems at workplace.
Time for employment revolution


Employability education is crucial for maintaining India's growth trajectory, writes Amit Bhatia
According to CII, India expects 500 million new job seekers between 2007 and 2022 but our current education system is not able to meet the demand. Education, like hockey in India, has a rich legacy and a challenged present, both in quantity and quality. The good news is that unlike hockey, education is no longer neglected and the government seems to be in a really aggressive mood to plug all the holes with massive legislative reforms.
Refreshing i-breaks
A new study has revealed that office workers spend the equivalent of almost one day a week surfing the Internet at work. Workers are taking Internet breaks, rather than a traditional tea break, with newspaper websites, online shops and computer games among the main distractions.


Careercature
Sandeep Joshi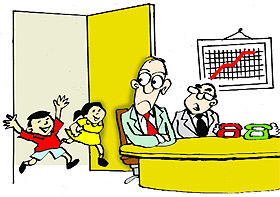 Afterall, it was your idea to appoint innocent staff only.

Happiness @ work
Gems of ancient wisdom
Add your touch to the office
An impersonal office may not ease many nerves. Make it human with some flowers, paintings and photographs. When Albert Einstein joined the Institute of Advanced Study in Princeton, New Jersey, in 1933, he asked for an extra-large waste paper basket. "I make a lot of mistakes, you see," said the genius in great humility.
Course chat
Twin city Global BBA programme
S.P Jain Centre of Management, has introduced Global BBA Programme. Students joining the four-year course will get an opportunity to study in two cities — first two years in Singapore, and the next two in Sydney, Australia. This new course will expose students to different cultures and different business environments, thereby leading to "experiential learning" and will introduce and sharpen their "global perspectives".