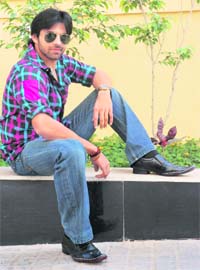 Big on small screen
Television actor Himanshoo, in the city to promote his latest serial, talks about how settings can't overshadow performances
The sweet and suave image of the 'boy next door' is so boring. He won't create any problems or take up fights for no reason. He won't even pass a nasty remark on the girl next door. So how about a Chulbul Pandey shifting to your neighbourhood? If that's too big a demand, here's another alternative. Himanshoo Malhotra, who will play a spoilt brat in the upcoming serial on Zee TV, Bhagonwali…Baante Apni Taqdeer, has his character Guddu Shukla (read Sukla) on the same lines. He's a witty loafer, a local goon, but with a heart of gold. "I enjoyed playing the role of a hero with unusual characteristics.
NETworking for a cause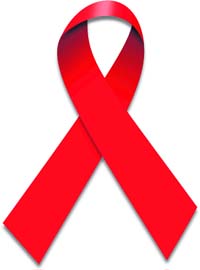 The Global Fund to fight AIDS online campaign has 20,952 followers. The World AIDS Day has 20,121 followers, AIDS Healthcare Foundation has another 1,21,528 followers…social networking sites are indeed doing their bit for the cause
We all use social networking sites to stay connected with friends, friends of friends and even unknown friends. We use sites to share pictures, first baby steps, new car, boyfriend's car, night-out, sloshed after night out! And finally, we also post videos — my cooche coo and me on our honeymoon, my new bike, my first girl friend's fifth pet! Now, this one was on the lighter side because we know there are other 'purposeful' usages of them as well. On World Aids Day a check on various social networking sites shows what youngsters say when they mean networking is not all fluff.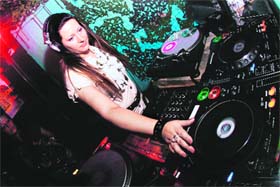 On a different note
From the nightclub to the discs, to live bashes, marriage parties to lounges and even the gym, DJs have moved beyond their traditional role
Disc is where you dance, gym is where you work out, café where you have coffee and lounge is where you chill out; and DJ is someone found right above the dance floor. And then they all became much more…Darwin's theory of evolution needn't stop applying there.


CENTRE of attraction
Departments, library, faculty and facilities define a university, but for our very own Panjab University it is something else. No prizes for guessing, it's The Students' Centre, popularly known as StuC. No matter what time of the year, the place is always abuzz with activity.

Students have a field day on a sunny afternoon at the Students' Centre, Panjab University — Photo: S Chandan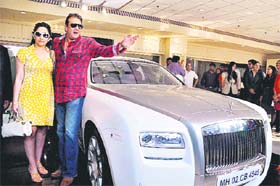 CAR SEWA: Bollywood actor Sanjay Dutt presents a Rolls Royce Ghost car to his wife Manyata in Mumbai on Monday. — PTI photo

Apple i-Pods are the most sought after Christmas gift
Christmas is set to go hi-tech this season and iPods are the most sought after gadgets kids want for Christmas. This year's big-ticket items include Apple iPods, gaming consoles, interactive toys and expensive brands, such as Lego. Whipped cream mixed with alcohol is the drink for Gen Y
A new alcohol-infused whipped cream has hit the market and is being hailed as a new favourite college binge-drinking tool in New York. A source told the Boston Herald that the Massachusetts Alcohol Beverages Commission would be closely monitoring the alcoholic treat.

To be or knot to be
A new study has found that Americans with low income and education are less likely to marry than those who are better off. The trend suggests that they place a high premium on financial stability before marriage, a bar they may never meet.

Madhuri happy at home
She reached the peak of fame in her Bollywood career and when time demanded, surrendered all to become a homemaker. It might be hard to imagine Madhuri Dixit engaged in everyday household chores, but the actor insists that is exactly what she does back at home in the US.

On her plait
Deepika's saree and plait look in Khelein Hum jee Jaan Sey is no less glamourous
She is playing a village belle in Ashutosh Gowariker's Khelein Hum Jee Jaan Sey but actor Deepika Padukone says her saree-clad avatar in the film is no less glamorous than her other roles. The 24-year-old actor, who made her Bollywood debut with Om Shanti Om and later starred in films like Bachna Ae Haseeno and Love Aaj Kal, has donned her first de-glam look as freedom fighter Kalpana Dutta in this period movie.

Live wire
Wanna sing with Sonu?
Bollywood playback singer Sonu Niigaam has revealed his desire to organise a musical workshop for fans through a series of posts on social networking site Facebook.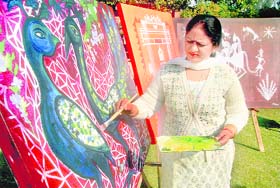 FOLK LURE
It was indeed a matter of pride for Anita Gupta to be on the teaching faculty of the Government College Art-10, her alma mater, where she had spent five years pursuing the diploma in fine arts (painting) from 1976-1981. Now an associate professor, she has participated in over 30 exhibitions in solo and group shows, an equal number of workshops as well as seminars at the state and national level.
Only for you
Stylish, hip, chic and refreshingly new - get ready for this season's highly awaited Only collection. This winter, Only brings forth looks in four distinct trends-printed tees, tops, dresses and cardigans in various animal prints, English heritage inspired sweaters, knit dresses, jackets and high wasted pants in range of earthy shades.
Foot work
Itching to hit the trail? You need look no further for a perfect travel companion. The new Liberty 'Go Explore' collection for the adventure seekers is here. Designed to provide your back and calf muscles strength and support as you rough it out the padding inside the shoe is not just supportive but also let's your feet breathe.
Animal magnetism
People for Animals, Chandigarh has the perfect companion for anyone who is ready to be loved unconditionally.
For adoption
Two beautiful simple breed female pups, two months old, black and brown colours.


| | |
| --- | --- |
| SWANKY AWARD: Actor Hilary Swank gets honoured at the 20th anniversary Gotham Independent Film Awards in New York on Monday. — Reuters | IN THE PINK OF HEALTH: Pink Floyd co-founder Roger Waters performs during The Wall tour at Staples Center in Los Angeles recently. — Reuters |