At the age of 71, Gerhard Heberle has the determination, courage and enthusiasm to drive all the way from Germany to India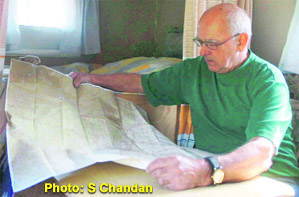 There is an inner voice in me that asks me to keep driving," says Gerhard Heberle, 71, a retired miner, who has travelled 8,083 kilometres from Der Harz in Germany to Panchkula in just 21 days, covering 10-odd countries in his own caravan. A guest of Gisela Singh, a German who has made the city her home, Gerhard belongs to the same place as hers called the 'heart's mountain'. Graciously, Gisela also acted as the interpreter for Gerhard who comes across as a warm, simple gentleman. Not everybody is obsessed with swanky cars and flashing bikes, for this trio it is the good old cycle that works wonders
Owning luxurious cars or sleek motorbikes is in, but so is owning cycles…confused? Don't be. For Rahul Datta, Rahul Kandhal and Sangram Singh, all engineers, cycling is a way of life. And this young brigade has traversed the length and breadth of the country on cycles. Why cycling in this world of cars and motorbikes? Says Sangram, MD of Ultra Drugs, "I always judge adventure in relation to my body and cycling is one activity that suits my purpose."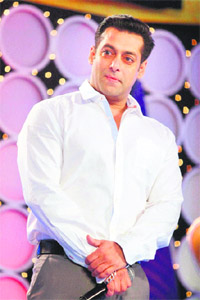 Bollywood actor Salman Khan during Super Idol Awards function in Mumbai on Tuesday. — PTI photo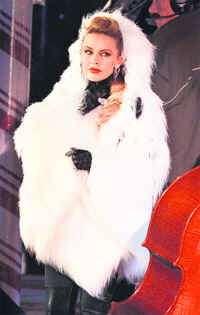 Australian singer Kylie Minogue waits to perform at the 78th annual Rockefeller Center Christmas Tree lighting ceremony in New York November 30. — Reuters photo


Of EPIC proportion
There are two ways to interpret a case-with logic and with lesser logic! Even when it's interpreted with the latter, it doesn't imply that it's a mere figment of imagination. All it means is that the analyst has a different take on the subject. Ramayana by Rishi Valmiki is as believable as the version by Tulsidas or more recently by Ram Varma. The only difference is that Varma has given a realistic touch to his modern epic. And the same version of Ramayana has been presented by Varma's daughter, Vandana Sehgal, in the form a series of 66 paintings.

A street called desire
This one is for people who live to eat, who try new dishes, add to their menu and take it as a complement when people call them a foodie or even a glutton. And, those who want to live up to the reputation should plan a visit to Bella Vista. The Boutique Hotel has introduced the concept of food-street and named it The Garden. Spread in the lawns of the hotel, the food joint offers a variety for vegetarian and non-vegetarian dishes. It has six carts, each serving different cuisines-Italian, Indian and Chinese. For non-vegetarians, the deal is a little better. The cart, Rotisseri, serves roasted chicken is the most popular of the lot. The sight of the chef picking up a huge chunk of roasted chicken, cutting it in the middle with a trademark chef's knife and stuffing it with roasted vegetables is an experience in itself. And, the aroma is simply divine.

Teenage is a tough period for your Child. Make sure you are there when it matters the most
If you have never been hated by your child, you have never been a parent," said Bette Davis, famous American actor. And, many parents with a teen would agree. With 'growing up' children, challenges of parenthood increase manifold. Children face hordes of physical as well as emotional issues and in the process of sorting them out, at times, prefer a world of their own; denying parents entry into that world.

Relatively Speaking
Woman-the giver
Without women the world would not exist. And she is considered emotionally stronger than men because of her open-heartedness. She performs all her duties without any expectation or ego. She is a manager not only of her office or home, but also of her emotions. She is not self-centered and more caring, loving, dependable as well as enthusiastic. She knows her priorities and capabilities, which helps her in performing her duties well. She understands 'let go' principle very well. She forgives quickly without wanting anything in return.

Renee Writes
Old-age blues
I am 50 and I do not want to accept growing older. Age scares me. I neither look old nor feel that way. I am fond of going out for parties and having fun. Loud music and dancing is what I really enjoy. I have also been lucky that I have lots of friends who are willing to accept me for just the way I am. But it is really bothering me. I can't sleep at night as I am constantly stressing over this issue. I have to take sleeping tablets and mood tranquilisers to keep me happy. Please suggest how I can help myself.

Cuddle up!
The so-called 'cuddle hormone', oxytocin, intensifies men's memories of their mother's affections during childhood, says a new study. Researchers at the Seaver Autism Centre for Research and Treatment at Mount Sinai School of Medicine wanted to determine whether oxytocin, a hormone and neurotransmitter that is known to regulate attachment and social memory in animals, is also involved in human attachment memories.
All about Buddhism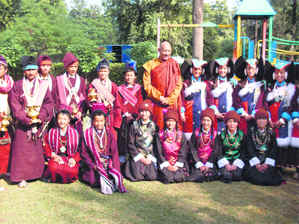 Mahabodhi International Meditation Centre, Leh-Ladakh, one of the fastest growing NGOs in Western Himalayas, will organise an international seminar on "Resurgence of Buddhism in the land of its birth" at Indradhanush Auditorium, Sector 5, Panchkula on December 5, where a galaxy of great personalities from India and abroad would share their wisdom. Governor of Haryana, Jagannath Pahadia will be the chief guest. A colorful cultural programme by artistes from Leh-Ladakh and by delegates from Malaysia will be presented at the end of the formal inauguration.

Hypertexting leads to risky behaviour, says a study
A US study has found that hyper-texting - sending more than 120 texts a day - could be a sign that the child is more likely to smoke, booze and have sex. The study by the Case Western Reserve School of Medicine in Cleveland, Ohio, surveyed more than 4,000 American teens.

Right track
Tees Maar Khan gets out-of-box music release - inside train!Just like filmmaker Farah Khan's brand of cinema, the music launch of Tees Maar Khan was grand, colourful and entertaining.

Hollywood in Hindi
Imagine Jackie Chan speaking Hindi! And this is precisely what UTV Action channel is doing - you name the biggest Hollywood blockbuster and its dubbed version is on air on this channel.

Abhishek's tribute to freedom fighters
Through his upcoming film Khelein Hum Jee Jaan Sey, which is based on the Chittagong Uprising, Bollywood actor Abhishek Bachchan intends to pay tribute to the freedom fighters of the country.

Golden opportunity
The Pond's Institute has launched the ultimate luxury in anti-ageing The New 'Pond's Gold Radiance, infused with real gold micro particles. This new range is a potent combination of the world's best proven anti-ageing ingredients, combined with real elemental gold, to instantly re-energize dull skin and recapture the radiance of your youth. It comprises of five expert anti-ageing products — Youthful Glow Day Cream, Precious Youth Serum, Youth Reviving Eye Cream, Youthful Night Repair and the Radiance Boosting Cleansing Mousse.

Million pound smile
Actor Julia Roberts has been paid the hefty sum of £1.14 million to appear in a 45-second advertisement for Italian coffee house Lavazza. Roberts, 43, who is portrayed as Botticelli's Venus in a setting in the clouds, will not even have to say a word in the ad, which will be screened over the Christmas period in Italy.

Ash's wish
Bollywood actor Aishwarya Rai has said she is looking forward to working again with award-winning director Rituparno Ghosh.

Bleeding tale
Hollywood actor Gwyneth Paltrow says she was reduced to tears and left with bleeding fingers as she struggled to learn the guitar for her new film Country Strong. Paltrow, who is married to rocker Chris Martin, spent hours working with guitarist Mark Jaimes to make her portrayal convincing. She went from not knowing how to even hold a guitar, to being able to pluck the strings like a professional. But she admits it was a painful and emotional experience."

Hank-ering after the Locker
Hollywood actor Tom Hanks is all set to star in the sequel to Kathryn Bigelow's Oscar-winning movie The Hurt Locker. The 54-year-old actor is a part of Triple Frontier now, producer Charles Roven has confirmed.