M A I N N E W S
No air fare hike, for now
Vibha Sharma
Tribune News Service
New Delhi, December 3
The government today turned down the proposal by domestic airlines for a massive fare hike and said the distance-based tariff doesn't make any sense.
"Distance-based slabs do not merit any consideration. Airfare slabs must be sector-wise, category-wise and period-wise," Civil Aviation Minister Praful Patel said, trashing airlines' proposal. "Passengers are not supposed to calculate distances. What they should know, and that too well in advance, is what the fare would be on a particular day so that they can take an informed decision," he said.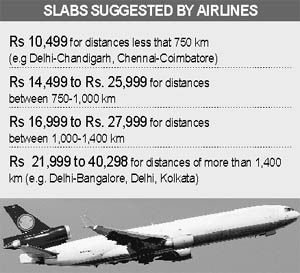 Issuing a strict warning to airlines to not take advantage of the peak tourist season, Patel also assured a workable solution by next week. "The objective is to remove last-minute fare hike issue," he said, stressing on complete transparency and over-the-board deal for passengers. He said the aviation sector was back on high-growth trajectory, leading to mismatch in demand and supply, but airlines could take unduly advantage of the situation and charge fares at will.
Patel said while airlines were entitled to bucket pricing, he wanted a fair balance between needs of passengers and rights of airlines. "Passengers cannot be left at the mercy of an unknown factor at the eleventh hour. We want to know from carriers more transparently and most definitely what will they charge," he said.
Warning airlines against charging exorbitant fares, particularly closer to the date of travel, Patel said the DGCA had wide range of powers, which it could exercise. "The DGCA is not an authority to dictate fares but we are not helpless against high fares. The DGCA has powers for either predatory pricing or excessive pricing and can invoke further powers if necessary. At this point, we need to see how airlines respond to the DGCA," he added. Tariff Analysis Unit set up in the DGCA has also been asked to vigorously monitor tariff of scheduled domestic airlines on regular basis. The unit will bring any abrupt increase in airfares to the notice of the DGCA so that timely directive is issued to the airline concerned.
Airfares on a flight rise as seats keep getting sold. Fares move to the next higher bucket when the previous lower fare bucket gets sold out, which means that a passenger who books later ends up paying more for a ticket. However, there are allegations against airlines that fictitious bookings are affected to manipulate fare movement. Patel, however, could not explain why it then took newspaper reports to wake up the ministry and the DGCA from slumber. All he said was that the ministry normally does not interfere in airfares.
Economic Advisory Council formed
The government has set up a new Economic Advisory Council to oversee fares and economic regulations. Civil Aviation Secretary Nasim Zaidi will head the council, which will meet for the first time on December 10. It will include CEOs of airlines and airport operators, representatives of consumer forums and government officials
The council will make public disclosure of airline practices, Measures to boost investment in the civil aviation sector, air connectivity to remote and under-served areas, matters relating to sustainability/viability of the industry will also be discussed.