M A I N N E W S
Chinese train sets new speed record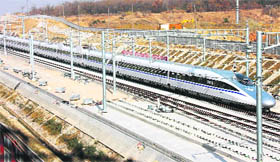 This train travels at 486.1kmph!
Beijing, December 3
One of China's high-speed passenger trains broke the world record of speed for unmodified commercial use, Chinese ministry of railways has claimed.
The train, CRH380A, hit a speed of 486 kmph on the tracks during a trial run between Zaozhuang city of Shandong province and Bengbu city in eastern Anhui province, which form a segment of the world's longest high-speed rail line linking between Beijing and Shanghai.
The train's previous speed record was 416.6 kmph, set on September 28 during its run between Shanghai and Hangzhou, capital city of east China's Zhejiang province, state-run Xinhua reported.
"It not only marks a milestone in the construction of the Beijing-Shanghai high-speed railway, but also is a major achievement of China's technology innovation," Wang Yongping, spokesman of the Ministry of Railways (MOR), said adding, "it shows China leads the world in high-speed railway development."
Chinese officials recently said the country was developing high-speed trains that could travel at a speed of 500 kmph. — PTI